To compliment the post-week wrap up, we have the post-weekend wrap up. Seeing as I somehow got out of updating this whole weekend and just published an incoherent point form post early Saturday afternoon, I decided I was in dire need of a photo post!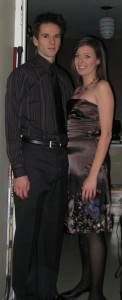 The company Christmas party was a hoot. For some reason all DJs love to cater and play music that 50 year olds enjoy. Sometimes, I don't want to hear only 70's, and 80's tunes. Where's Lady Gaga,  and Brittany? Do they belong in the same sentence? Sorry folks. I love both those ladies. We had a chance to log into the DJs website weeks prior to the Christmas Party, however his website lacked easy navigation and I was completely lost and gave up after minutes of trying. After all, I'm not on the Social Committee, nor did I care that much to play new music. Needless to say, we didn't stay very long after the dance started. (More photos available on my flickr account).

But — I did have a few scuff's on the floor with the CEO wanting to learn how to dance the Newfie Jig. Normally, this wouldn't bother me because I kind of have my own version of the Newfie Jig … and this year there were two other Newfoundlanders at the Christmas party in attendance, who were too timid to get up on the dance floor with me to dance to Heave Away. I failed miserably because I was the designated driver, and since there were only two of us on the dance floor I felt pretty self conscious and felt like a teenager learning how to dance again. So embarrassing. But get a few drinks in me and I'll tear up the dance floor and show you how to jig. It was fun though, everyone enjoyed my version of it. Even my boyfriend (who is also a "newf") joined in.
We even won a DOOR PRIZE. I'm guesstimating there were 80 people at the Christmas Party and I was the second number drawn from the list of prizes. We got to choose what one we wanted, and as one should — I had already scoped out the prized (mainly because I helped buy them) and knew which one to grab. The whole crowd ended up applauding for me — I think because they knew that I was on a mission to get what I had my eye on. Actually, Scott and I scoped out the door prize table and he pointed out in a joking matter which gifts he'd want. Seeing as I knew what most of the gift were, I wasn't that adamant about getting one for myself — so when my name was drawn, I bounced off my seat and ran for the belgium beer. Too bad I hate beer. I'm a great girlfriend.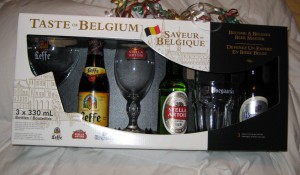 Changing the subject here, I woke up on Sunday morning at 7am only to find my Boyfriend still playing Borderlands on the PS3. I'm not even going to tell you how long he was playing it for, but I told him "GIT" to bed, because it was getting a little ridiculous. I slept a few hours longer and headed out to pick up my parcel from Canada Post, only to have it sent back – the mail woman had no idea what happened and all she did was take my phone number down. I hope I get my package? I don't know what was up with that. So I headed out to Dollarama to get some wrapping paper and started wrapping the gifts I'm bringing home to my parents in Newfoundland. My Brother is out on the oil rigs in Newfoundland now, and won't get back until December 28, where he'll then open a few pressie's from us, and pack up more presents to bring back to the fam in Ireland. I think I literally need to bring two suitcases back. From all the samples (razors, deodorant, body wash, laundry detergent) I accumulated over the year — it's gotten pretty heavy.
Alright. Gotta go get ready for work! Bye lovies!