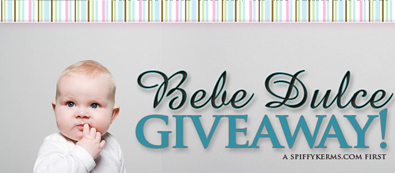 Clearly you all know that I don't have children of my own. But I have an abundance of pregnant friends, or friends that have just given birth to beautiful babes. This all means, that I've been going to quite a few baby showers and have been on the hunt for a different gift for each friend.
It's really difficult to find something nice that momma and baby will enjoy. I stumbled upon a gorgeous baby gifts website called: Bebé Dulce which is a unique store catering to newborns, babies and mothers. Best of all? It is all home made in Aspen Colorado by the talented woman herself, Claire. She is so creative coming up with new ideas, specifically the peek-a-boo clips which is exactly what you think it is "hooter hiders" hee hee! I contacted Claire asking if she'd like to work with me on promoting her shop on my website and she definitely agreed!
So. Get this: Feeding a baby out in public and don't exactly want to flash strangers your stuff? There's this neat invention; a clip that you attach to the feeding blanket, and I suppose on to your t-shirt as well, securing the blanket in place so when baby moves while feeding it doesn't get bumped off and *shazam* your boobies are on display. Not a fun thing to happen to any woman. That's available on her website if you go check it out.
Bebé Dulce also has some gift ideas for the Momma's out there too, take a look at the Body Relaxation Products and sweet birthstone necklaces. Adorable! Plus, now that Christmas is in just a few short days,  so why not get your little loved ones or Mothers you know, a thing or two from this shop? Or if you're in the United States she has 22 stores across the country that sell her items!
Best yet, my readers and future winners will get to enjoy a free baby blanket! Winners get to choose their blanket color: Blue or Pink. Isn't that great? What a terrific warm and cozy giveaway, and imagine how soft it is. Just take my word on it — it's incredible, as you can see from the snapshot, I couldn't stop touching it. As you all know this is my first giveaway, and I'm so thrilled to be working with Claire. I am extactic that she wanted me to feature the Lovey Blankets on my website.
I received this blanket just a few days before Christmas and since I'm heading home to Newfoundland, the blankets won't be mailed out until after Christmas Day.

Things you may want to read before entering:
1. What is your favorite item listed on Bebé Dulce?
2. I must be able to contact you easily. So leave your name/e-mail address please.
3. Tweeting "@spiffykerms is giving away a Bebé Dulce lovey blanket, over at http://tinyurl.com/bebeblanket" [Leave a separate comment telling me you've done so.]
4. Posting about this giveaway on your blog or website and leaving me a comment telling me you've done so.
5. If the winner does not respond within 72 hours, another winner will be chosen.
6. Enter by Monday December 28, 11:59PM EST. [I will do the draw on either Tuesday, if not Wednesday.]
7. Winners will be selected through www.random.org
8. Entries are limited to Canada and United States only.


Good luck! :)