Who would have thought I'd be missing school? Actually scratch that, I don't miss school at all— I miss the people. Here's to good times, and great friendships. I leave you with some photos to reminisce with me.
This is my handsome boyfriend and I. After our first kiss, but before we were a couple. I went to his Engineering dinner and dance (not as his date) with his friend, and sat at the same table as him. He was not to impressed and would not make eye contact with me throughout the night. Obviously we made up that night, from the photo! ;)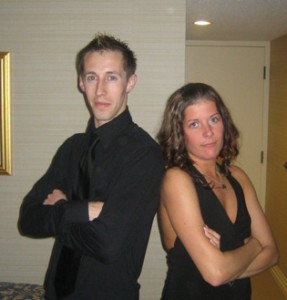 My bestfriend Trevor and I, still at the Engineering dinner/dance thing. Posing, like we do. Miss ya buddy!
Don't know if these girls want to remain anonymous but I blurred out their faces for the sake of it. I can't beleive I ever looked like that. Tanned with "scrunched" hair. It wasn't really that long ago. But it seems like forever plus a few years ontop of that. I miss those girls, and really haven't seen them since graduating college.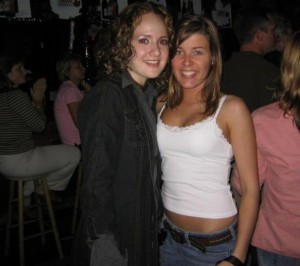 Wow, I looked tiny in that photo. This is most likely when I was climbing pretty hard 5x a week or more, focusing on bouldering and getting my strength up. I liked the way I looked here, haha!! Please come back!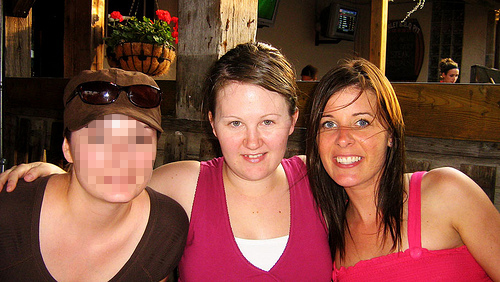 Last summer, hanging out in the city I live in, with a couple of other Newfoundlanders who I don't get to see very often. Okay, the girl on the left I blurred out because quite frankly, I don't even know her — I met her once. The girl in the middle is one of my old school party friends from back home who lives in the adjacent city but see one another about twice a year!! Yikes.
This is me now. I look so happy don't I? Compared to all the other photos, teehee. I think this was way back in the chillier months, coming into work half early, for a staff meeting. I see a reoccurring trend with my hair. I've been parting it the same way for years!! Whoops. Guess I like a bit of routine?

It sucks now, being in a spot where I don't know many people and the people I do know, I don't hang out with and party with. Guess that's all a part of growing up and getting old. It's a part I don't like, and I don't even feel old. I feel like most of these photos were taken yesterday, and at the same time it feels like light years. I want to go out, have fun, and not worry about anything. I want there to be a madness array of camera flashing at everyone and saying drunkingly to friends "let's take a picture together!". Looking back at the "good ole days"…I feel so old lol.

I think I need a vacation!!