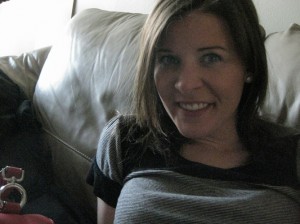 This morning. Happy and excited that I was going to get my hair done, for the first time since Christmas. At the same time, nervous butterflies going through hoops in my stomach. I didn't want to confront my stylist about certain things I wasn't happy with. (I hate how they try and get you to do certain things so they can make more money.) Leave that decision up to me! Regardless of that, I keep going back because he does a great job on the actual hair. What I don't like is that they automatically they take you into the back room for a shampoo.
Aveda salons always give head massages with their shampoo, but I just can't stand the one at the salon I go to. It's not relaxing enough like the one I used to go to back home in Newfoundland (Sound Salon & Spa, in case anyone is interested lol). I was nervous because I was going to tell bucko I didn't want my hair shampooed. Mainly because of the poor quality head massage (it hurts my neck leaning on those stupid sinks), but also because when he blow dries my hair, he does it with his fingers, and not a round brush. I want need volume! (You'll see what happens in the photos below.) I have fine/thin hair and it just doesn't look great when you fiddle your fingers through my hair then straighten the eff out of it with a hot iron. It sticks to my scalp like I'm a drowned rat. Put some product in there foo'!
Well, he brought me to the back and I'm like "stand up for yourself!" (in my head lol) and I'm like "Heyyyy. I actually don't want it shampooed, can you just wet it or something?" And he was totally cool with it, asking me if I wanted him to cut my hair dry. Awesome. Plans worked.
Of course, he then proceeded to straighten it, but that's what they gotta do I suppose if it's all fluffy and voluminous (without product!) in the A.M. So, I let him do his thing. My hair cut ended up being ten bucks cheaper this way too, without the uncomfortable shampooing. Horrah! Here are some before and after pictures. LEFT: Before — my hair all nice, with a bit of volume. RIGHT: After — straightened to hell, but healthy non the less.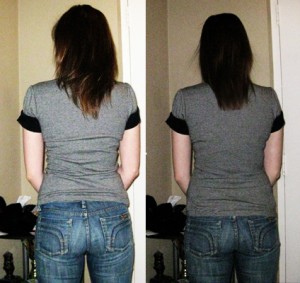 By the way, today was so ridiculously gorgeous outside. Me, of all people could actually be comfortably warm out there with a t-shirt and capri's on. Wait. I didn't wear capri's because I couldn't FIND the damn things. I've moved into so many places while living in Ontario that I totally thought I had thrown them out with garbage, by mistake. This happened immediately after I came back from the salon to study for my online course that I'm taking. I wanted to sit outside on the deck with my shorts and tee shirt on. But I couldn't find them!! I was so agitated that I literally ran back and fourth to my house to my boyfriends (well, it's only 300 meters away, so it's not that big of a deal) to try and find them. I didn't have many boxes unopened from my move, and all of those were opened and dumped out onto my floor at my place. I ended up throwing out a bunch of stuff I haven't worn since moving yto Ontario, so that was kind of a plus. But, yeah. Nowhere to be found. I was so upset! That's all I wear to work in the summers and it was hot enough to wear them today.
But — panic came to a sudden halt when I remembered that I had a mini suitcase that was literally ripped open so that I couldn't actually bring it on a plane anywhere and wouldn't want it in storage so that bugs would get inside. So, I remembered – I living at my boyfriends last summer, so it MUST be at his place. Even though I tore his bedroom apart looking for it. I didnt look in the closet! (Hey, there's barely anything in there….!). I had an ah-ha moment and found that dindgy little suitcase and all my summer flip flops and clothes were in there.
By that time it was 5PM and the hot afternoon sun had gone down, so I kept wearing my jeans. (Of course, right?) BUT STILL. I found them. Which makes me happy.
Have a good rest of the weekend!