My mouth is totally watering right now. I should treat myself, for supper tonight.
Fast food: So good, yet so soo bad for your body. Nobody wants McDonald muffin tops. Boyfriend and I absolutely live for McDonalds. We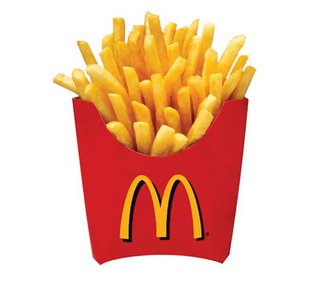 occasionally go there for supper when one of us doesn't want to make supper. We don't go like once a week or anything, even though it's so tempting to.
I am however disappointed in their coupons which they mail out very infrequent. They're not deals at all! Those two for one coupons or the free pop with purchase of an eleven dollar meal. Saving $0.50 isn't much, for a mick-dee addict like ourselves. Stop being stindgy D!
Maybe I should write McDonalds and ask for some french fry coupons. I have yet to have a better tasting french fry anywhere else. Can you all agree with me on this one? I think so. It's like, I almost want to open my own 24/7 franchise. Especially close to our apartment. The closest one is like a 25 minute walllkk, UP a hill! Could be motivation to actually to get those fatties a bit of exercise while going to eat fast food. Ahem.
It's almost payday. My brain goes wild on the days I receive lump sums of money. Can ya blame me?