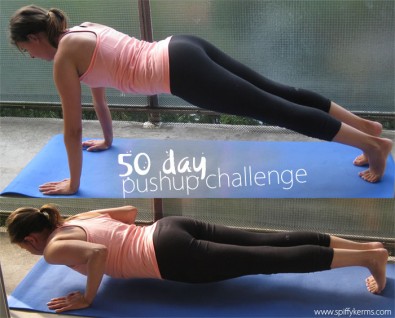 I am on Day 26 of the 50 day pushup challenge. Finally hit the halfway mark yesterday. I still do the pushups in the morning when I first remember because I don't want it leaning over my all day to do them, and get lazy after work/working out and push them aside. Ha ha. Get it…
Anyway, they're pretty tough now, I won't lie. Some days are better than others where I can pump out 13 in a row and then rest for a few seconds and do the rest. But yesterday for instance I was only doing three at a time and needed a break! Funny how that works.
What I did this week, the short version:
M – CrossFit (+ 19 pushups) T – Rest Day (+ 20 pushups) W – Soccer (+ 21 pushups) Th – CrossFit (+ 22 pushups) F – Rest Day (+ 23 pushups) S – Rest Day (+ 24 pushups) S – 6.6km run (+25 pushups)
lol Looks like a lot of rest days. I swear it felt as though I worked out more than that…maybe I won't continue the short version of my workouts ;)
______________________________________________
year 1, week 37, day 1.
AMRAP 20
1 Clean & Jerk; 155/115lbs 5 Pull Ups 10 Push Ups 5 Back Squats; 155/115lbsics
I used 65lbs for this WOD. I completed 4 full rounds and I did 5 pushups for the 5th round. Either that or it was 5 rounds, and I was on my 6th. I should really write this down again…
______________________________________________
year 1, week 37, day 2Â  Soccer Game!
 Yay soccer! Can't really say much about this. We won? 1-0.
______________________________________________
year 1, week 37, day 3
6 Rounds of Ring Dips
30 seconds of Ring Dips 30 seconds of rest
REST 3 minutes
AMRAP 7 Burpees (6″ jump)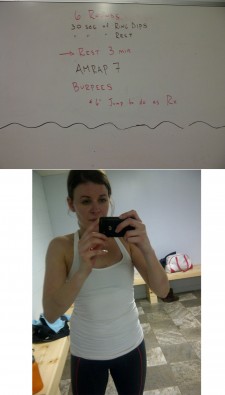 I completed 52 ring dips (like I was sitting in a chair. The easiest way to do them. I really suck at tricep strength). Then it was time for the burpees. I did much better than I was expecting. I didn't rest too much, and completed 56 burpees. I'm not entirely sure the coach believed me, because he said "Oh cool" when he asked my number. :(
______________________________________________
year 1, week 37, day 4
Running yesterday morning in -1°c. Snowy, windy and chilly! But it was great!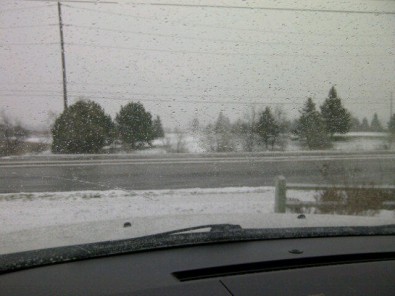 I dressed in layers, and borrowed a wind breaker, mittens and wind-breaker mittens. I really need to go shopping for some winter apparel for running. I do have this great pair of wind-breaker pants I bought from Lululemon a few years ago, and they kept me warm throughout the run.
I didn't have anything to eat before I went, and I could definitely tell I wasn't in as great of shape as I was last week. So, note to self — must eat something before each run.
One thing I do have to say about running is that I'm on a completely different level than my Ironman Triathlete of a boyfriend. I mentioned that we ran 6.6km and told him that at one point we were running 5:45 minute/kilometers but the rest were 7 minutes. Sure, it's slower than what I'm used to — but I used to exert myself much more. This time, I'm in control of my breathing and I'm running a further distance because of it. The boyfriend mentioned that it was slow, which was like taking a dig at me, But of course he didn't mean it that way. I dwelled on it a bit, then told him to never tell me that I'm slow again — it bothered me. Because I know I can run fast. It just takes time. I really haven't been running since 2010. Sure, I did 2 or so runs a week this summer, but I wasn't being trained on HOW to run. I just went for long (5-6km), flat runs.
Running with Jenn and Steve is different. I take two puffs of my asthma inhaler, and off I go. It's difficult at times, but Steve tells me to slow down and the breathing returns to normal again. It's an anxious thing I have with running, but I'm figuring out how to get it back to a normal rate … with practice.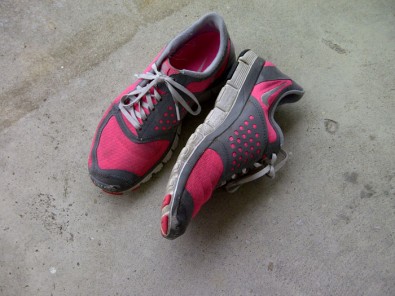 Look at the state of my bright pink shoes!  They are starting to wear out I think :( I've been on the eBay hunt for them now for a few weeks, since they're a year and a hald olf.
As Steve said, There are only two kinds of runs. Good runs, and great runs. Yesterdays was just … good ;)