Gotta say you guys, I'm eyein the Reebok nano's.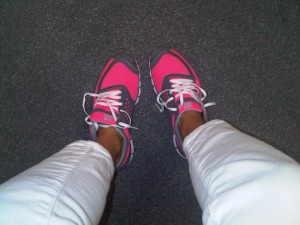 My hot pink nike free's I purchased on eBay for my birthday the other year are not quite fit for the garbage, but eventually they will be. Which disappoints me since I love wearing them. They've been my go-to CrossFit shoe for almost two years.
I have a pair of Zoots that I also like to wear but recently I've been eyeing the Reebok Nano's, designed for CrossFitters like myself. I'm hitting the two year mark at CrossFit at the end of the month (February 2011 I first joined!), and I'm thinking of giving the pink, or yellow one's a try.
Have to say though, the look of the Reebok CrossFit shoes are just appealing to my eyes and I want them. Pink immediately stuck out to me, then the yellow. You're not limited to the pink or yellow either. On the Reebok site there is a rainbow of colors to choose from. One of my CrossFit coaches has these in purple.
Did you know that there is proper footwear to wear to CrossFit?
Too much cushioning in a regular running shoe isn't the most favourable for getting your lifting technique down pat. 

You'll lose balance on cushioned shoes thus being unstable on the ground when you lift heavier weights. Meaning if you wear minimalistic shoes you'll get better technique since you know where your heels are when you do certain movements. Having the knowledge and and pressure of where your feet are you can improve your form and technique.

Not only lose balance, but strength too since you're pushing into the soles of your shoes, and not into your heels to the ground.
Sure I'm serious about going to CrossFit, but I don't consider myself a hardcore CrossFit athlete. I get excited when I can RX a wod. So I'm not looking for the perfect weight lifting minimalistic shoe. Just looking for a comfortable one that I can wear outside running (less than 6km) and also to CrossFit but not too minimal to the point where I can feel pebbles under my feet.
Now if only I was sponsored by Reebok Canada. That'd be sweet, ha!
I posted this image on Facebook a while ago, and the consensus was that I should go for the yellow nano's. What do you guys think?