Chocolate chip cookies, mermaid hair flips, nail painting, pizza and dancing. That's what our girls night in looked like.
When my co-worker Julie and I get together, it's not uncommon that we get titled as Double Trouble by our peers. Though, it was pretty tame when we had our girls night in at her house last night.
Our first stop after we got off work was to the grocery store. We dropped into Loblaws/Zehrs to pick up some essentials for a fun night in. You know, things like nail polish and cranberry juice.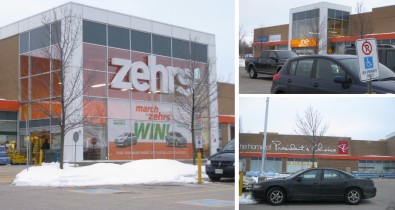 I shop at this location of Zehrs quite often and didn't realize that the beauty section got an overhaul. A nail bar with polishes from Sally Hansen, Nicole by OPI, to Zehrs brand Joe Fresh polishes. There was even a fragrance  and mascara bar too. All with this one stream lined looked which was very Sephora-like, right?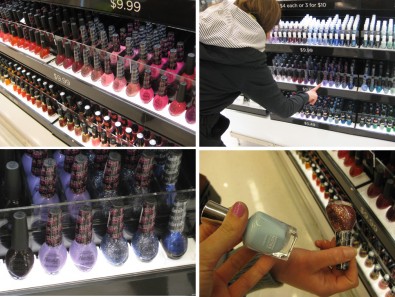 Julie stopped to smell the roses chocolate chip scented perfume.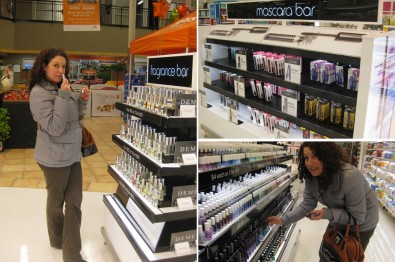 Difficult decisions to make. Sparkle? Brights? Pastels? It took me a while to decide on a new nail polish color.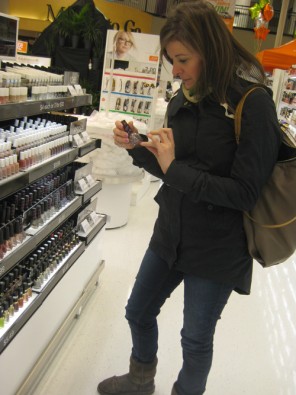 I ended up going with Barracuda by Sally Hansen which is a pure robin's egg blue shade, and Jules picked up two other colors by Nicole by OPI and some Sally Hansen salon effects (stickers for your nails). All perfect for a spring manicure. Hey wishful thinking right? As I write this as it snows outside.
Since when did nail polishes at the grocery store have salon type prices? All those nail polishes and stickers we bought were $8.99-$9.99.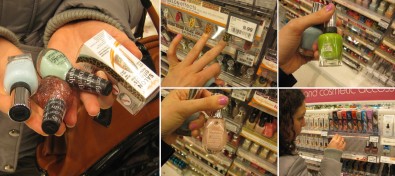 Time to pick up some mix for our beverages! That's cranberry juice for me. Giggity giggity.
Oh, and a quick pit-stop at the lotto place for Jules. Here's hoping you win the millions!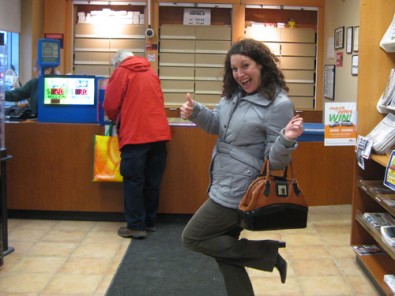 We are all giggles, all the time. You'd think we haven't seen each other in years. When in reality our offices are right across the hall from one another. At one point we had our cashier laughing so much too. So naturally we asked her to take our photo.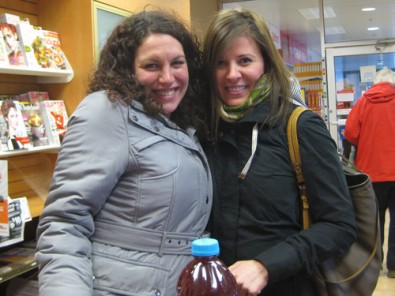 Alright, time to use self-checkout. Clearly we like to document everything. I'm surprised no one asked us to stop snapping away.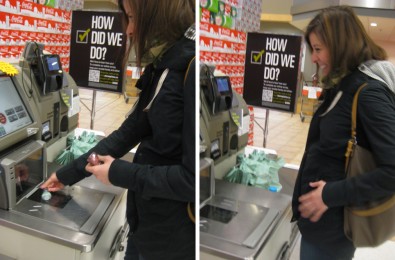 Julie's husband requested that we head out to grab some beer on the way home, and we noticed these two men behind us who came in with a serious amount of empties to cash in. They weren't sorted, and Julie gave them heck for it. The men asked us if we wanted the empties and we certainly didn't decline to that. $14 worth of empties! Score.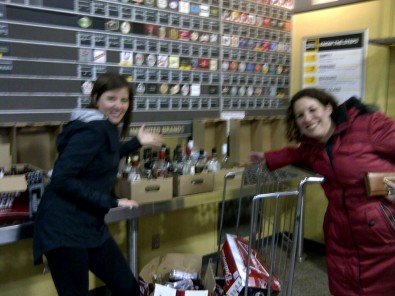 After our errands we immediately got started on our nails after we arrived to Julie's house. At first I suggested doing Julie's nails and vice versa, but since I've never painted any one elses nails before, I thought it was a recipe for disaster. I could picture nail polish just strewn right over her newly painted walls. We stuck to doing them ourselves.
Step 1. Remove polish, do not forget any fingers.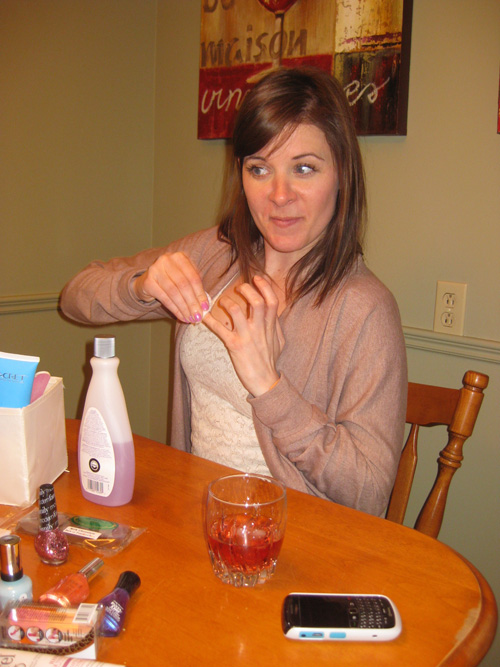 Step 2. Pose for photos before getting our nails wet.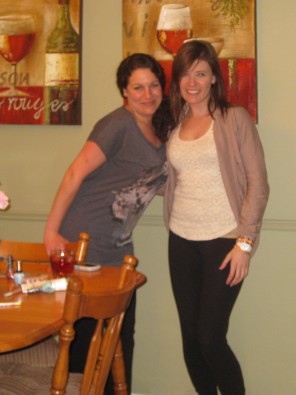 Step 3. Read instructions and apply. So far so good! The sticker pattern is called 'Kitty Kitty'. Rawr.
Step 4. Paint the rest of our nails, and wait for pizza to arrive.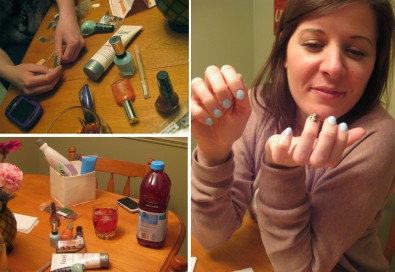 I was indecisive and went with a nail sticker on one nail, and polka-dots on the other. Julie just had a polish party on her nails. Ever single one was different.

We chowed down on a few pieces of our delivered pizza and  sprinkled some Chia seeds on top for a bit of added goodness. Some nice pizza too. I'm still thinking about it today.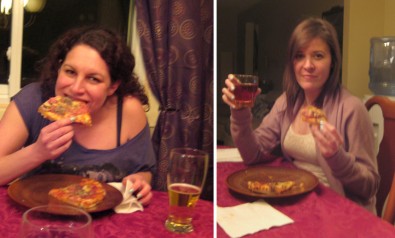 After supper, we headed to the basement where mermaid hair flips were put into action. This was sooo hard to photograph you guys. We took about 15 photos each, and started getting dizzy.

Ever play Dance Central on xbox or the wii? It has to be the most addicting, fun game I've played! You mimic the moves on the screen and get points towards new songs and new levels. PURE. AMAZING.

We spent the entire night there after, dancing to music from Amy Winehouse, The Beatles, Kenny Rogers to  Nirvana and Green Day.
Oh, and doing endless cartwheeels and catching Julie as she jumped into my arms. No big deal. Double trouble adventures, always guaranteed fun nights when you have us two around.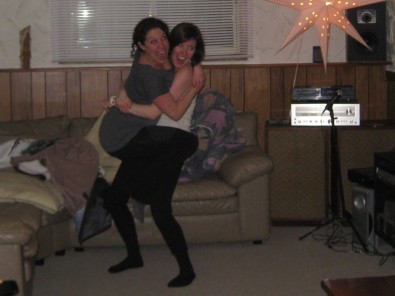 What are your plans for this weekend?
When's the last time you had a Girls Night?
I even created a Google+ album of our evening last night.
I am a member of the Collective Bias® Social Fabric® Community.  This shop has been compensated as part of a social shopper insights study for Collective Bias® #CBias #SocialFabric. All opinions are my own.