I've simplified my beauty routine in the mornings this winter. Only because I don't want to have dry patches on my already dry skin! So this is what I do for my dry skin in winter, as I'm feeling more parched than usual.
What I'm using:
Philosophy Hope In A Jar — This is a great whipped moisturizer that I received a generous sample of to try out, and blog about. I fell in love with it and bought a full sized version at Sephora last week.
Bobbi Brown Luminous Moisturizing Foundation — This foundation gives a light to medium coverage, which is buildable. I'm not sure if my skin is acting up or if I'm not exfoliating and moisturizing enough, but this has been wearing off my skin before the days end. It didn't used to.
Sonia Kashuk concealer — My holy grail concealer and I cannot wait until Target Canada opens up so I can finally get another quad. I've used up the entire dark concealer and the light one I'm scraping the edges of. It's great, since it does not crease under your eyes. It's the only place I apply this concealer (or any other, for that matter)
Make Up For Ever Smoky Lash — Great mascara, I will always have an emergency back up of this and will never be without it! It's a drier consistency which I like and it adds incredible volume and length that people think I'm wearing false eyelashes. Look!
Bobbi Brown Extra Eye Repair Cream — A definite indulgence for an eye cream. But that small jar shown in the photo below will last me 7 months. I've blogged about it before, and I'm blogging about how great it is again. It's the first thing I put on my face (er, eyes) in the morning after washing it. Concealer blends so effortlessly on top of it. It's such a rich, hydrating cream that I somehow cannot go without. Doesn't burn the eyes, either.
Philosophy Purity Cleanser — I purchased the biggest bottle I could, last winter and I'm about half way through. It's a gentle cleanser that removes waterproof mascara yet it never leaves my skin feeling tight or dry. I hear this is great to use on a clarisonic if you own one.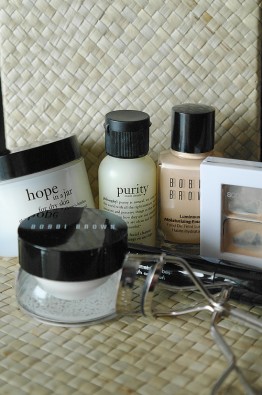 Spring Cleaning. That's what I call winter-cleaning.
What are some of your favorite beauty items for winter?