I wouldn't call myself a product or sample hoarder, because I'm quite generous with giving away my products that I get inside my monthly beauty subscription boxes such as Glymm, TopBox, GlossyBox, and Luxe Box (see a comparison here).
Whenever I fly home to Newfoundland I cart half my suitcase full of unused, or swatched 1-2x products for my family. We're heading back to Newfoundland next month, so I'm starting to gather up some of the products I'm "donating", along with some early Christmas presents. Hey, it's smart to shop all year round!
This weekend I decided to accumulate all of the beauty items and organize them into categories. These weren't just samples, some of these products I was either sent to review, or bought myself.
It was a little overwhelming seeing it all out on the floor. So, I got the ziplock bags and went to work. I don't know why I didn't think of this sooner.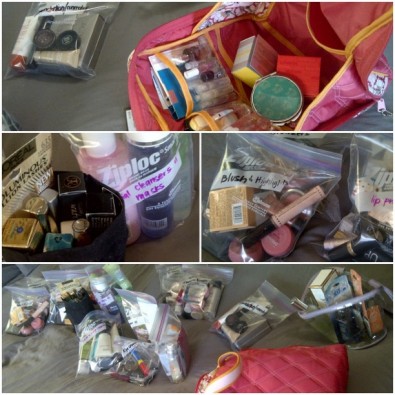 The cute pink makeup bag is from CindaB, that I reviewed last year.
The reason I chose to put everything in ziplock bags, was to actually see what I have, to keep it organized by type, and to really use the products up.
I had everything piled high in the CindaBÂ  bag, and it was just a mess. I was buying my favorite mascaras (make up for ever smoky lash!) without realizing I already had two. Moses.
I don't like using multiple products at once. Right now I have three facial cleansers to go through, and I don't want them all to be half-used up, so I'll use an entire bottle and move onto the next, like a normal person lol.
Now that everything is in its own ziplock bag, I feel much more accomplished and relieved!
The bags I have:
Foundations/Concealers

Mascaras

Perfume

Hand & Body Lotions

Body Wash and Soaps

Eyeshadows & Eyeliners

Shampoo & Conditioner

Hair products (serums)

Facial Cleansing Products & Facial Masks

Blush & Highlighters

Lip Products
I could be missing some, I'm in the TV room writing the blog post, and the bags are stored in the bedroom.
This is not my every day makeup. This is just stuff I haven't even started to use yet. Or, stuff I wouldn't use on a regular basis but have already dipped into. Like a few cream blushes.

My every day make up is stored in this bag, shown in this blog post.
Do you use your ziplock baggies for anything else other than food?