The weeks are simply flying by. Not only is the baby almost 7 weeks old, my Mom has been here for a good few weeks too. It's been pretty great having someone in the house with me all day long, helping out with the baby while my husband is at work. Meaning, I can shower, get dressed and dry my hair all in one go, without taking a break haha! It's fantastic, and definitely makes me feel like a million bucks when I can take a half hour or so to myself each day. I know I won't get that luxury all that often, once she's gone back.
Sooo, my car was actually out of commission the first few weeks that my mom's been here. It was an easy DMV fix that I forgot about (plate stickers) that got pushed to the way-side since baby arrived (I completely forgot about it, honestly) and I gotta say the dude I was dealing with (all thanks to reaching out to them on Twitter because they didn't return my phone calls and I wasn't about to wait 5+ hours with a newborn at the DMV office) was excellent. I feel like he should've got a praise and a raise with all the help he did for me.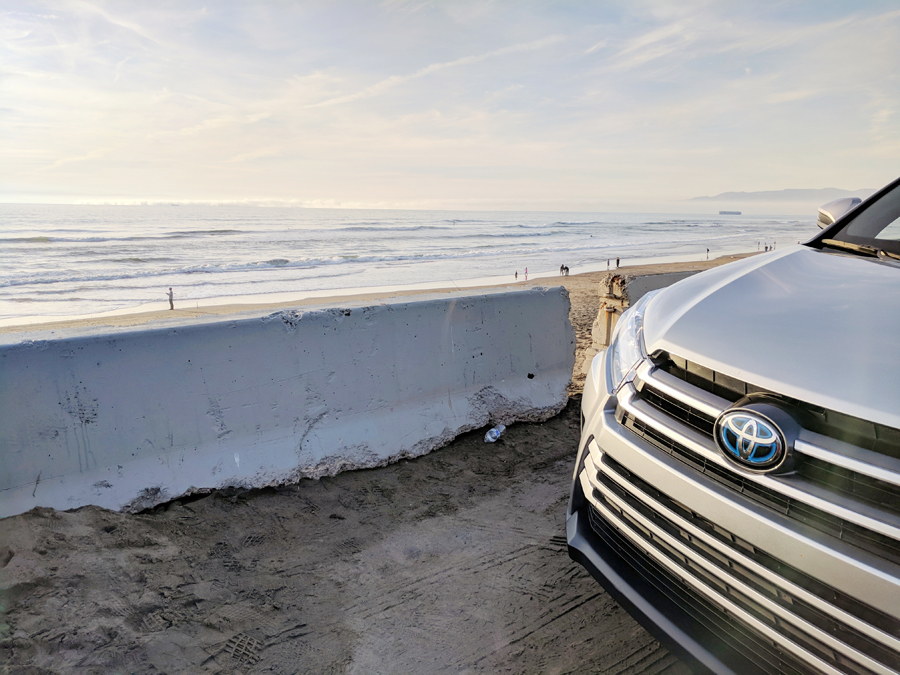 While my car was out of commission I ended up getting a 2017 Toyota Highlander Hybrid XLE for review. Perfect timing since we wanted to ride in style, and room (since the car seat is so huge it basically leaves the front passenger seat of my car almost unusable) to head to San Francisco one weekend. After all, it was my mom's first trip to California so ya gotta take her to go see the Golden Gate Bridge. That's my Mom in the above pic, taking some snapshots of Ocean Beach, in San Francisco!
Those SF hills are no joke.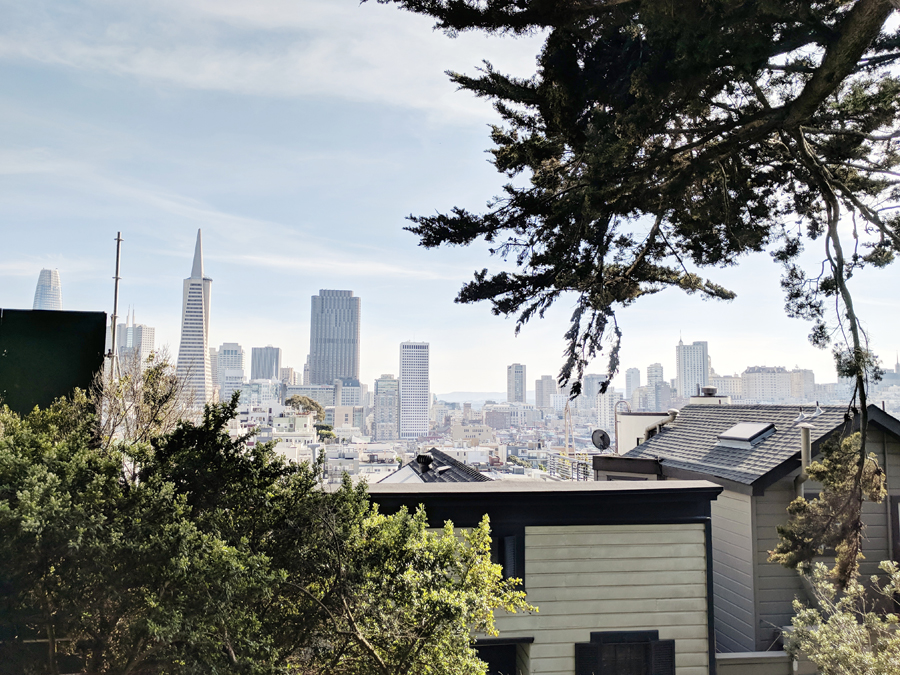 And just because we have a new baby in the family doesn't mean Alfie was neglected being the first passenger in the car. He most certainly was…and he loved it. He's always close to baby's side.
A roomy vehicle since we didn't have to budge the front passenger seat with the car seat in the back. And the hands free button to open the trunk came in handy with the groceries and stroller…my goodness. We definitely need to upgrade our decade plus old vehicles. All these one week loaners are spoiling me and letting me know what I'm missing out on. Modern technology haha.
After that trip, we ended up taking the only sunny day in the last few weeks, and drove to Gilroy Outlets where she got a few goodie for herself (and I got some McDonald's for myself heh heh) for all those grandsons (she has six grandsons by the way lol!!!). It's finally supposed to stop raining. I do love the rain but I also want to show my mom around my favourite trails and sight seeing. I mean I want to show her around all the big tech companies like Google, Facebook and Apple HQs. That will happen soon!
And now this week coming we're getting ready for more visitors. Over the weekend I met some of my husband's relatives that I've never met before, so that was pretty cool…and now tomorrow his aunt who lives in Germany is coming to town!!! I'm so exited. I've actually only met her I think just the once, but I think she's pretty great – so having her here will be fun. 
Just a little update. Follow me on Instagram stories to see daily updates. :)
Thanks to Toyota for loaning the gorgeous (+ spacious!) Highlander Hybrid XLE for the week.