We still have a few days left before Christmas. In case any of you guys need some last minute gift ideas, or stocking stuffer ideas. Some of these might be a bit too big to fit in a stocking (unless you're awesome and have one of those huge knitted one's that expand and fit everything. And clearly, everyone's budgets are different so there's a variety in here for my stocking stuffer ideas post!
I did an unboxing on Snapchat of this huge Sephora box that came to me in the mail late last week. I was in such shock. PR parcels never get old in this household and I'm always like a kid at Christmas where I truly appreciate working with such amazing brands. And I cannot get over the fact that I'm now working with Sephora. This. Is. Unreal to me. I am sensing a theme here when it comes to Sephora's holiday launches, a lot of gold! Definitely appealing to my eye, as I love a good bitta' gold and red come Christmas. L'ets get right to it, shall we?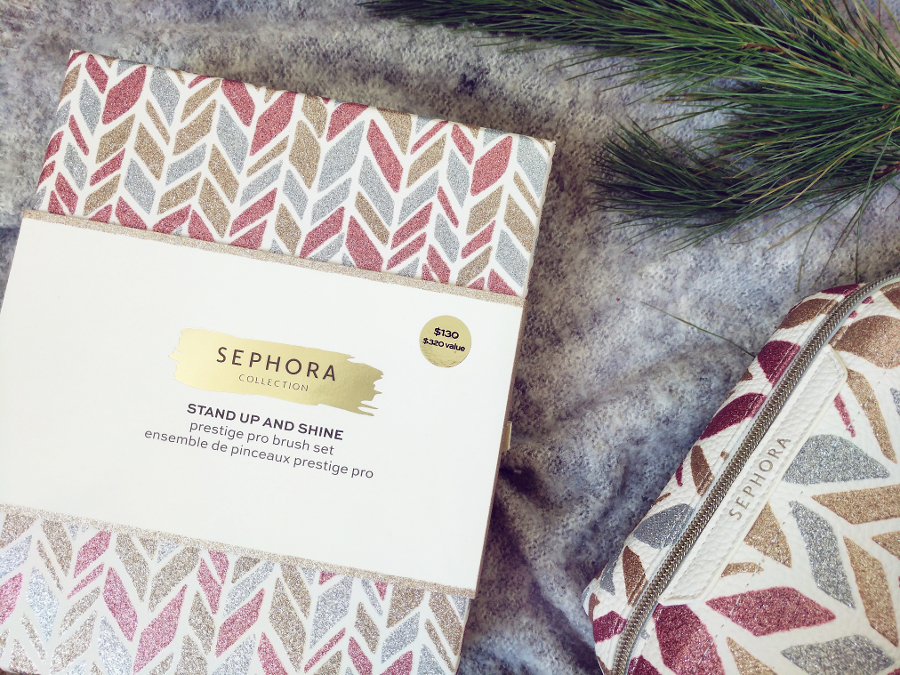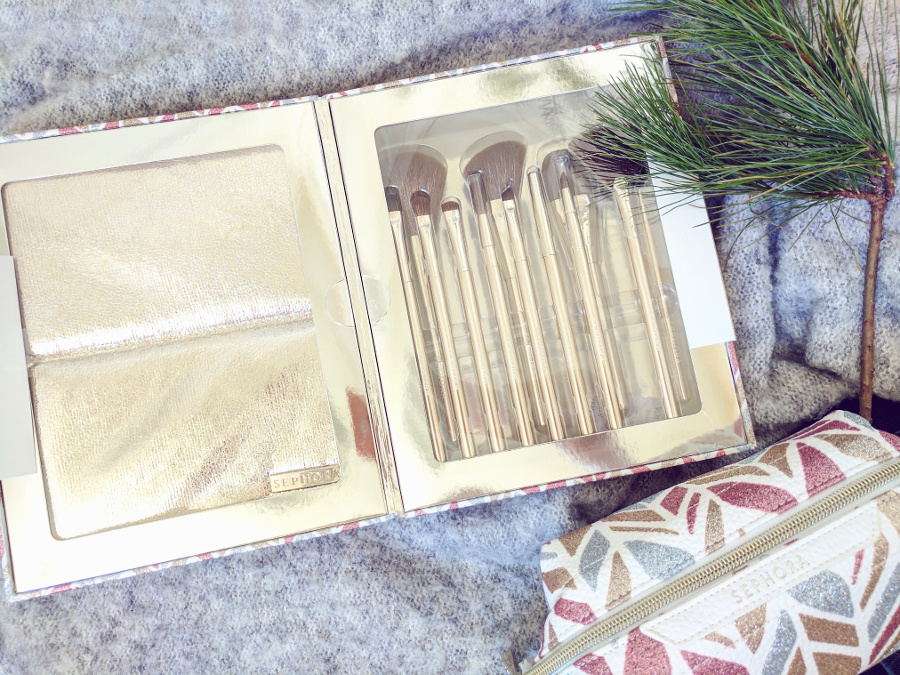 Sephora Collection Stand Up and Shine Prestige Pro Brush Set| $99. Mixed glittery metals on the outside, but all-gold brushes on the inside. This is on sale, too! So buy it up, friends. It also comes with a makeup bag on the left-side too, look!
Sephora Collection Sparkle & Shine Dual Boar Brush $9. | Objects of my perfection bag $10. | Sephora Collection Sparkle & Shine Classic Mini Multitasker Brush $14. Travel hair brushes, with a travel makeup brush and travel bag all in gold detailing.
Sephora Collection Kissin' Up Lip Gloss Set| $19. Split it up into a few gifts for friends, or give as one. You have 18 lipglosses to choose from!
Formula X – X In The City| $36.50 for 10 mini nail polishes (working out to be about $3.60 a bottle. Formula X is a high end brand when it comes to polish, so the cost of this is really decent!
Sephora Collection Glitter Happy Brush Set| $85. This is certainly a brush set upgrade for me, considering I have a handful of broken brushes on hand that I continue to use. Plus, who doesn't love white, and gold together?
House of Lashes Lash Story| $125. Everything from the lashes, to the comfort of the eyelash strip down to the glue, these are a popular product amongst many.
Sephora Collection The Mini Team: Rouge Cream & Shine Lipstick Set| $22. 6 mini rouge cream and rouge shine lip colours in a diverse amount of shades from a fuchsia, a plum, a red and a nude.
Sephora Collection Colour Wonder eyeshadow palette| $59. This is a huge box of eyeshadows. On one side there's entirely neturals, and on the right there's tons of playful and totalyl wearable shades.
Play by Sephora| $10.  A beauty Sephora subscription box (that I've done a few YouTube videos about) that is curated with 5 deluxe samples each month with an additional perfume sample and cloth draw-string bag.
Hopefully you pulled a few little ideas from my post today — and good luck shopping! Merry Christmas all :)
Disclaimer: As I stated in the intro of this blog post, Sephora sent me a wicked awesome PR parcel where I jumped up and down and all I could say was omg omg…. see?