Santana Row is a place I frequent many times in the run of a week. On Friday I drove over and wanted to check out some of their new Fall Fashion pieces.
Rather than showcase the new clothing items on racks, or holding them up to show you, I thought I'd try something a bit different, and try everything on. That way you'd get a sense of how things fit. Plus, you guys seem to like my OOTD posts (those get so many hits!).
So I think it's only fair to say the age old rule of never wearing white after labour day is thrown out the window. Style is what you make it, whether you wear white in September, or not. I am personally ALL for it, because I love the laid-back feel to a pair of white jeans.
I popped into a few of my favourite stores at Santana Row to give you budget-friendly, and feeling-spendy items to pair with your white jeans this fall.
Let's get into it!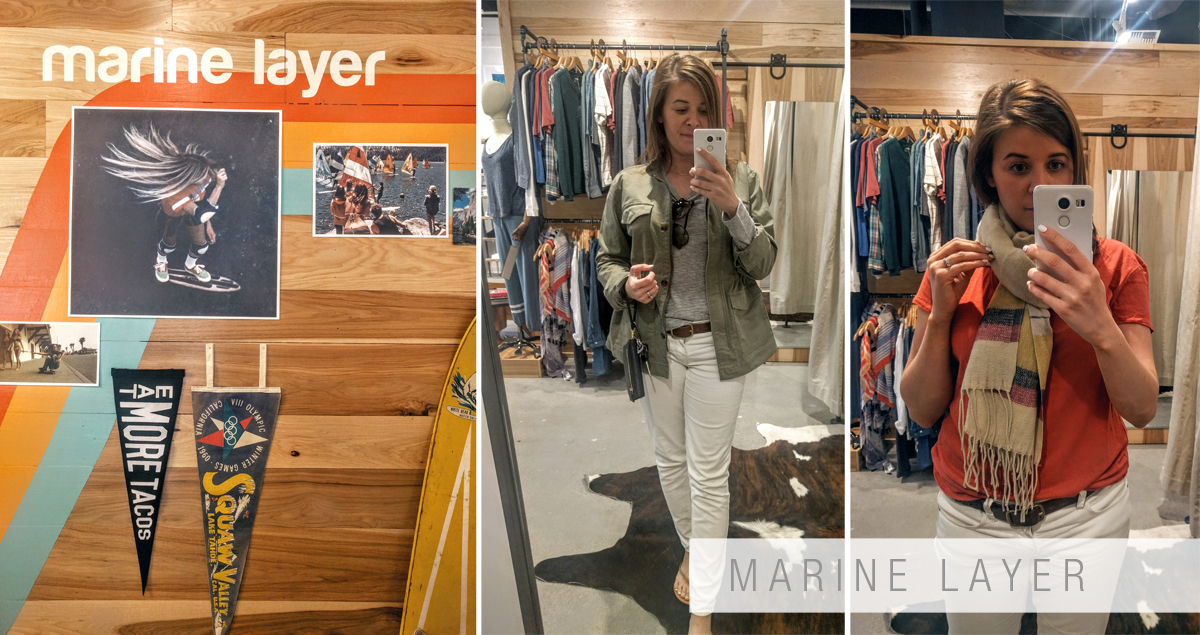 Marine Layer
Marine Layer is a brand new store that opened two weeks ago at Santana Row. They have 19 stores across the nation, but they were founded in San Francisco (hey hey, support local!), originally as a mens t-shirt line. Everything in the store is so unbelievably soft. I wanted everything I tried on. In fact, I'm probably going back for that striped long sleeved (and it's only $48). You can definitely feel the quality in the clothes. It's definitely my kinda style, I'll be back shopping at this store for my husbands birthday too.
[Shop: Harriet Utility Jacket $145 | Long Sleeved Crew Neck 3 for $100 | Slub U-Neck in Hot Sauce $39 | Kirby Striped Scarf $58] Bonus: I was told they have free shipping online, too!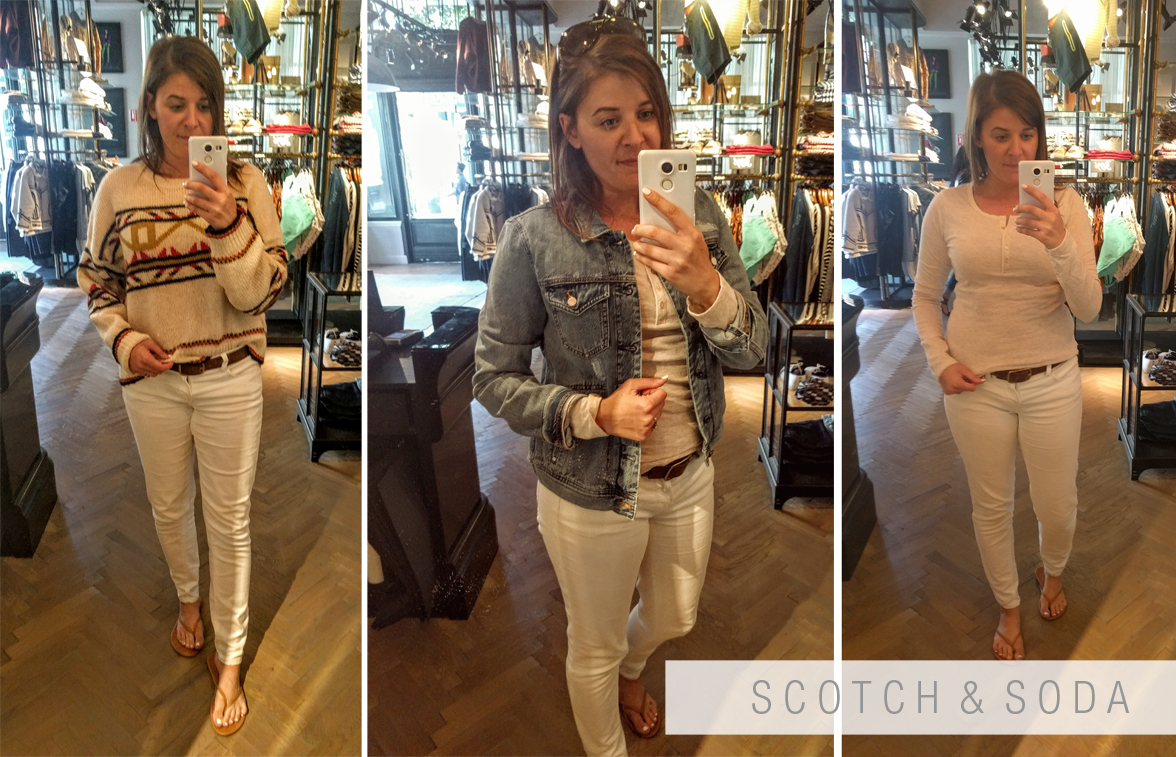 Scotch & Soda
I love the layout of Scotch & Soda's clothing. They only have 3 sizes of every product for sale out on the floor (if one sells of course, they have more in the back). It's an awesome store with a cool California vibe. I really love that Nordic sweater I tried on, a little itchy, but it would definitely be sufficient in the San Francisco 'winters'. And swoon at the distressed jean jacket: has that lived-in look. The "grandad sweater" which is just a thick henley, is amazingly soft! And definitely thicker than your average long-sleeved. I'm digging it.
[Shop: Nordic Pullover $149 | Grandad Sweater $79 | Denim Jacket $149]

Anthropologie
I've been told many times by my Mother that I have expensive taste. Anthropologie is one of my favourite stores for unique looking pieces that are often convo-starters. They always bring in the best looking pieces for each seaon and I look forward to checking them all out. Most of my wardrobe, when I was working back up in Canada, was from Anthro. Just love their stuff!
[Shop: Colourblock Horizon Dress $158 | Denim Jacket $138 | Sotra Tank $148 | Bella Pointelle Cardigan $98 | Primula Cocoon Cardigan $98 | Peasant Top (Similar $118)
H&M
H&M is such an affordable option if you're looking for trendy pieces but don't want to break the bank. So many of these finds were under $20! If there's one thing I'm going back for this week, it's definitely this v-neck cami. It fits perfectly, and has a slit on either side by the hips, making it fall perfectly. Although I do love white-on-white, I would probably pair the v-neck with a jacket and blue jeans.
[Shop: V-Neck Camisole $17.99 | Faux-Suede Biker Jacket $69.99 | Embroidered Top $9.99 | Bird Jersey Top $9.99]


Free People
I don't think I've ever tried anything on at Free People. But I always see people walking around with these off the shoulder cool-casual-vibe to them. I'm gonna guess they only got them from Free People. I love every.single.one I tried on.
[Shop: Lovers Rib Thermal $68 | Black Boucle Slouch Cardi $128 | La Brea V-Neck Sweater $108 ]

Urban Outfitters 
My most favourite item of all the Fall Fashion pieces I picked out at Santana Row, has to be this lumber-jack style flannel. I'm not sure I'd like it paired with anything else but a pair of crisp white denim. I love how this look turned out.
[Shop:Â Flannel Button-Down $49 | Â Project Social T Textured V-Neck $34Â |Â Ecote Guinevere Open-Back Frock Dress $69]Â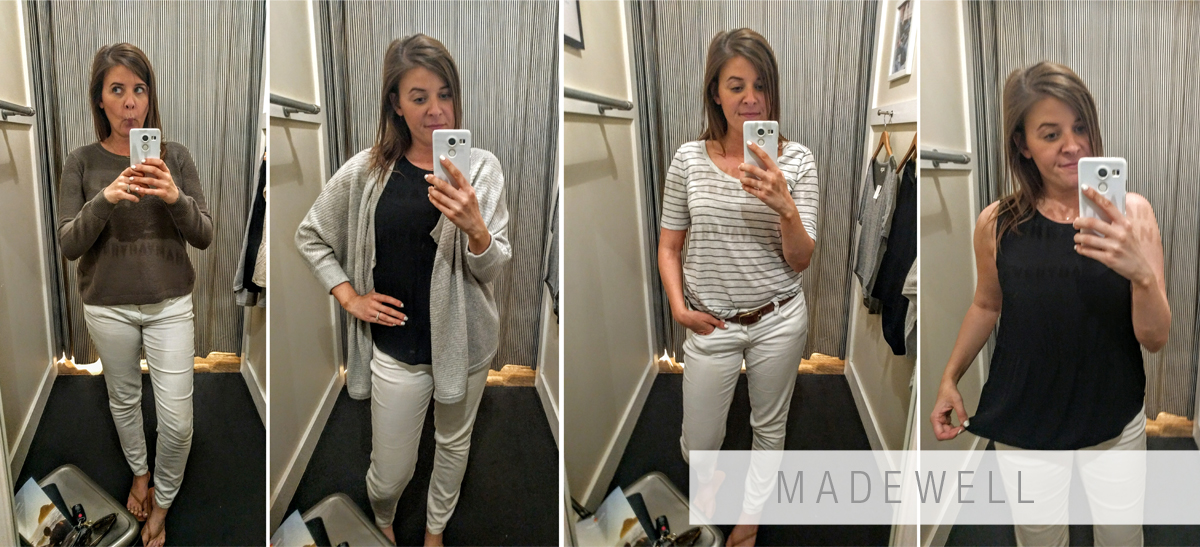 Madewell
Madewell is bringing back the peplum style blouses! I think these are incredibly flattering. I'll be picking this up once it goes on sale. And their basic tees/sweaters are just as comfy as they look.
[Shop: Riverside Texture Sweater $79.50 | Ruffle Tank Top $79.50 | Seabank Cardigan $88 | Anthem Scoop Elbow-Sleeve Tee $38]

Kendra Scott
Another new store at Santana Row. Kendra Scott opened a lovely store along the main street of Santana Row. You might've recalled I went to one of their events before the store even opened! A lot of Kendra Scott jewellery isn't my style, but I found a few pieces that definitely went with the outfit I was wearing on Friday. I'm really into that chocolate brown stacking bracelets.
[Shop:Â Samantha Necklace $130 | Blake Bangle Bracelets in Chocolate Druzy $120]
I'm obsessed with my white jeans, and a lot of people ask me how I'm so brave to sport them often. Let me tell you my number one tip: don't buy an expensive pair!
I guess what I'm saying if you're spending a ton of cash on the white jeans you're most likely going to be afraid to wear them, or spill anything on them. These were $30 from JC Penny two years ago. I wear them a ton, don't mind if they get dirty, and if they do wash them immediately when I return home. That, and carry around a resolve stick with me constantly (that stuff is unreal… I love it).
Will you be picking up some new pieces for Fall to add to your wardrobe? What kind of items are you looking for? Now that I window-shopped Santana Row, I definitely want to go back for the white H&M cami, and the lumber-jack flannel at Urban!
And after your Fall'16 Fashion shopping spree, pop by the new restaurant Roots and Rye for a bite!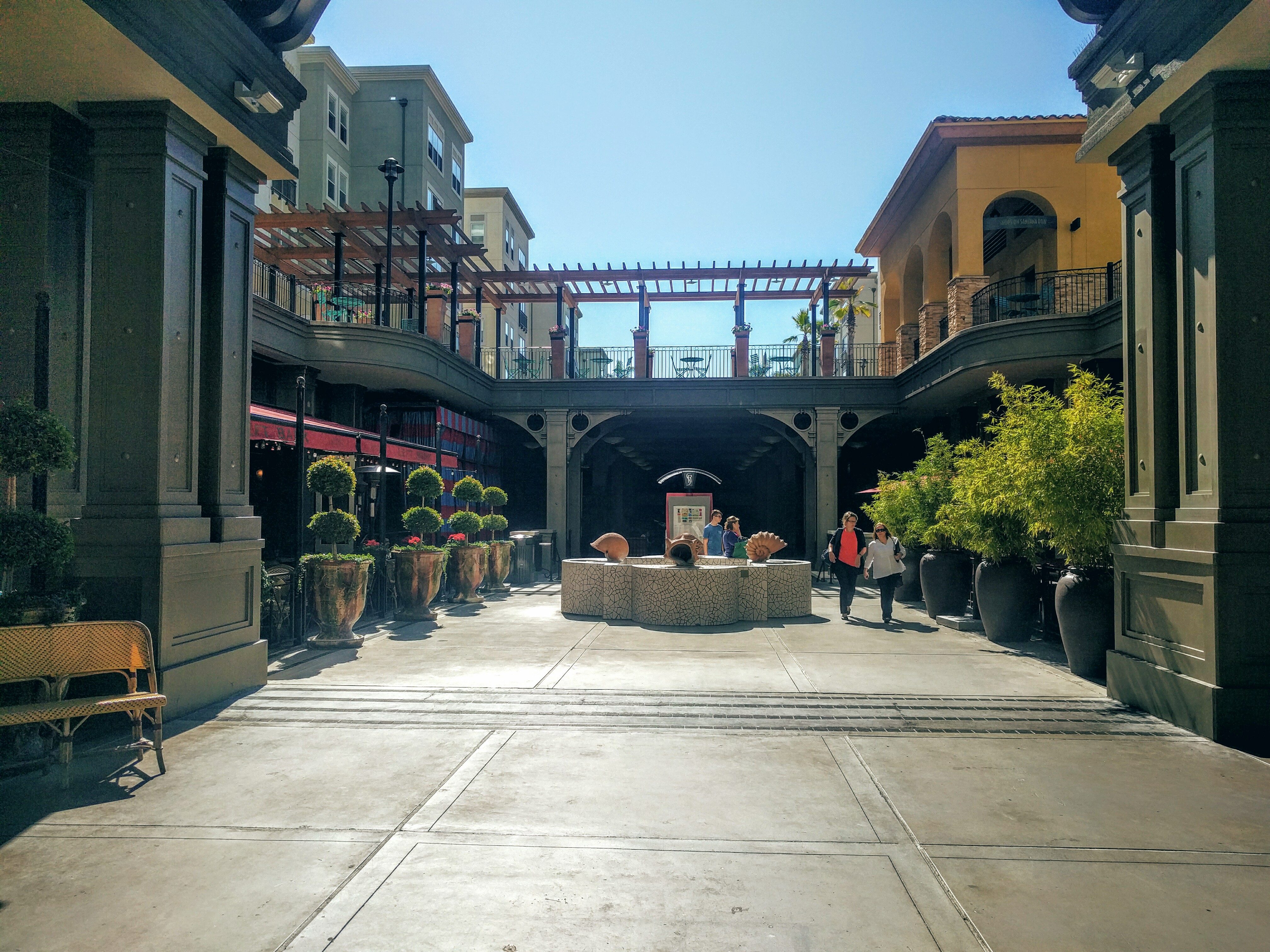 Santana Row
377 Santana Row
San Jose, CA
95128
Instagram | Facebook | Twitter