Eat your vegetables, take your vitamins! It's what I remember hearing as a kid. You?
What veggie did you hate as a kid, but now enjoy? Broccoli for me. I still don't really like it. But I eat it because I'm an adult and it has some good health benefits. I just discovered my love of cauliflower a few years ago. I was missing out for so many years!
I documented in January mentioning that I was starting to take vitamins on a daily basis. The reason behind it all, was because I had a poor diet, and my family kept suggesting I start taking supplements.
And that's exactly what I'm doing.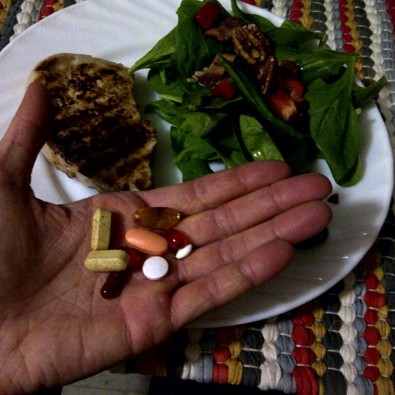 For a few years I ended up buying iron pills, multivitamins and other supplements I thought I needed — but they all got forgotten about (and reminded about each time the Boyf popped his nightly pills vitamins).
Enough was enough. I felt as if I was being nagged and I decided to subconsciously make a 2013 New Years Resolution to make an effort in bettering my body.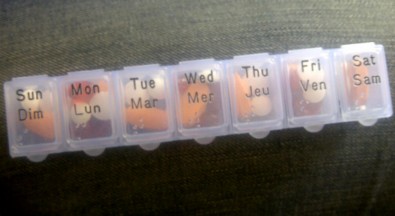 I bought one of those old person pill holders, filled them up each Sunday night ready to start the week.
Gotta be honest. Haven't really noticed anything significant in my body to write home about after taking all the supplements. But I can only assume it's doing more good than harm. Right?
A few months into me taking the daily vitamins I received an e-mail from Koge Vitamins asking if I wanted to try out a 30 day trial of whatever I chose.
I ended up going with Daily Vitamins, just so I could stop taking a monster amount of pills each day. 3 is enough!
The packaging was quite nice, don't you think?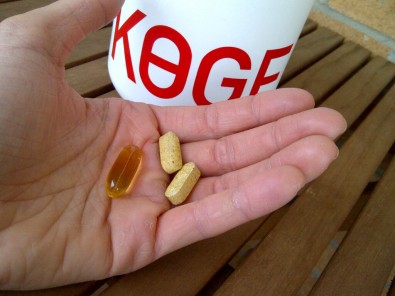 Each Daily Pack Includes:
Two Multivitamins

One Omega-3
You can buy it on their site for $29.99.
All Koge vitamins are physician quality (Health Canada and FDA approved, backed by the CEO of the Canadian Olympic Committee) and they avoid artificial flavors, colors, preservatives, etc. to keep it clean and natural.
So folks, I've finished the 30 day cylindrical tube of pills. Do I feel any different? No, not quite. But I think adding in healthy fats like Omega 3 is beneficial, especially since I was on paleo for those thirty days in April/May. But I will keep taking Omega 3 supplements with my other daily pills.

One thing about Koge Vitamins is that they control the entire supply chain process which allows them to eliminate a significant portion of excess costs that customers normally incur by shopping at retail locations. Â This is the reason they offer quality product at prices that are affordable.
If you want to try out Koge Vitamins, they've kindly offered up 20% discount for all you guys! Just use the code: SPIFFY.
Disclaimer: I received compensation and product from Koge Vitamins. The opinions, as always, are my own.