Burberry Cashmere Concealer is a new addition to the Burberry's makeup range as of early 2016, so I knew I wanted to pick it up when the April Sephora sale was happening. I knew I wanted something brightening under the eyes and a bit more pink/salmon toned to correct any darkness. I opted for the No. 1 in Porcelain which is a fair colour with a bit of a pink undertone to it.
A lot of creamy concealers don't seem to work on me, although I love the consistency of them they seem to slide around and disappear from the under eye area. The Burberry Cashmere Concealer stays put with or without setting powder (I like the Hourglass Ambient powder in Dim Light) for around 4-6 hours without needing touch-ups.
What I mean by a touch-up is to fix any creasing it may cause around my undereyes. Nothing a bit of patting from freshly washed hands can't fix.
The sponge applicator hasn't gotten clogged up, and I assume it won't at this point, considering I've been using it for 3 months!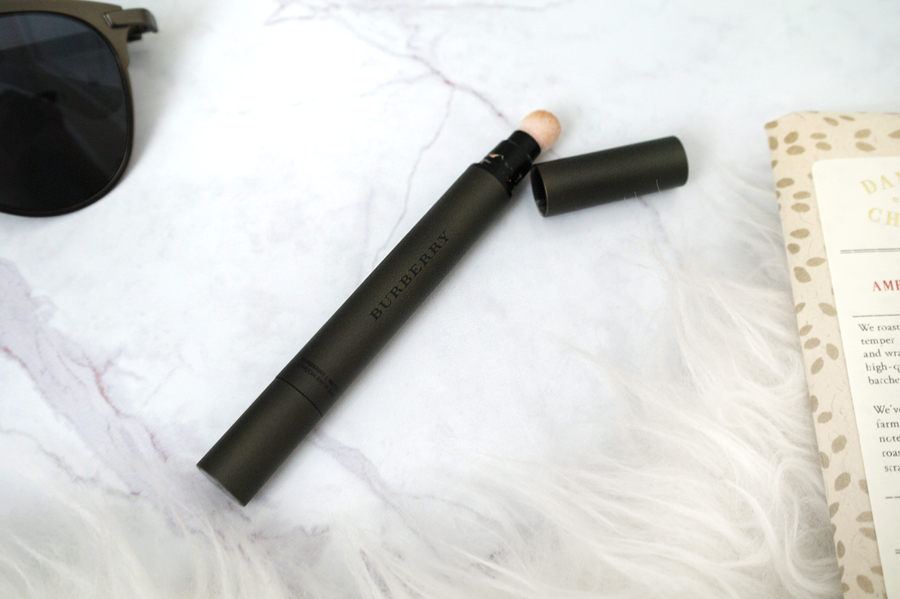 It's definitely my second favourite concealer these days! As you know, I also really enjoy my Cle de Peau concealer stick, too.
Click the wand up a couple of times to disperse product into the sponge, then dab along your under eye. I like to do a triangle under the eyes to not only conceal any darkness but also give a lot of light to the eye area.
I always prefer to blend in my concealer with my finger. It blends naturally and seamlessly with the warmth of my finger tips.
Before and after using the Burberry Cashmere Concealer in No. 01 Porcelain. The lighting is a bit off (I was taking these photos in the early morning so the lighting changed a bit as I was applying my product!).
Burberry Cashmere Concealer ($40US / $42CDN).