Great news for my Canadian buddies, H&M online store is launching in Canada soon! That means you can shop their beauty section too!!
In February I blogged about my huge H&M Beauty Haul that I purchased all online.
Now, I'm here to report back and show you what's worth the money, what's not, and how a lot of the makeup applies (with a video at the end!). Whewf, mouthful.
H&M Conscious hand creams: white tea and peppermint, and sweet lemon. Verdict: It's worth the money, if you like the scents you're getting. It's a non-greasy formula of handcream. It sinks into the skin quickly because it's so lightweight.  The white tea & peppermint smells a lot like Christmas to me, and is difficult to get through.
H&M way to glow bronzing powder (limited edition, no longer online), eye makeup remover pads, brush cleanser spray and detangling comb. Verdict: I bought the detangling comb as a gift for my friend, so I can't say for sure how that works. The bronzing powder is AMAZING and is a staple in my everyday makeup bag. The eyemake up remover pads are terrible and I already threw them in the garbage. The brush cleanser spray is only "ok", wouldn't re-buy.
H&M high and mighty mascara (limited edition, buy it now if you want it!) Verdit: Haven't opened it yet (I bought a few H&M mascaras).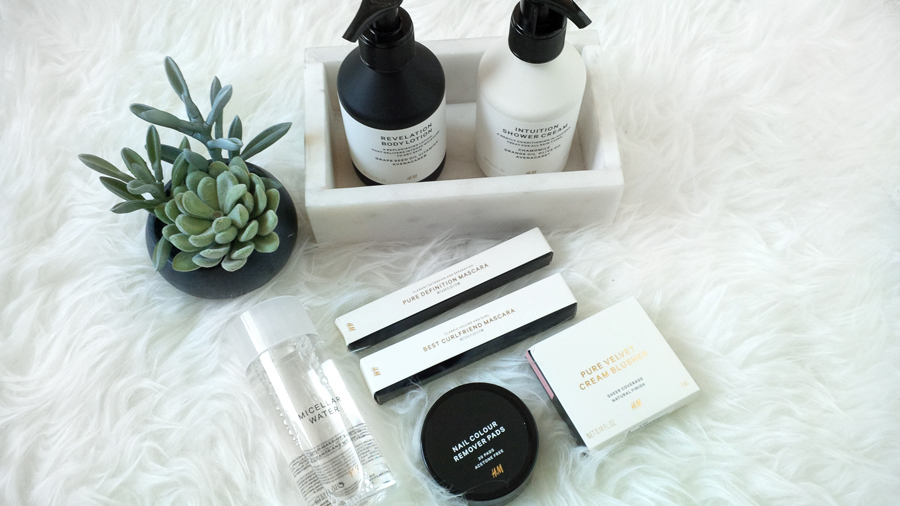 Micellar water: LOVE this. A must buy! I bought two more as a backup. Already half way through the first bottle.
Pure definition mascara: Really loving this mascara, the wand is a bit flimsy and weird, but it creates a nice lengthened look to the lashes.
Best curlfriend mascara: Nothing really to write home about. It's okay, won't repurchase. Kind of reminds me a lot of the Joe Fresh curling mascara (orange tube).
Nail colour remover pads: A little pricey, but still works. I'll stick to my Daiso remover pads.
Cream blush: It's really pigmented, dries from a cream to powder finish. I use it sparingly, but it's also been in my daily makeup bag ever since — guess it's a win?
Revelation body lotion: I think I'm all about the packaging on this. It's gorgeous, it's unisex and smells amazing. Plus, it looks cool.
Intuition shower cream: As I stated in my haul about this, my neighbour back home wanted this so I gave it to him. I re-bought because it's SO NICE. YOU MUST BUY. THAT IS ALL.
H&M BB cream beauty balm. Verdict: It's great for only a couple of hours, provides a dewy-like finish to the skin (see it in action in the video below).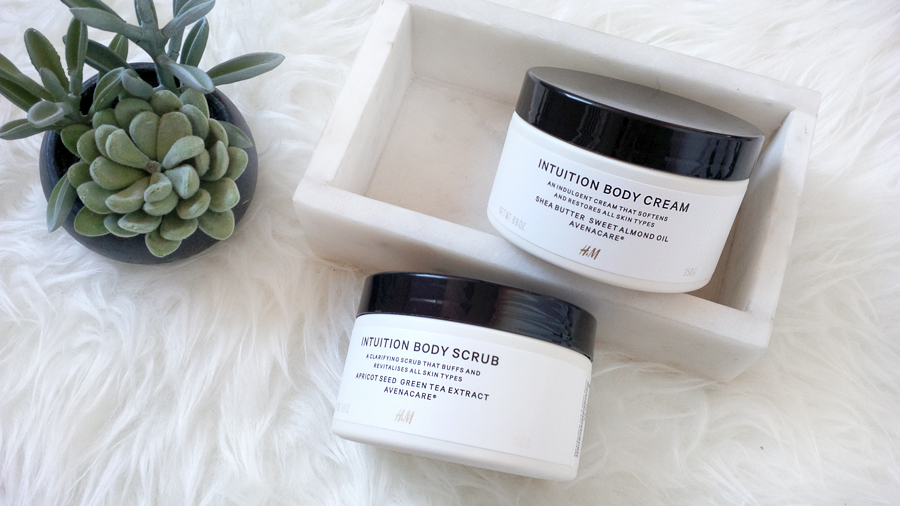 H&M intuition body scrub and intuition body cream. Verdict: I've been using the scrub a lot lately. It's decent, I'd totally rebuy. However the body cream you have to be careful as to when you apply it, especially if you're a fan of self-tanner like I am. Do not apply when you have the tanner on, I felt it wiped it all off for some reason! So strange. I love the consistency of it, and wish I could apply it every day, but I can't! haha.
Any of the items I picked up interest you? Have you tried anything by H&M beauty? 
Watch the H&M beauty line in action: