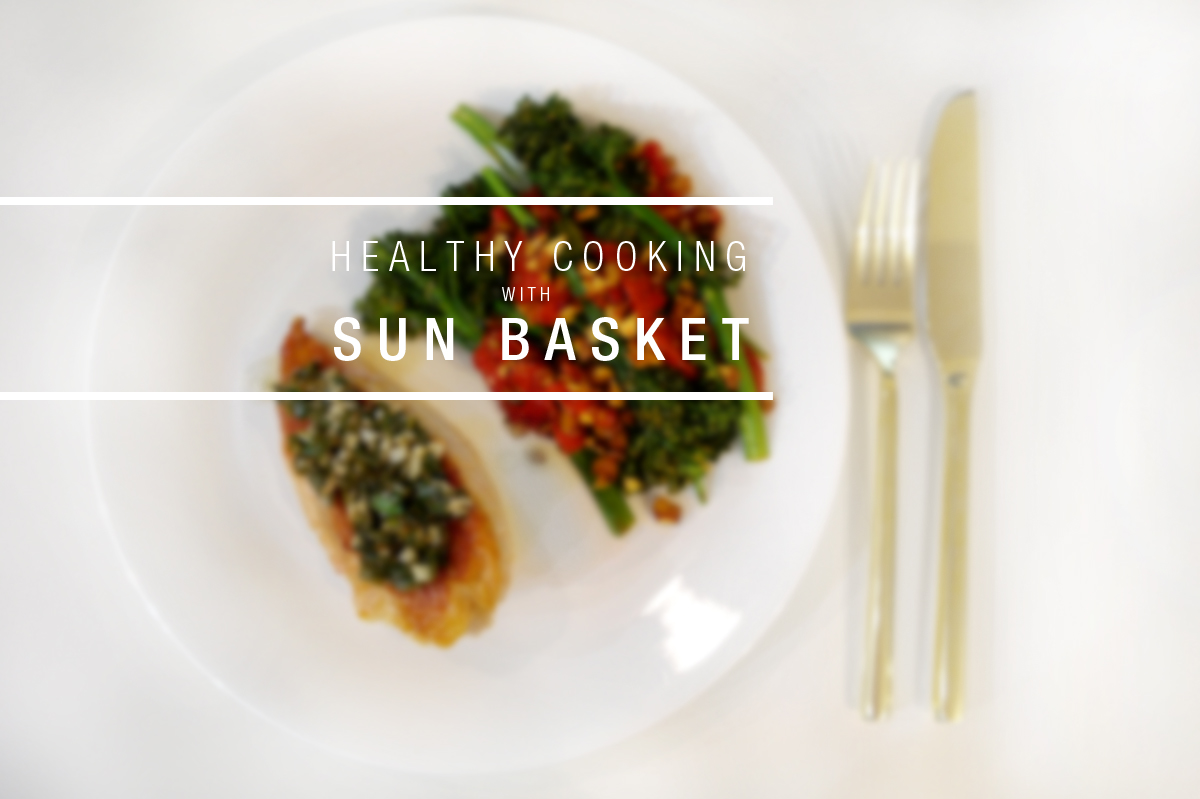 I'm not very adventurous in the kitchen. Come supper time I'm ravenous and don't want to be cooking for any time over 30 minutes. Maybe it's a good idea I start cooking before I get hungry, hey? :)
I have a handful (yes, only a handful lol) of recipes in rotation, and I keep making those over and over… and over again. That gets old, quickly. Another reason why I love going back home to Newfoundland: a food variety from all sorts of people (ahem…Hi Mom! Hi Bro! Hi Mom-in-law!). Those three people are practically chefs in the kitchen, they come up with recipes off the top of their head, and it always tastes fantastic! Over Christmas, my brother cooked my husband and I a feast of Indian food, and it was flippin' incredible. How? How does he do that? And why can't I have that cooking gene? He made us wait hours until it was done to perfection. But none-the-less, I enjoyed it and went back for thirds. Lol.
I'm happy my pal Lauren passed along my information to Sun Basket. They reached out to me while I was in Newfoundland, and I put it on the back burner, until about two weeks ago. I re-followed up with them and mentioned … IT'S TIME. I've been in California for over a month now, and I'm getting re-sick of the foods I'm making.
I need something new!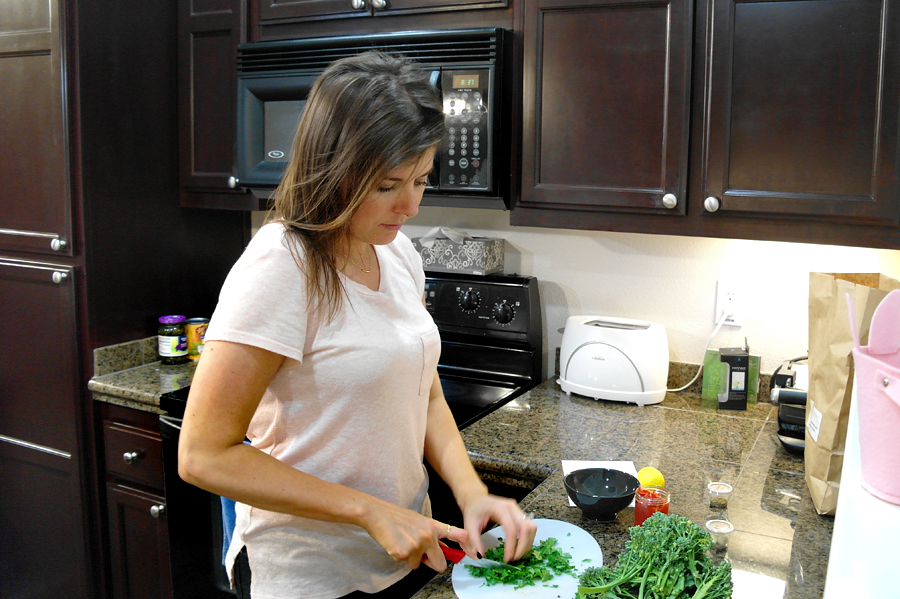 They sent me a weeks worth of choices, and to pick three meals out of the bunch. The first meal I made was on Friday night, and I went for the chicken salmoriglio with charred broccolini. The ingredients were pre-measured and bagged/jarred separately for easy assembly. Perfect!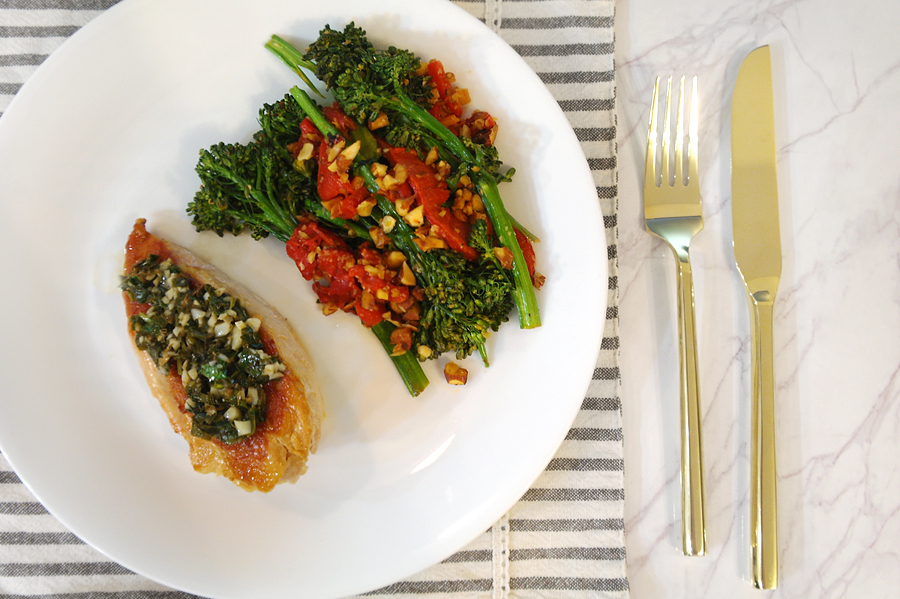 Chicken salmoriglio with charred broccolini (Paleo)
2 servings & 720 cal/serving
On the recipe sheet it mentions that the prep time is about 10 minutes. Total lie for someone like myself, I was doing everything backwards it seemed, even with the directions literally right in front of me. I suppose it would be accurate if you weren't me. It ended up taking me longer to prep then cook because my darn chicken didn't cook fast enough for my liking ;)
Chicken salmoriglio with charred broccolini:
What I loved: We both polished off our plates! The chicken was a fantastic cut of meat without any gooey bits on it. I loved that it incorporated things I've obviously heard of, but didn't know how to integrate it into a meal (parsley, and roasted red pepper for instance). Mmm! Loved the broccolini mix with the crunchy toasted almonds, and the roasted red pepper. All in all, I love chicken. I could, and do, eat it every single day. It's a different approach to add a parsley/lemon sauce to the top of the chicken, with the skin kept on!
What I would change: I would definitely do a better job next time at finely chopping (or even mincing) the garlic, and definitely getting the chicken started before anything else.
Overall rating:Â It was a two thumbs up from my husband and I. I'm keeping this recipe slip and making it again. Soon!
Saturday night I made pan-seared salmon with fennel, capers, and olives. Have to say, this was the one I was most skeptical about. I wasn't entirely sure how it would turn out, and if it would be too spicy. But this is the one I was most proud of making. Ha! It turned out really well.
Pan-seared salmon with fennel, capers, and olives (Paleo, Gluten Free)
2 servings & 630 cal/serving
Pan-seared salmon with fennel, capers, and olives:
What I loved:Â This one came together so easily and in no time. I'm definitely keeping the recipe sheet for the sauce (tomatoes, maple syrup and veg stock) but incorporating my own veggies next time. While I was iffy on trying the fennel, capers and olives I'm pleased I did. I enjoyed the fennel, and a few capers but the olives weren't my favourite. Same goes for the husband.
What I would change: I'm not sure I'd change anything from the recipe at all. I'd actually add to it, like rice, or more veg.
Overall rating: One set of thumbs up, because we are picky eaters, ha!
Last night, I made our third and final meal, the udon noodle salad with roasted butternut squash. I was worried about this one because it was unlike anything I'd ever made. And vegetarian to top it all off. My husband prefers I make meals with meat in them. Ha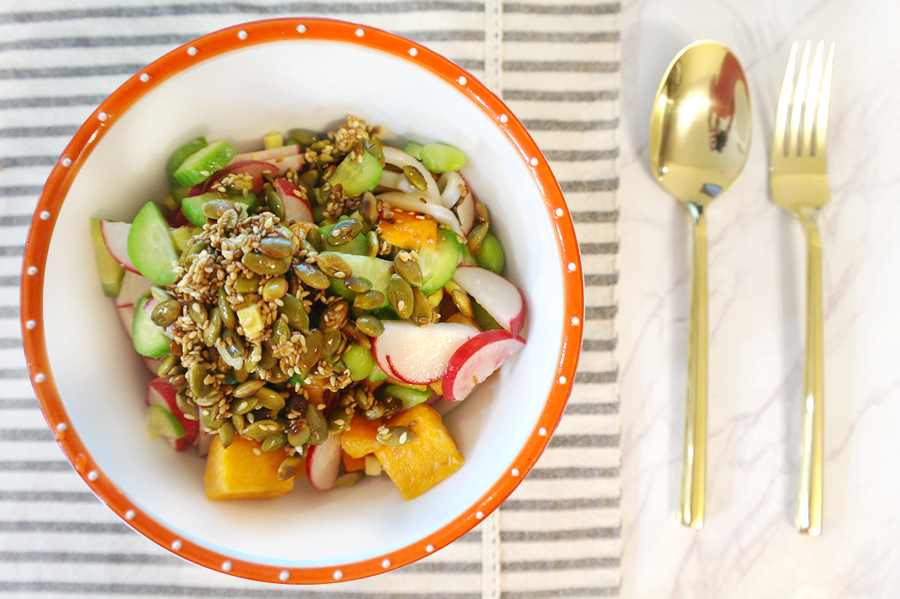 Udon noodle salad with roasted butternut squash (Vegetarian)
2 servings & 610 cal/serving
Udon noodle salad with roasted butternut squash:
What I loved:Â So colourful and enjoyable to eat, with all the textures of the crunchy seeds, squash and noodles. Also quite flavourful, more than I was expecting.
What I would change: I would mince the ginger next time. I finely chopped it, but sometimes I bit into a piece and was all "whoa!". I might even add chicken next time.
Overall rating:Â Well, my husband mentioned there was flavours in there he wasn't a huge fan of. Â I found it to be tasty, really healthy meal that luckily didn't take too long to prep and make. So I'd definitely consider making this one again for myself. Again, I guess it's a one set of thumbs up!
Great things about Sun Basket, came in an insulated box that was completely recyclable. It had a return label inside, which I then entered into USPS, and the mail man came and picked it up, to send back to Sun Basket.
From my front door step!
Guys… that's a first for me. So cool. To those who do this on a regular basis, I hear you laughing at me :)
Sun Basket has hand-selected, seasonal ingredients from the Pacific Coast's best farms. Everything is organic, non-GMO produce with recipes ranging from vegetarian options, to paleo, gluten-free or the Chef's choice. Sun Basket has free delivery to these states: CA, WA, CO, UT, OR, AZ, NV, & ID. Don't ask this Canadian what all those states are! ;)