The Christmas music is playing in our household close to 24/7, whether or not my husband thinks it's still too early, or not. And this past weekend on Instagram, I posted about my favourite cozy spot. Nothing beats curling up in front of a warm blazing fireplace at my parents house in Newfoundland, with my husband, and family and friends close by, chit-chattering on about nothing and having a grand ol laugh. Guys, Christmas is my favourite. Can't you tell?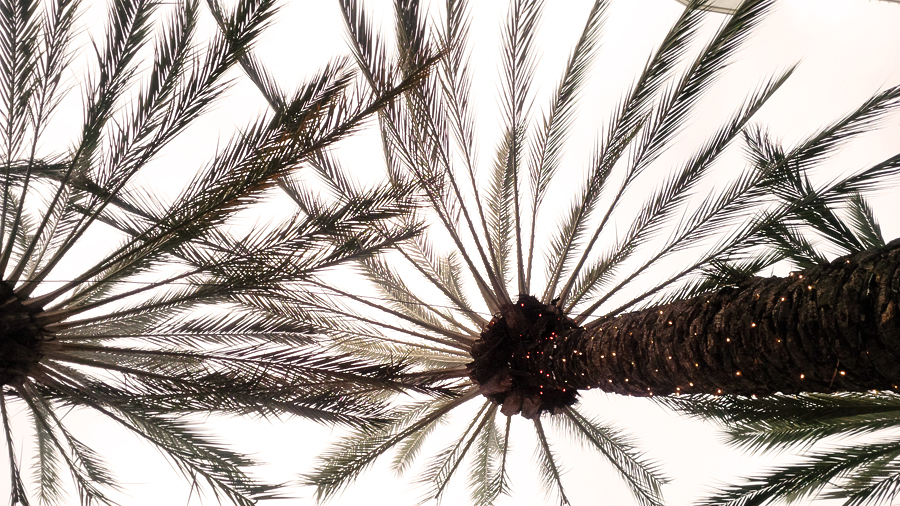 Whether you're looking to indulge by buying things for yourself, or going to a holiday party and want to get some hostess gift ideas, surround yourself by browsing around Santana Row. Although, the only time I wish for snow is around Christmas, Santana Row feels so festive with all of the decorations and twinkling lights, especially right before the sun sets.
So today I'm back with another Spiffykerms Holiday Gift Guide, this time at one of my favourite shopping destinations: Santana Row in San Jose.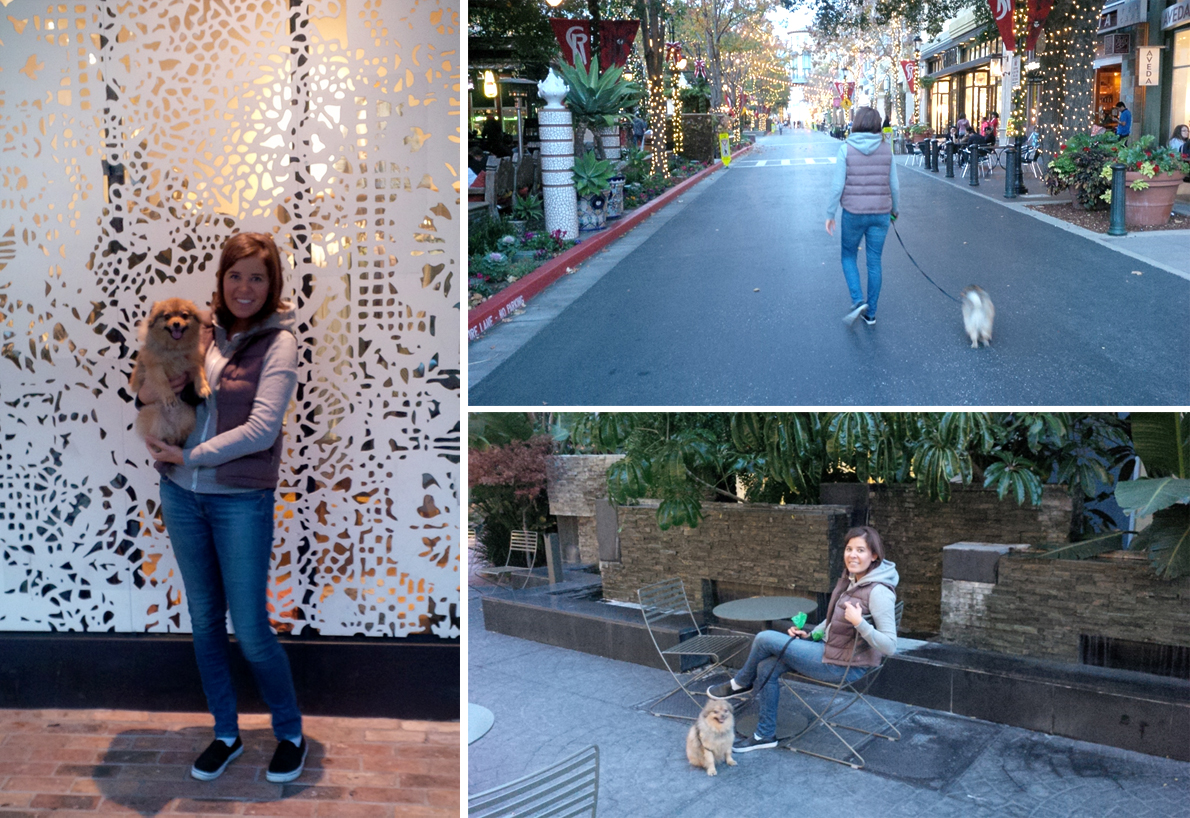 A few weeks back they had their annual tree lighting ceremony, which I didn't end up going to. But I had to make sure I made the visit during the Christmas holiday season to see all the festive lights and Christmas decorations all around the area. My husband, Alfie and I were there for most of the afternoon until sunset this past weekend, so I tried on a bunch of things, added some clothes to my wish-list and generally browsed around snapping photos of gift guide ideas in case you were around the area and wanted to scope it out too.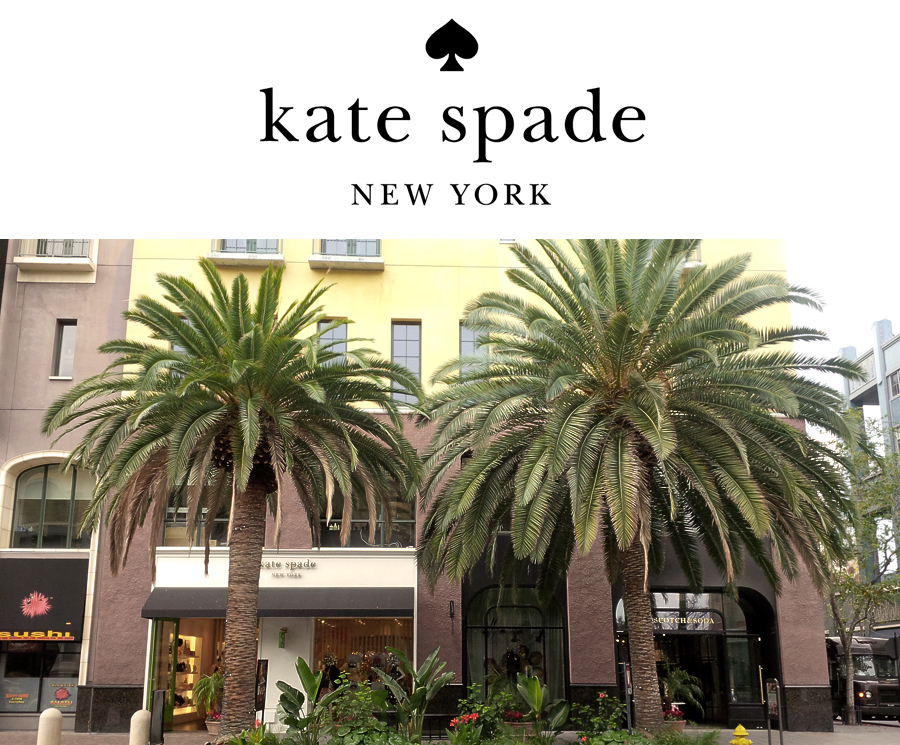 I don't know anyone who isn't a fan of Kate Spade accessories.
The Kate Spade store is always pretty and bright with unique decorations. Check out the polar bear with headphones and the bow-headed lady. I'm in need of a new wallet (as mine is getting a bit tattered), and I think eventually I'll make my switch to Kate Spade, love the bright pink wallet, and the key-ring that can hold your extra change (or in my case, all the quarters for San Francisco meters).
I own one item from Splendid, and if I was working I would have a lot more. Their clothing is so soft, and those PJ's wrapped up in a cute bundle? I'd like all three of them please. Splendid doesn't just cater to women, they also have mens and childrens clothing too. How amazing is that succulent wall when you walk right in, too?
Anthropologie has always been at the top of my hit-list when shopping in Santana Row. That store is huge, and has an array of boutiquey-feeling kitchen accessories, home decor, and gorgeous articles of clothing. I give myself a shop-here-once-a-year-allowance, and buy one or two things.
Here I am trying on a few things. Ha. As you do.

These gold items are definitely on my Christmas wish-list this year. I'm obsessed with all-gold-everything, and even more so if it's pineapple shaped. The nesting owl measuring cups would be perfect for a house-warming gift, or even to bring as a thank-you to your hostess when you hit up all those Christmas parties.
Sephora is an all-around fantastic store, because you can buy all sorts of treats for everyone imaginable. Cologne for the men, dry shampoo for anyone, high end makeup, and holiday gift-sets. A few of my favourite picks included the Sephora brow favourites, philosophy purity cleanser, and the Tony Moly blackhead eraser shown on the bottom right (it heats up on its own and is $18! Basically a steal at that price. 
Kit + Ace recently opened up at Sephora, another Canadian store (The owner of Lululemon's wife created Kit + Ace). It's a luxury brand for sure, and they make some gorgeous pieces. Soft cashmere sweaters, and unique super soft tees.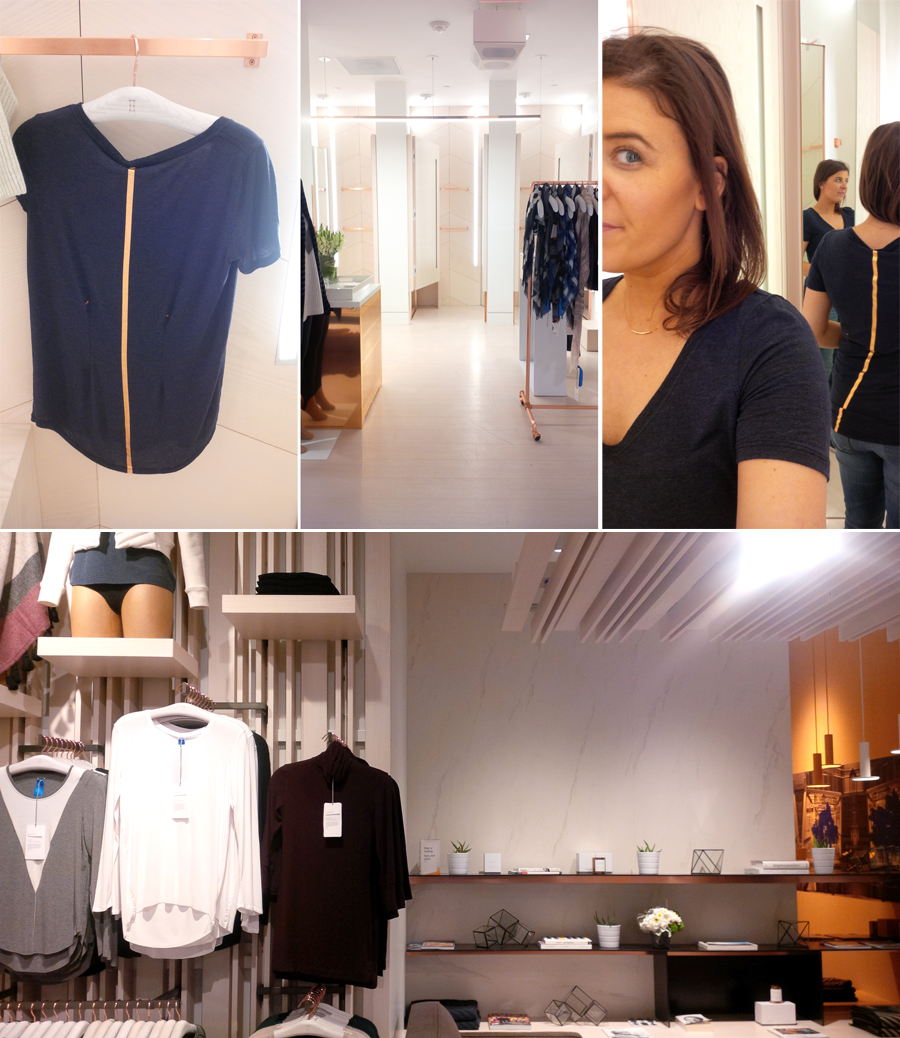 Those pompom beanies are a popular hit this year in stores. I've been seeing them everywhere – but yet to see them in that hunter green, besides at Kit + Ace. Super cute.
Madewell always pulls me into their store. The leathers, the shoes, and the jeans. But this time I tried on some warm and cozy sweaters that have a fun a-symmetrical seam to them. Plus, socks on sale! Love the patterns.
Take a break from shopping and sit down with a partner to play a game of chess (or even a huge life-sized game, it was behind me in the photo).
Or pop by Starbucks for a hot drink to warm the bellies and sit down after all that walking around. 
Ready to keep shopping? How about we pop into Urban Outfitters? They have a great selection of skin care products, not to mention an inexpensive version of Anthropologie-like-clothing (I think they are sister-companies to be honest).
An array of cute necklaces, skincare and Tony Moly (a popular Korean brand of skincare) hand cream for $8 — side note, I scoped the Tony Moly handcream at Sephora, and it was $4 more!
Free people is an excellent stop for the bohemian-styled friends, things that I wish I could pull-off easily, but can't. Instead, I'll show you a few of my favourite things from the Free People store in Santana Row, their winter hats, and vegan + non-vegan leather goods. The vegan handbag at the bottom right was $48, and was so well constructed AND REVERSIBLE! The clutch I'm holding onto on the top right was $98 and made of the softest leather.
For a list of stores and restaurants available, visit Santana Row's website.