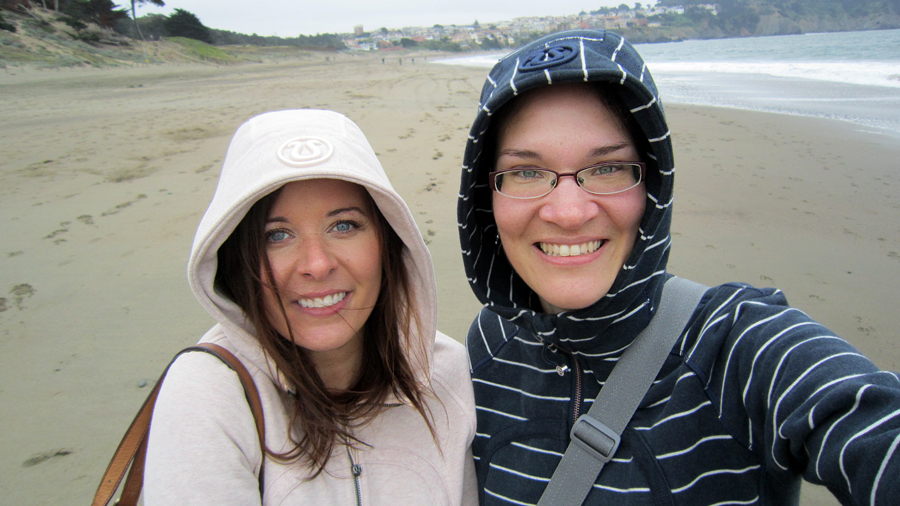 To start off our girls week long trip with my friend visiting from Canada a few weeks ago, I took her out to San Francisco on one of her first days in California. Our first stop was to Baker Beach, making sure we went earlier in the morning. Tidbit for newcomers to this beach.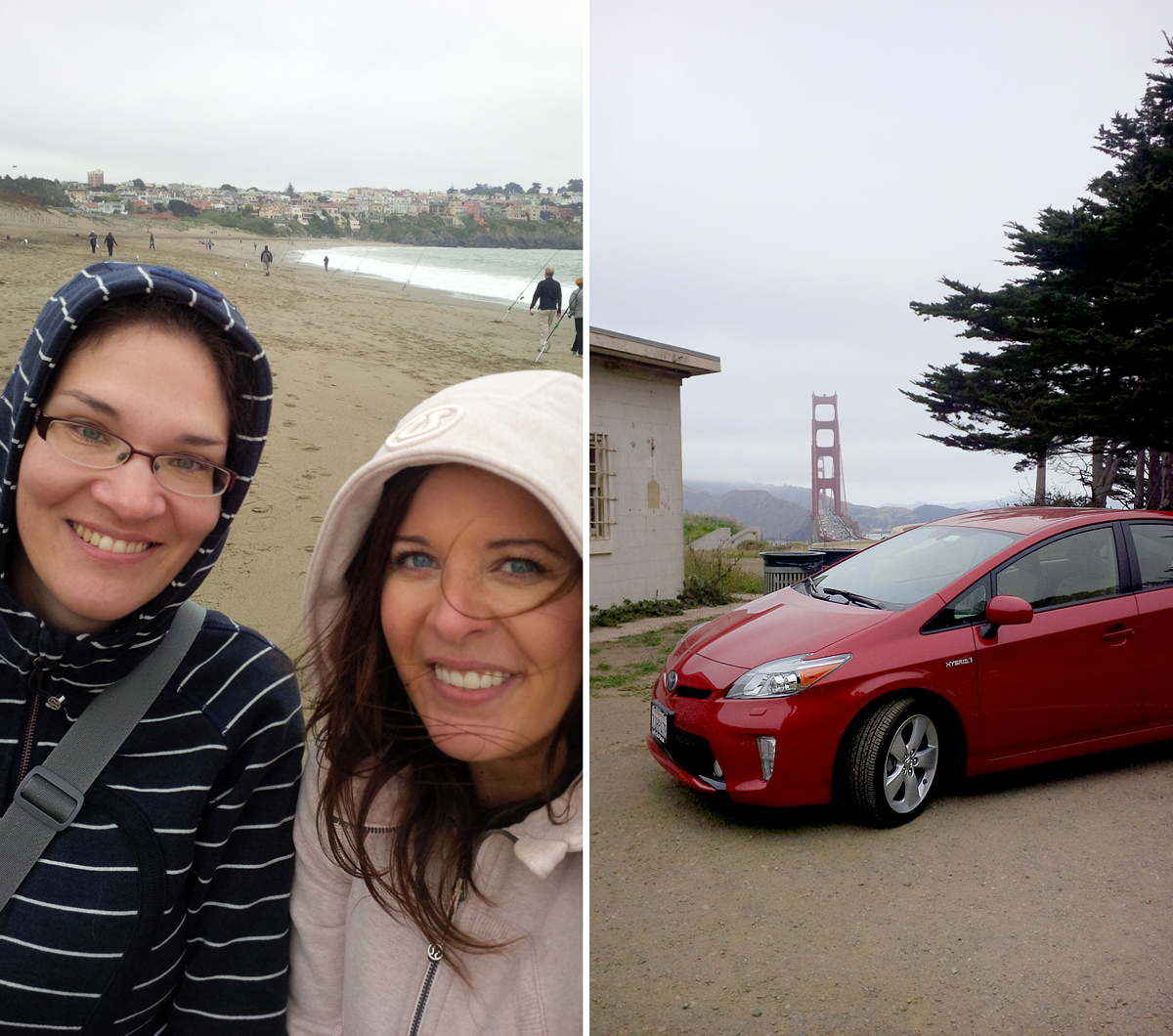 Arrive early in the morning or when it's cold out. Baker Beach is a nude beach is primarily full of older grey-haired men who love to photo-bomb pictures, but lucky for us it was both early enough in the morning and a windy chilly day — therefore no sign of nudity. Ha!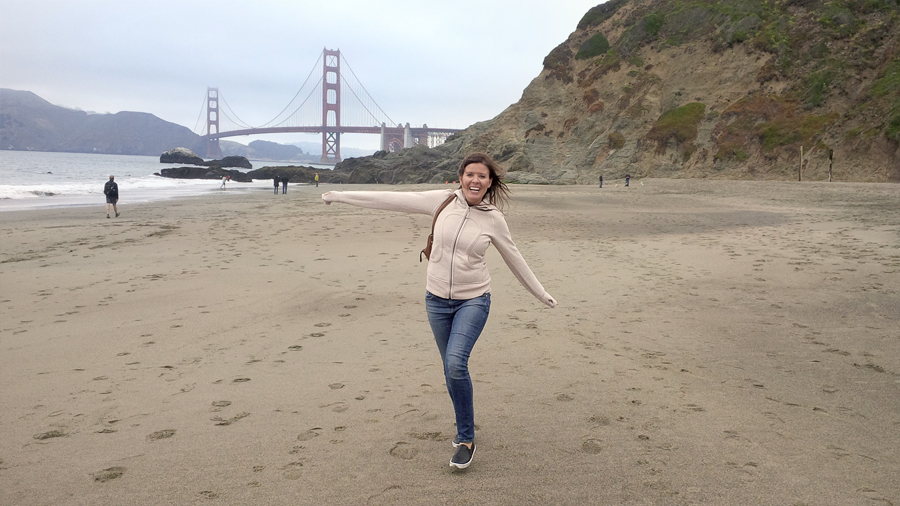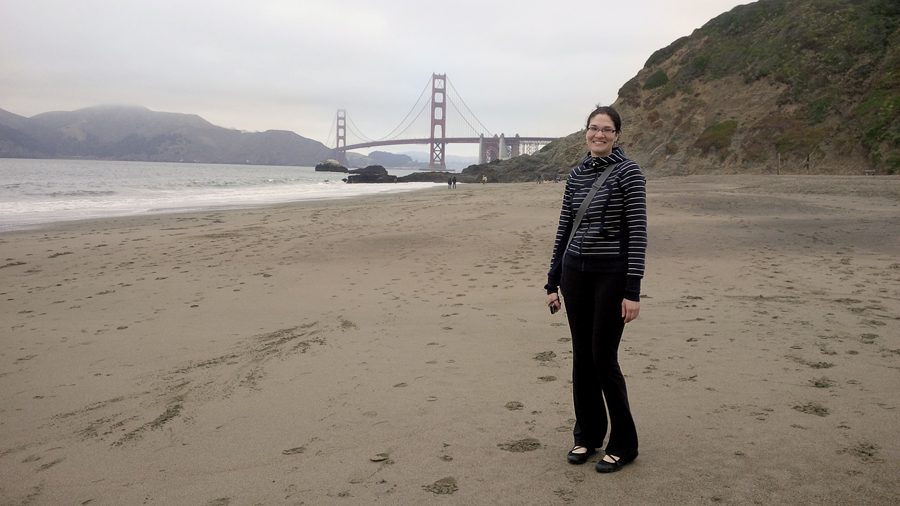 Jenna is more civilized than I am ;)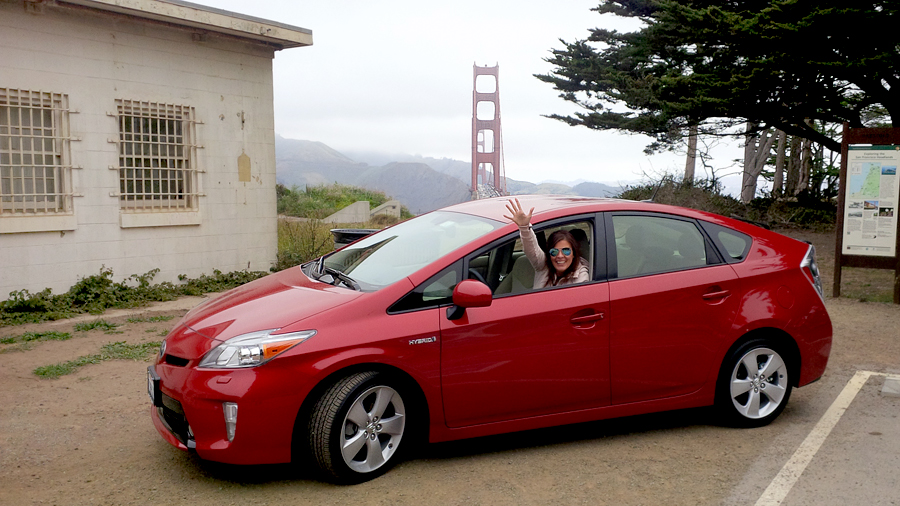 My car is currently on the fritz lately so I received a 2015 Prius Five to test out and review for a whole week and I made sure it lined up with my friends visit. Isn't that insane? To be given a car to review. Now that's what I'm talking about. So glad we had the Prius, not only did it save us tons in gas, it had built in navigation and was a breeze to drive. Once we had a glance at the Golden Gate bridge from the beach, we took our photos and scurried off back into the car. I'm tellin' ya, being on that beach in California, was like being on a Newfoundland beach during a chilly autumn day. We were froze!
At this point it was creeping up on lunch time and we decided to venture off into the right direction and grab some lunch at the Fog Harbor Fish House on Pier 39 with views of the San Francisco Bay.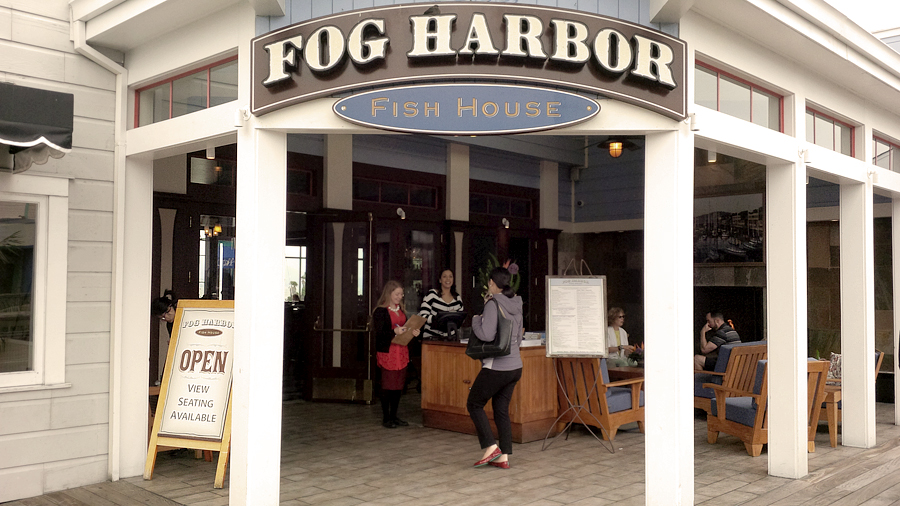 Although I'm from Newfoundland – I've never been to a seafood restaurant before.
So taking that into consideration I had a glance at the lunch menu and made sure to order things that weren't chicken. Tough for an ol' routine gal like myself, but I did it.
Fog Harbor Fish House pride themselves in offering the freshest sustainable seafood in San Francisco.
They have a few menu specialities:
• 100% Sustainable Seafood
• Live Lobster
• Cioppino
• Crab
• Steaks
• Daily Fresh Fish Specials
• In-House Baked Bread Made Fresh Daily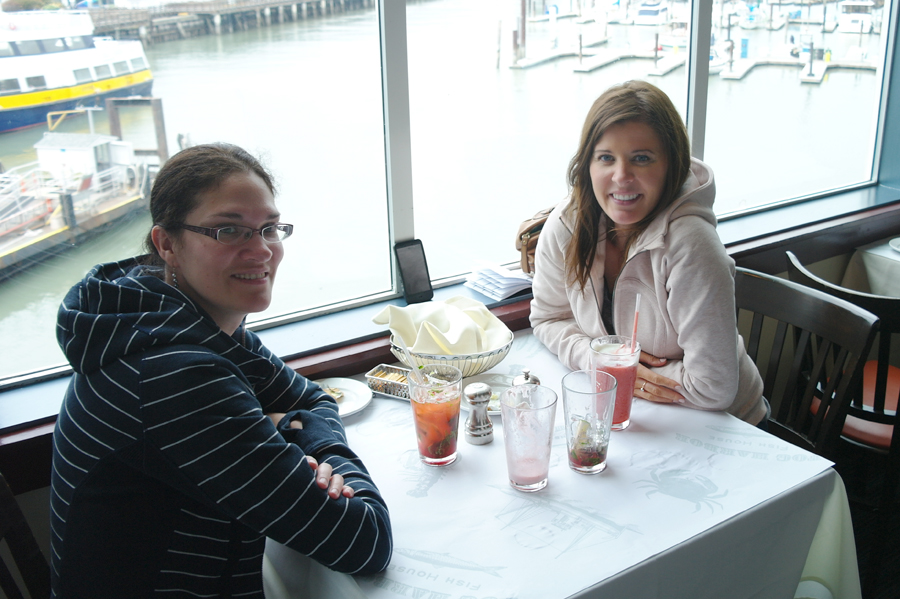 It's located on the second level of PIER 39, and every table offers spectacular San Francisco Bay views looking out over Alcatraz, the PIER 39 Sea Lions and the Golden Gate Bridge.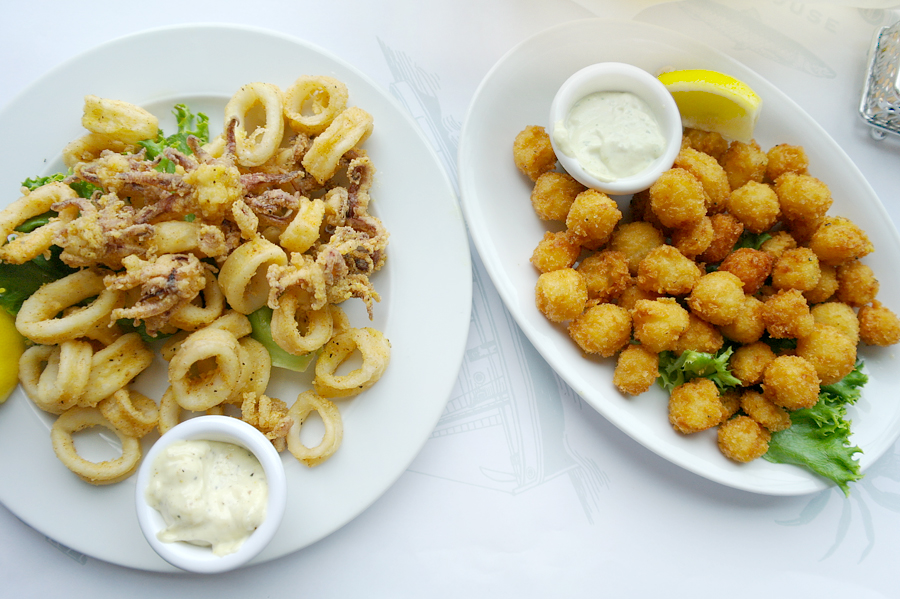 We were pretty hungry by the time we got there considering we skipped breakfast. So we ordered some app's to start. Crispy lemon calamari for Jenna, crispy bay scallops for me. IJenna really enjoyed her calamari and I tried a bit of it too. But I'm not the hugest fan even though Jenna mentioned it was done perfectly (ie: not rubbery) but I still couldn't get past the texture, and seeing the dangly legs. Guess I'm not cut out for that kinda stuff. Visuals like that kinda give me the creeps.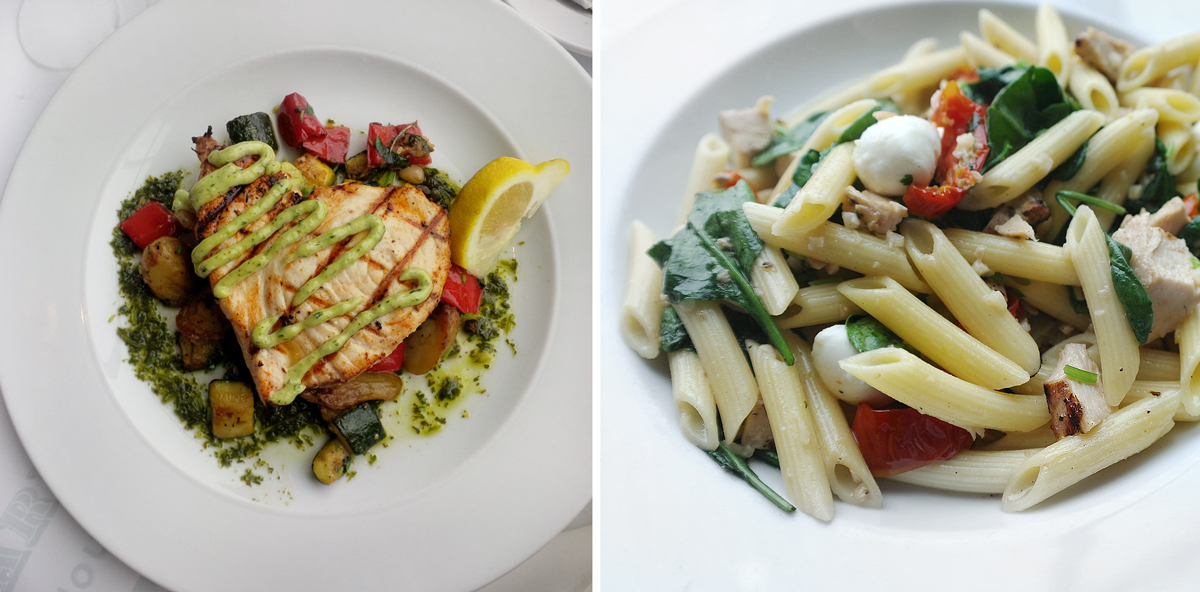 Lunch was absolutely delicious. I hadn't tried swordfish before, and I was questioning my friend who seems to be the connoisseur of many foods — she mentioned the fish tastes like a moist pork chop. That's all I needed to hear. The swordfish had a mild flavour to it, so I'm pretty sure many people would enjoy eating it. We didn't have room for dessert after the pile of food and virgin drinks I had — I was driving.
So our next destination was finding our hotel for the evening.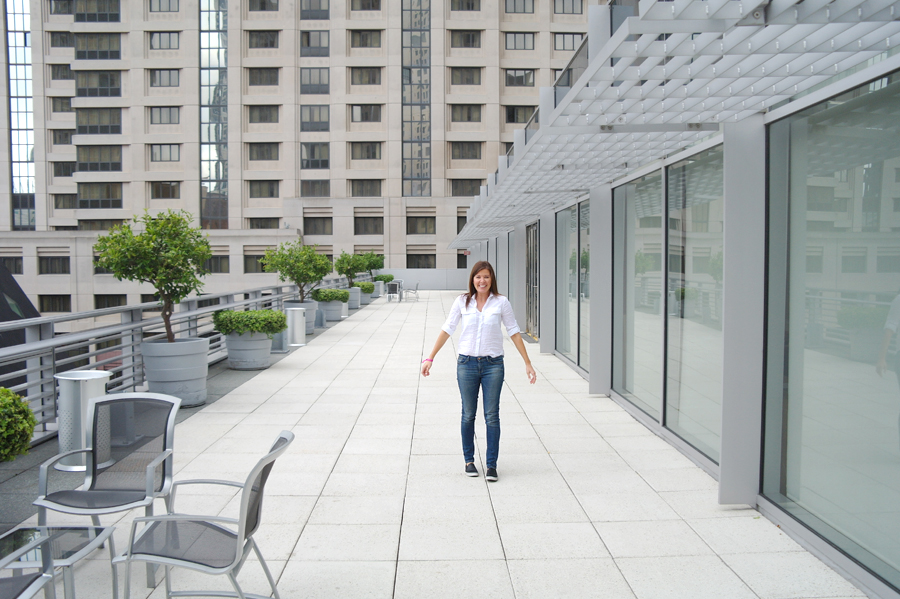 Four Seasons San Francisco was a feat in itself to find. Although it's in a great location, I had both the car GPS and my BlackBerry GPS going at the same time trying to find it. Considering San Francisco is known for its one-way streets and no left turns basically anywhere in the downtown vicinity, it was difficult to find the hotel. We drove past it twice not noticing it at all as it looked like an office building. Third time was a charm, and no 3 strikes you're out over here, we found it, and parked the vehicle for the night.
As we were checking into the elegant Four Seasons, a couple of gift bags were waiting for us at the front desk, with a few San Francisco souvenirs and a gift card to the Westfield San Francisco Centre! Definitely hit up that massive mall and checked out the super-cool circular escalators while doing a bit of shopping.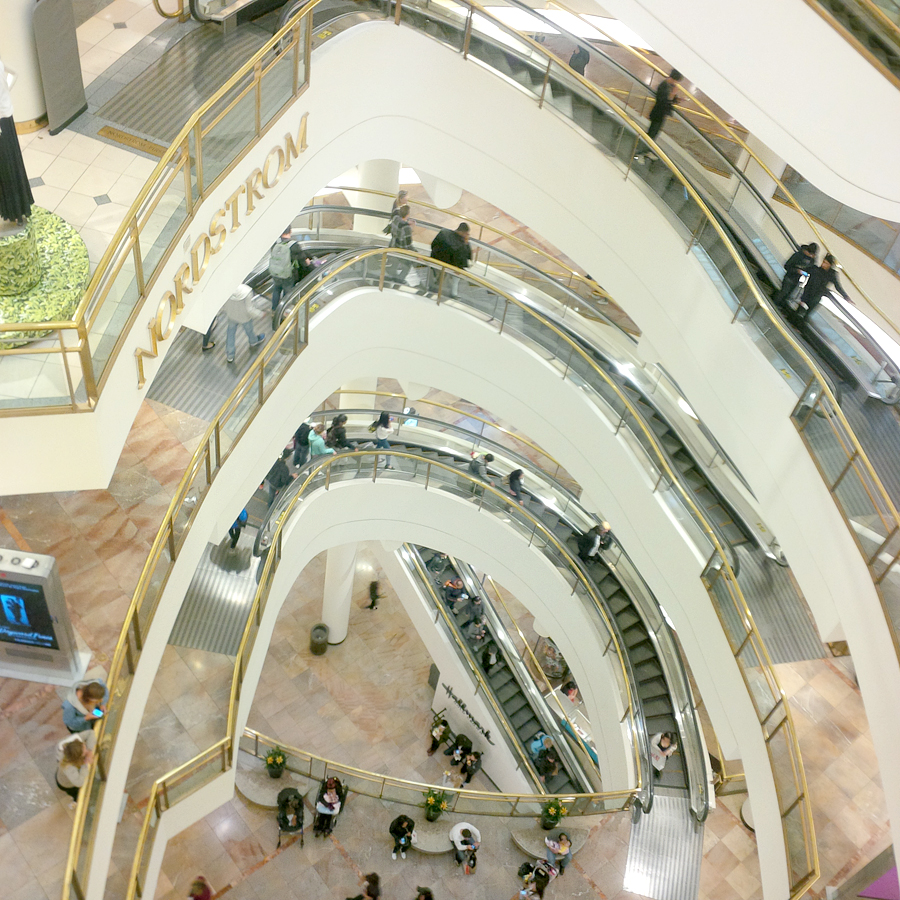 I picked up a new concealer from Bloomingdales with my gift card :) I'm so thankful I googled the heck out of the area we were staying in and as luck would have it, the shopping centre was a simple 5 minute walk down the same street as our hotel was on. No one got lost! Whewf. Hey, it's a huge feat when you're in a new-to-you city, am I right?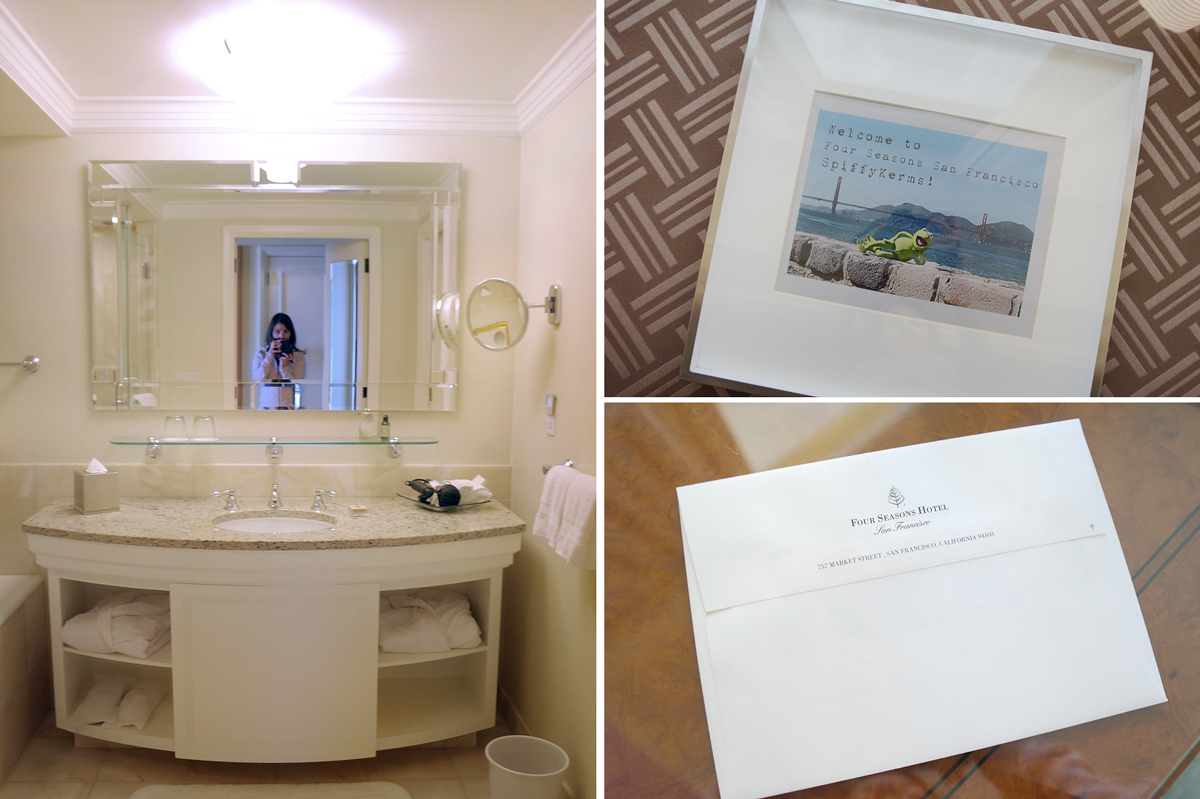 Our room was really beautiful, and spacious. What caught me off guard in the best way possible, was the snacks, champagne bubbly champagne and this huge framed poster of "spiffykerms" hanging out at the Golden Gate. A wonderful personal touch that I wasn't expecting — but it brought out the giggles in us!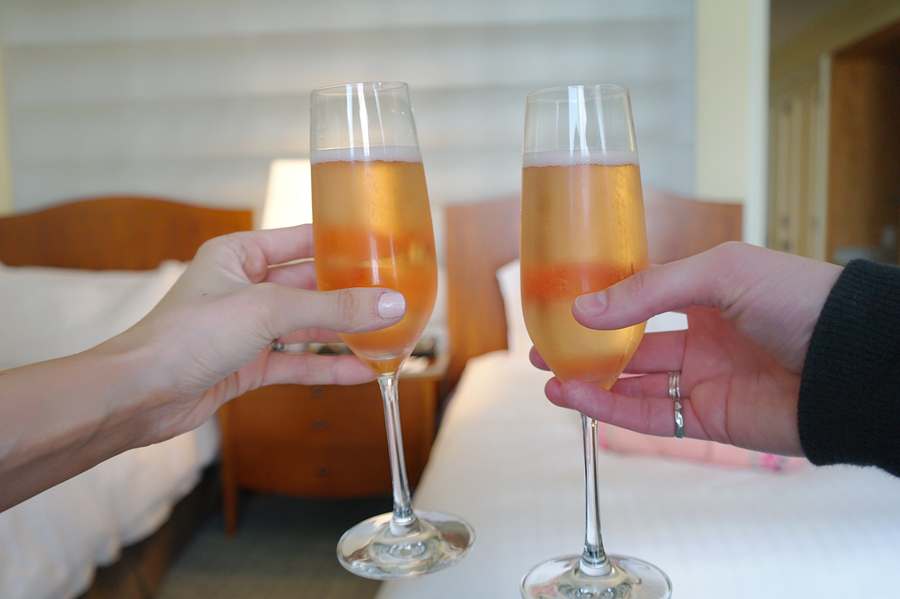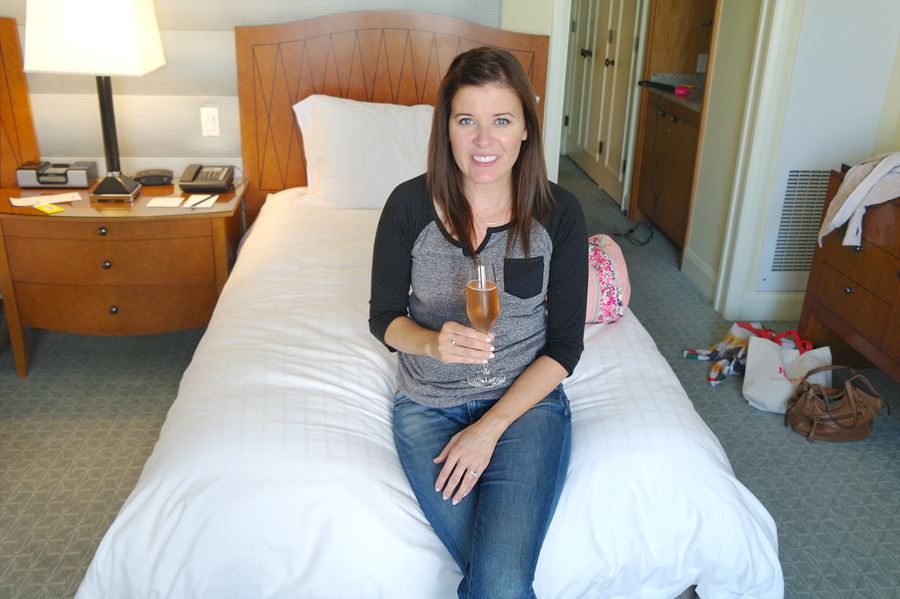 We popped the bubbly, ate our snacks and enjoyed cable TV for the night.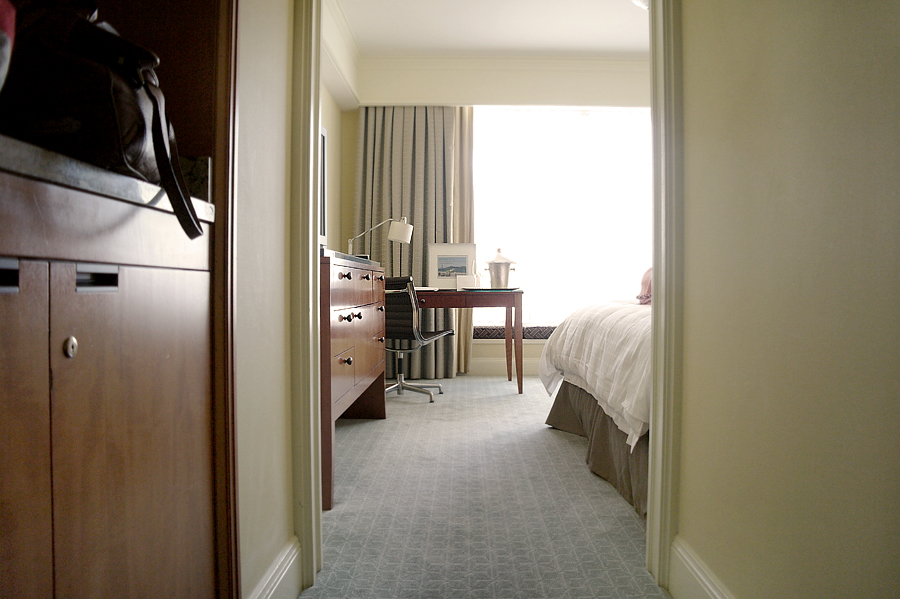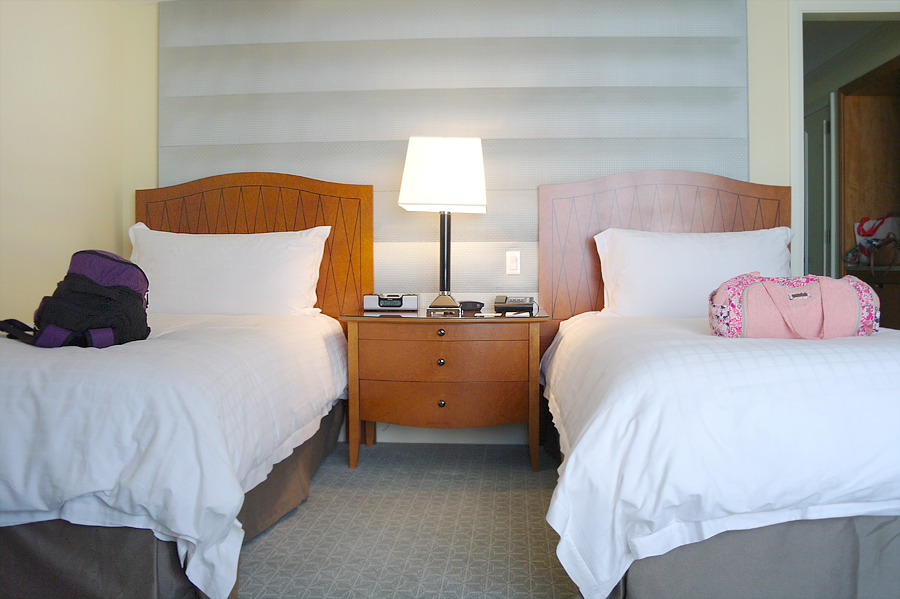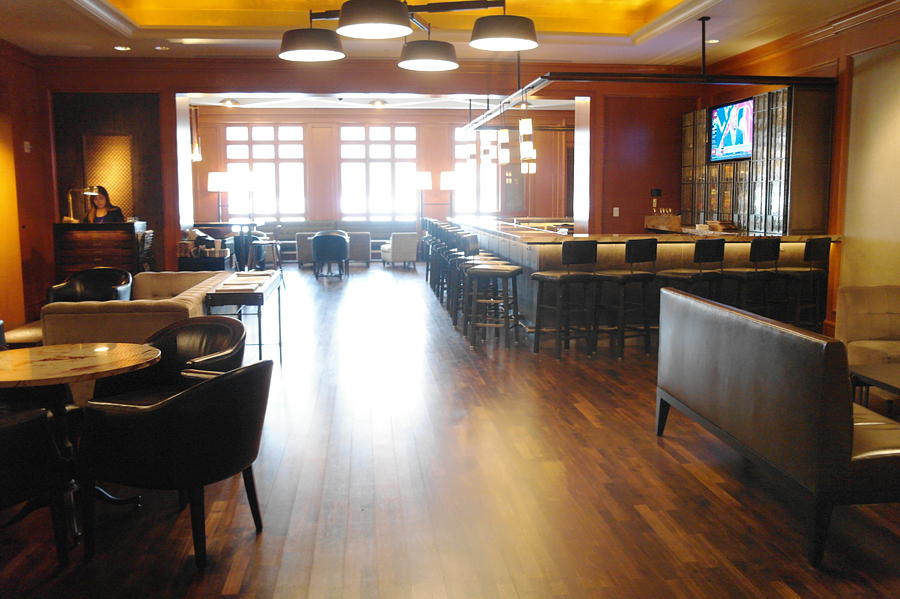 A short while later, we heard a knock at the door. It was housekeeping checking in on me for turn-down service. Having had this never happen to me while staying at a hotel before, I assumed it wasn't complimentary. I was wrong! The woman was so friendly and incredibly sweet to me being a bit naive, but we received some bottle water and extra shampoo — because hello they use L'Occitane products at Four Seasons Hotel, I definitely need extra.
The next morning we both had our showers for the day and oh my gosh you guys, the shower head in our hotel room was unreal. Perfect amount of water pressure, but the shower head was huge and felt like rain coming down, cleansing me. Now tell me that wasn't relaxing! I was in heaven.
This was probably the funniest part of our stay at the Four Seasons. I brought down the framed photo of spiffykerms to the front desk, asking if I was supposed to keep it or hand it back. The man at the front desk greeted us professionally and quietly asked me "Was it on the wall?".
Oh my gosh … no! It was waiting for me in the room on the desk. Thinking back to what he said, I laughed really hard and said I would never take art from the wall and ask if I could keep it. Which in turn loosened him up and we were all in tears laughing as we were checking out of the hotel for the day. He told me he'd be impressed if I took down the art from the wall behind him which was twice the height and width of me. Muscles. Thankfully, it wasn't as awkward as I thought it was going to be, and I got to keep the personalized frame photo.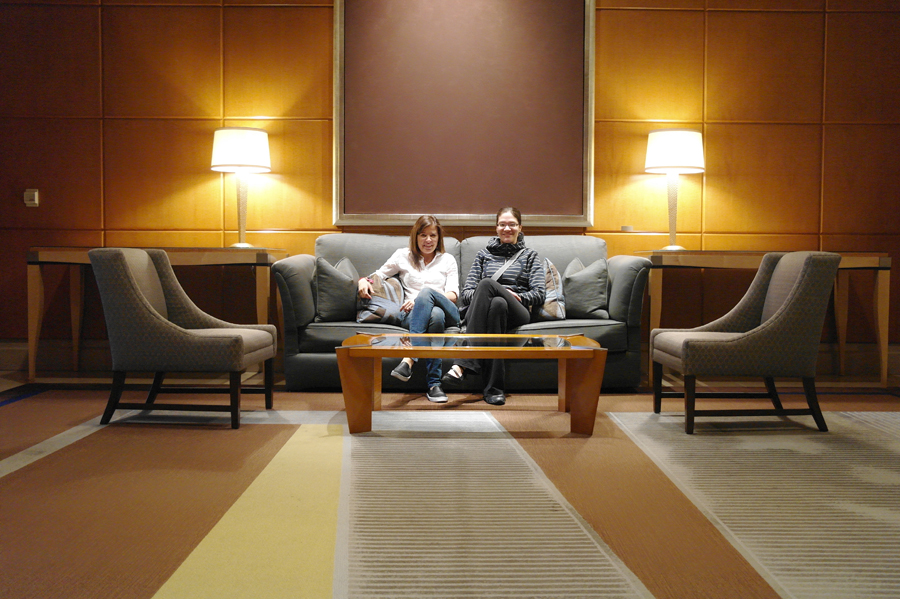 Once we checked out of the hotel, we headed down to one of my favourite places for lunch, and took the coastal highway down to Carmel. That will be another blog post, so stay tuned for that!
Fog Harbor Fish House
Pier 39, San Francisco
Facebook / Twitter
Four Seasons Hotel San Francisco
757 Market Street, San Francisco
Facebook / Twitter / Instagram
Westfield San Francisco Centre
865 Market St, San Francisco
Facebook / Twitter / Instagram
Baker Beach
1504 Pershing Drive, San Francisco
Facebook / Twitter / Instagram
Disclaimer: A big thanks to Pier 39 for providing us lunch at Fog Harbor Fish House, Westfield San Francisco Centre for the goody bags and to Four Seasons for hosting our stay.