Disclosure: This post was sponsored by Fitbit through their partnership with POPSUGAR Select. While I was compensated to write a post about Fitbit, all opinions are my own.
By now you have probably seen me wearing a Fitbit on my arm if you've scrolled through my photos on the blog, or follow me on Instagram.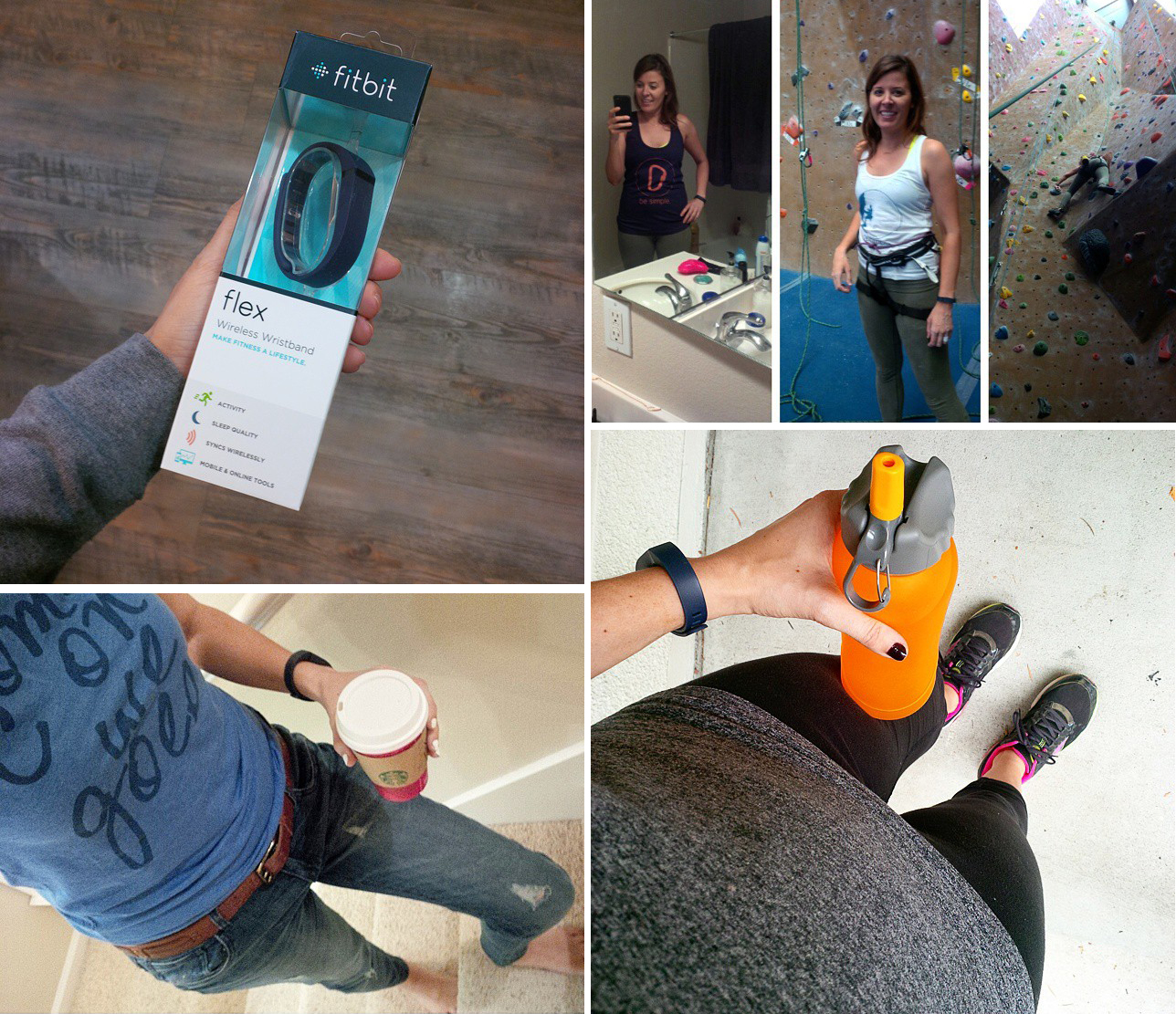 I have been wearing the Fitbit Flex for a solid three weeks and have only taken it off twice to charge it when I knew I'd be sedentary, sitting at my computer. It's even safe to wear in the shower! While it doesn't stand out on your arm nor is it an eyesore, it's still a piece of rubber on your arm. You'd be pleased to know one of my favourite designers Tory Burch has teamed up with Fitbit, creating gorgeous metal bracelets and pendant necklaces for sleeker ways to track your fitness.
You know that I'm not a person who likes to go to a gym and do weights or run on the treadmill. I prefer taking it outside and go rock climbing or do yoga. I've recommended a ton of stuff to you guys in the past. I'm always honest and truthful with you, if I got the product for free to review, and I always tell you the pros and cons about a product. While I'm a bit disappointed that it doesn't track my yoga (since I'm barely moving) nor does it seem to significantly track my bouldering or top roping sessions, it does track me going for runs outside, and taking Alfie for long extend-o walks, think of it as a fancy pedometer basically. You can use the Fitbit as a motivator to get your daily steps in, but please remember in order to get your daily exercise in, you need to get your heart rate up. Walking around a mall for 4+ hours to get your ten thousand steps in shouldn't count as your cardio for the day. With that being said, I did burn a heck of a lot of calories sweeping our front porch and not many during a yoga class. So keep that part in mind.
However, Fitbit flex can be a great little motivator for those who need the extra push to get moving. When I tap my wrist to see how highly active (or lazy) I've been that day, it keeps me accountable for my health and well-being. Because I know darn well I can easily sit at the computer all day long with only grabbing a bite to eat and taking Alfie out every now and then. I don't want to slowly watch my weight pile on!
I'd like it to fit more snug on my wrists so I swapped out the one that is in the box for the smaller one that came in the starter kit I received. I'm happy to report they kept in mind the people with smaller wrists, a rare treat! If you don't want to wear the rubber bracelet on your arm, or are worried about it falling off (even though it's clasped in really well and is almost a bit difficult to remove) you can take the tracking chip off the wristband and put it in a zippered pocket if you're out on a run. The Fitbit has pre-set a 10,000 step distance for you to keep track of and sync with your computer online.
Each morning I check it to see how much sleep I got that night, how restless I was (and let me tell you guys, I'm pretty efficient when it comes to sleep. I can sleep in a room crowded full of people with music blasting and I'll still get 98%+ sleep efficiency, so I wasn't surprised at how well I slept.) But I was curious to see how much I tossed and turned, because each movement of the arm during the night reflects "restlessness" according to Fitbit.
Once I've been wearing it for 6+ weeks I plan on handing over the Fitbit to my husband. I'd be interested to see how much The Guy and I differ between our sleep and workouts, seeing as he gets terrible rest, and a ton more running and biking in than I would ever think imaginable. Dude goes non-stop.
Overall it gives me a pretty good idea on how my fitness is (or isn't) during the run of a day. I'm obsessed with the sleep tracker, and especially the silent alarm. If I'm waking up earlier than The Guy I try not to disturb him and the BlackBerry alarms are still pretty loud in the mornings, this one has a silent alarm that vibrates to wake you.
While the $100 price tag won't break the bank, I am still debating whether or not I'd spend the money on it myself if I didn't get it to review. Though my Fitbit does motivate me to get up, out and around – I'm not sure it's suitable to the workout regime I do. I do have to say, since this thing has been on my wrist, it's definitely kept me accountable for not grabbing a pizza right after my bouldering session (it happens at least twice a month) — and whoopsie totally happened yesterday. With that said, I know my husband is dying to try it out since he runs and bike's on a daily basis. So I'll keep you guys in the loop if you wanted to hear more about his thoughts on it.
How do you #findyourfit? How many days a week do you exercise?
What's your favourite way to workout?
Think you'd benefit from a fitness tracker like Fitbit?