So it's the new year and I want to revert back to one of my older blog posts for a moment.
Remember that time I tried out an epilator? I received the Philips SatinPerfect Epilator towards the end of the year. I regret not bringing it home with me over the Christmas holidays. I've been using it that much. I've used it primarily on my under arms, and no where else. Due to the fear factor mostly.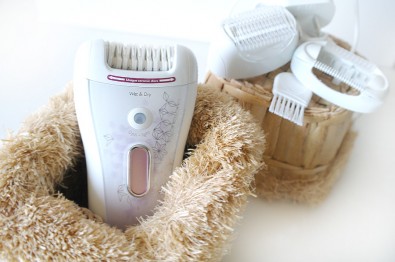 On my legs, I find the epilator isn't sufficient as I'd like it to be since it doesn't grab the hairs nor make a nice soft and smooth finish as a razor would. So I've just kept using it on the under arm area, with great successes. I don't panic when I turn it on, nor do I start sweating with fear. It also doesn't hurt any more. Score. It's quite easy to get used to, and I don't have to epilate often at all. Once a week is good. I try to not let the hairs grow out very much, I mean I suppose you could let it all grow out and re-do it, but I think that would cause more pain. The more often you do it, the less painful it is. less time for the hair to grow, know what I mean?
To prevent unsightly ingrown hairs, I bought Tend Skin from Nail Polish Canada's website, apparently it's some miracle liquid that prevents ingrowns. So far so good, I've had zero since using it. I apply this after I've shaven my legs, and epilated my under arms — it stings a lot, but only lasts for 5 seconds or so. My skin is finally starting to look normal.
How do you do your hair removal?
I used to do a lot of waxing, but still that gets costly, and messy if you're doing it at home. Plus, you need to let the hair grow out a lot more than what you'd need with epilating or shaving.