Today I'm unveiling the latest Sally Hansen Complete Salon Manicure Designer Collection as seen at the NYFW Spring/Summer 2014 shows of Prabal Gurung, Rodarte and Tracy Reese.
Take a WILD guess and tell me what collection you think I'd choose ;)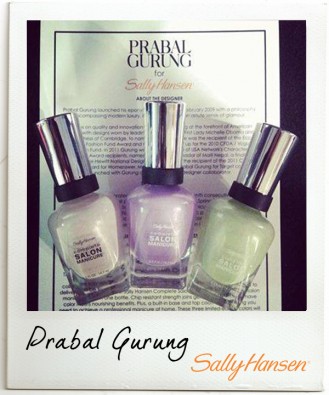 Not really a hint but more of a "I'm going to tell you anyway". It's most definitely the Prabal Gurung in those nice soft neutral shades shown above.
Then again I do love a good red polish, especially for the tootsies.
I don't like to too bold, so I'm not the hugest fan of this one, above.
It's so cool that I get to share with you some new nail polish shades before the samples have even been created! These photos above are from the backstage shots at NYFW which will launch in Canada in June 2014.
Because it's so brand new I can't give you a chance to win the three designer collections shown above. But how about we negotiate a lil' somethin' somethin' for you?
Boy. You guys sure are lucky this autumn. I seem to be in the gift giving mood this season. Gearing up for Christmas, I suppose. I'd love to give you guys a chance to win the current Complete Salon Manicure Salong Designer collection, since those are in stores now.
There are three shades in each collection – and I'm doing a giveaway of each collection. So this is a bit different than my other giveaways, since there will be 3 winners! Check out the colours shown below. I think my favorite has got to be the Rodarte collection. I wear a lot of neutrals, but I think in retrospect I'd have to get out of my comfort zone and try Tracy Reese if I was entering into my own contest. Which I'm not, because that would be too weird, and wrong. K, let's get back on track here folks.
This giveaway is only open to Canadians. So rub those lucky hands of yours together, and get typin' and enter into the NYFW designer nail polish giveaway!