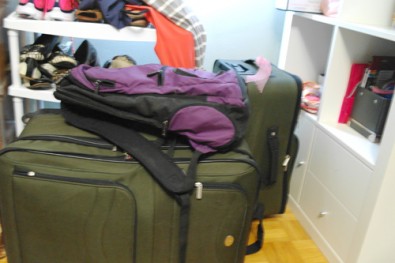 Ooh boy.
I over packed for this trip. I promise I'm a light packer. The larger suitcase is filled with hand-me-downs and generally stuff I don't want/need. The mini suitcase (which is the middle size of the trio I have and will be one of my two carry-on's) has all my clothes, shoes and underwear for the stay. Then the backpack holds all my electronics, and of course climbing gear! I always get questioned when I bring my chalk bag on my carry on, I suppose it could look like drugs? Either way, I packed it in the big suitcase this time.
I didn't book a direct flight so I've got a 45 minute stop-over in Ottawa, and on the way home I think it's Montreal. Regardless, I'll be sleeping at my parents place tonight! Then seeing my 4 nephews tomorrow. AHH!!
Stay tuned for tomorrow's outfit of the work week, it'll be a day early.