Morning!
Just a quick note to show you who won the Goody DoubleWear giveaway. It definitely generated quite some interest and the official number of ballots were 123 in total!
As for the lucky winner who will receive what is shown in the photo above.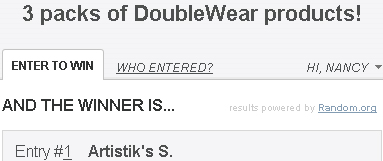 Artistik S.! Congratulations — please send me an e-mail (spiffykerms@gmail.com) with your full name, and mailing address so I can forward that onto the company.
Thanks for entering everyone. The contests aren't over yet! There's still two happening right now. $50 gift card to Spa Week, (US only) — and a $25 gift card to ErinCondren! Check them out.