Merry Christmas Eve everyone!
I'm signing off for Christmas. Taking a break and spending time with friends and family. In order to keep my blog alive for the time being I'm excited for my first guest poster of the holiday season. It's my cousin Vanessa! She recently started up her own healthy living blog but stopped for a while. Pay her a visit and tell her she should update more often! She's pretty good at it if I do say so.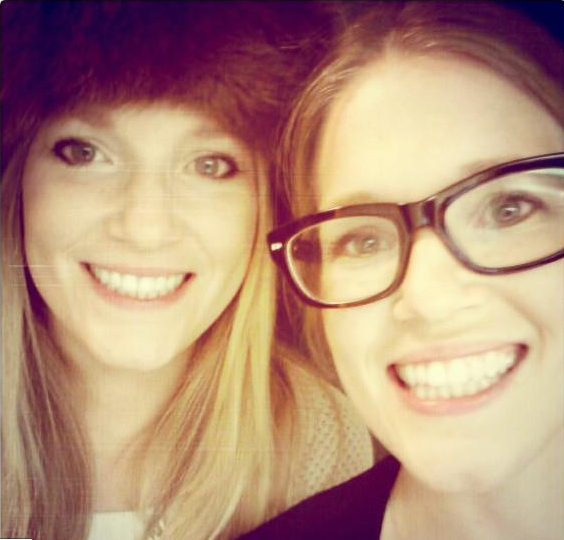 I tried to find a recent photo of the both of us, but couldn't. So here's the next best thing (ha ha!) her twin sister Natalie. Gorgeous right? Vanessa is the one with the glasses. Okay, here she is:
______________________
There's nothing like getting festive in all areas of your life. My guest blog post is about my favourite Holiday "things" (i.e. clothes, hair, music, etc.).
I have never been one to listen to Christmas music, but once I got my hands on Mr. Bublé's Christmas album, I have come completely obsessed. I bring the cd everywhere I go…literally, I bring it to work, I went to visit my mom and I brought it inside, and I have downloaded it for when I am on my computer (like now!). There's a reason why I love it and I am not the only one –it's no. 1 in the UK and is quickly climbing the billboard charts in the US.
 
            Check out a trailer of his album.
Festive Nails. I love painting my nails for the holiday season. This year I opted for a bright red topped with some gold sparkles. It's very on trend right now and it's look great! The subtle details of getting festive are doing things like painting your nails, and it definitely gets you in the mood for some Christmas spirit. A close friend of mine published a post on Sparkly Nails.
My nails look similar to this
 
Another of my favourite way to get festive is to dress the part (and I don't mean by wearing an ugly Christmas sweater!). I am loving the clothes that J.Crew currently has. Here are some of my favourite outfits.
                                          
                                                       Check out J.Crew for some more ideas for Holiday outfits.
Another part of the holidays is getting to dress up and try different things with your hair. I have gotten some wonderful ideas from the blog "A Cup of Jo". She has posted a number of different hair styles that can be done with just some bobby pins and hairspray. Check them out here and here. My favourite is the Pretzel Braid. My hair is not long enough yet, but it is slowly getting there.
                                                                                           
Lastly, my favourite part of the holidays are getting to hang out with friends and family. Every year, I get together with the 5 girls I lived with while attending University. I look forward to this so much because we sit around, eat food, drink wine, and laugh about the great times we shared in University. The same ridiculous stories come up every year, but we all love hearing them over and over again. I also loving getting to share the holidays with my amazing family! I get to see my niece and nephew open their gifts, I get to hang out with my sisters, and I get to spend some quality time with my parents and in-laws! And, of course, while getting to eat some great food! Please remember what the holidays are all about: getting to share some wonderful time together with the people you really care about.
 MERRY CHRISTMAS AND HAPPY NEW YEAR!!