Scott's birthday was on Tuesday and I think I deserve best girlfriend of the year award. I got my Boyfriend some Black Diamond Gortex Gaiters! A lot of people don't really know what they are so here's a photo to better explain.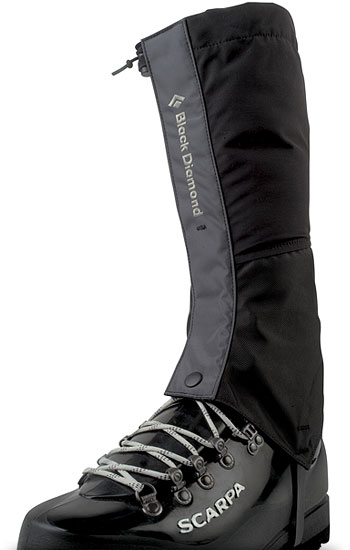 It goes over his boots, like a sleeve/glove to keep his legs warm and dry when he's out hiking in the winter time! Some people may think it's nerdy (ahem L Mc Momsie), but he loved it! Success! A lot of ice climbers wear these when they're out in the frigid cold well… ice climbing in the winter. P.S. Scott doesn't ice climb.

We don't like to give each other boring, useless gifts — you know, tee-shirts or whatever just for the sake of wrapping something up. Mind you, I did get him a great shirt while I was down in San Diego in August. It was black, with a grey pacific coast map printed on it. It's nice, and fits him well. Okay veering off topic here…
His cake. Another reason why I deserve an award. I didn't get my favorite icecream cake at Dairy Queen — I bought the Strawberry Cheesequake Blizzard cake (vom). The crouton looking things I think were supposed to be cheesecake bits. I LOVE cheesecake, but these taste weird. I still ate it anyway lol. In case you're wondering what my favorite cake by Dairy Queen is, it's the regular ice cream cake with the fudge and chocolate crunchies in the middle. We've both never had a blizzard cake before. Interesting stuff for the taste buds.
My BlogHer Proctor & Gamble package came in the mail to me as well! I knew I was getting full sized products, I thought maybe a jug of Tide along with a few other smaller things. But check out the amount of swag they sent. Insanity.

It came packaged in a massive box that wasn't too difficult to carry. It took up half the loveseat.
Inside, all the goodies ranging from feminine products, paper towels, febreeze and even mascara.
Something else that was pretty exciting, was yesterday I went out during work and purchased a BlackBerry PlayBook for one of our members. They won it with a promotion we were hosting for a few months. I love shopping with not my money!!
My co-worker knows I love samples and gave me two of these perfume samples. I think they're from Sephora? Either way, I LOVEEEEEEEE this. The scent is described as Floral Woody Fruity and has beramot, sweet pea and other stuff in it. But that's how I'd describe it too. Fruity but not overly, with a hint of floral and woodsy. Some good on my wrists…and on my cardigan. It exploded and I decided to just wipe it everyWHARRR!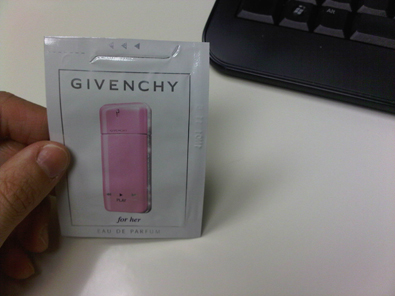 I get sick of scents easily and I never ever end up buying full sized products because samples are just perfect for me. I have a ton of mini-perfumes from random places. I forget about them, then reapply and fall in love with the scent again. Yum.
Don't forget that my BLOG SALE is still on the go! I've sold three things already which is pretty unexpected and rather exciting!
P.S: I just packed my suitcase last night. Any guesses where I'm headed? Note, no place where it's possible to get unsecured business loans. Hee.