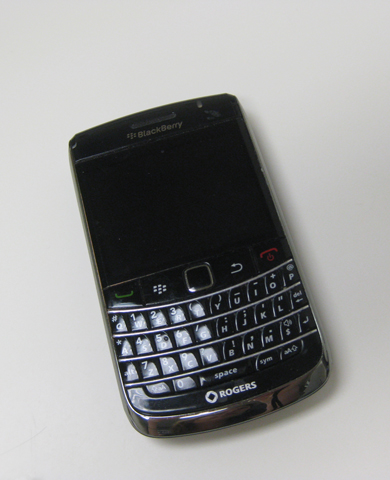 So this is my company BlackBerry phone that I use. I'm not sure what the model number is, nor do I really care. I don't have my own mobile phone, or even land line. Do people even own landlines anymore?
There are tons of people out there with BlackBerries who have cute accessories to go with it. But I personally have never found the need to own one. I was given a silicone one when I first got the Pearl and it ended up stretching out overtime since I played with it too much.
BlackBerries don't really need cases, since I don't find that they scratch and they're pretty durable since I drop mine on the sidewalk frequently and nothing has chipped and it doesn't appear to be overly scratched. But there is some decorative faceplates if you're wanting to spruce up the look of your phone.
Do you own a cover for your cell phone, even if it's not a BlackBerry?