I scared my dog Alfie when I walked into the living room with my black mask on my face the other day. It'd be funny if I filmed his reaction with surveillance cameras. Scardy cat dog he was.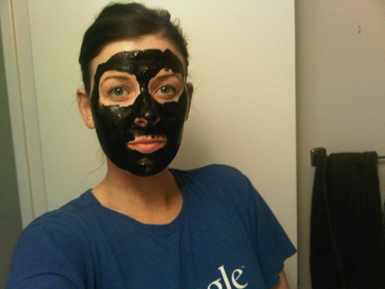 I was eying this peel-off mask from Sephora and ended up asking for a sample of it. It's called Boscia Luminizing Black Mask and retails for $34 (USD). It has a fantastic rating of 4 out of 5 stars on Sephora's customer reviews. I think why everyone seems to be fascinated about this mask is that it peels-off, instead of washes off your face like every other mask on the market. I left it on my face for about 20 minutes, until the black mask wasn't shiny anymore and started peeling it off.
It reminded me exactly of what the Biore nose strips does. It rips out all of the dead skin and anything else gunked up on your face as gross as that sounds. When I was peeling it off it came off mostly in one piece. The mask was black, so it was hard to tell if it 'worked'. It felt like ripping a band-aid off, a little painful but fun. lol
I don't usually use face masks and it was a fun experience. While it did feel smoother, and softer I'm not sure that I noticed a complete difference in my skin so I doubt I'd ever fork out the dough for the full sized bottle of it. I'd rather spend my money on shoes.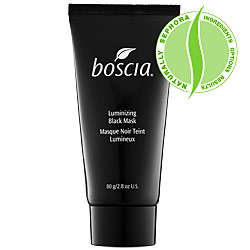 I have normal to dry skin. My skin will flake if I don't wear moisturizer almost every day. I had a sample for a one time use at Sephora. This mask says that it's a mineral-rick mask which will detoxify and purify your skin giving brightening effects.  This Boscia mask is sulfate and paraben free, along with some other formulations that people may be concerned about. But again it's all listed on Sephora's website. Ideally you're supposed to use this mask once or twice a week. But as I said before I wouldn't purchase it personally, and having a trial size was a perfect amount for me.
Do you pamper your skin and use face masks?