I'm totally going to take Pam up on her offer and use her American shipping address to buy something so I don't get dinged with duties. I'm actually looking to invest in a purse sometime in the near future. I've been eying everything from expensive like Jimmy Choo and Marc Jacobs, to not so expensive like Banana Republic online. It's just so hard to see purses that are $200+ (and the one's I'm showing below are quadruple that), love them but can't exactly justify the price.
At the same time, I want to invest in a purse that I won't get sick of. Usually my purses cost between $30-$120, and I use them for about two years and I get bored of them. I'm trying SO hard not to spend. Not yet! I want to save as much money as I can so I can shop when I fly to San Diego at the end of the summer.
So I'll window shop. For now. Here are some of my favorites. Swooon.
I posted a few years ago my favorite purse EVAR. Prada something or other. Not available anymore in stores.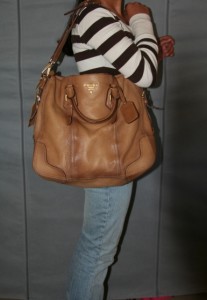 Prada Cervi Antik (source)
Jimmy Choo: Ringo Grainy Nappa Bucket Bag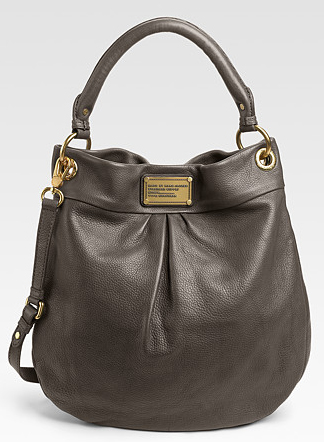 Marc Jacobs: Classic Q Hillier Hobo (Wish this came in brown, but I love the smoke)
Another variation of Marc Jacobs: Preppy Leather Hillier Hobo
Reed Krakoff: Nappa Pebbled Leather Hobo (Maybe a little too simple for nearly a GRAND!) Omg love this though. In BROWN.
Chloé: Janet Small Satchel with crossbody (Ok I kid. These prices are getting a little ridiculous. But isn't the knots on the handle super cute?)
For travel…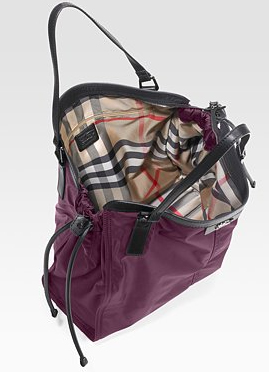 Burberry: Nylon tote (I'd only use this for airplane rides, it's such a huge bag!)
Tory Burch: Nylon Dopp Kit (I want this to be my travel makeup bag!)
Marc Jacobs: Nylon Cosmetic Bag
I'm also looking at wallets. My blue one shown below is getting a bit tattered and one of the zipper broke. I purchased it in 2009, so I suppose that's a given. I keep all my cards and little cash in one zipper, so it's annoying to flip through all the cards, all the time.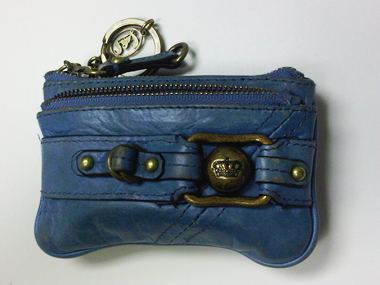 Have you ever dropped a few hundred dollars on an article of clothing, shoes or accessories? If you haven't — would you? Why or why not?