Boom. Excellent supper.
But first I wanted to mention that I took our pup on an hour and a half walk pre-supper, and it still didn't tire him out. We went to the park to visit all the animals. The male turkey really didn't like Alfie and had his feathers puffed up SUPER huge, like scary to me huge. It was half funny, half scary. The peacock also made some quirky noises.
I wasn't planning on making the supper so huge, but it turned out so. I didn't mind. Supper is my favorite meal of the day.
First up, a summer salad in my favorite anthropologie bowls. Consisting of tomatoes, croutons, marble cheese, bacon bits, parmesan cheese, pine nuts, and bell peppers. Ranch dressing on top. I love a good crunch.
I dies for a bit of garlic bread during an outdoor meal like this. Crunch. Yes, we devoured a whole baguette. It was small. From President's Choice. Devoured none the less.
Since the Boyfriend doesn't exactly favor corn on the cob, I made some brocc for him. That's his food on the left. Pay no mind to the butter slathered on my fork. I like my corn butter-soaked. I slapped on some Honey Garlic (or maybe it's Honey BBQ) Diana Sauce, along with some seasoning from some jar I found in the cupboard. I just grab random ingredients. It usually works out for the most part! If not, we still eat it regardless.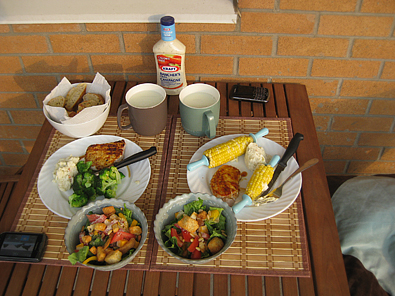 Looks good, doesn't it? I should pat myself on the back. har har!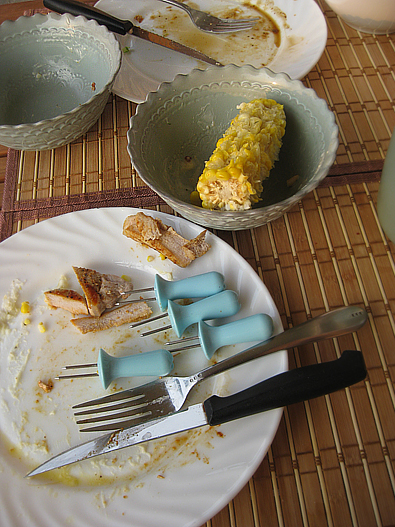 Before, and after. Ha ha!!

Just like that, it was done. That's my plate in the foreground. I never eat the fatty bits that surrounds the meat, never have. It makes me literally want to spit it out if I get it in my mouth by accident. It just gives me the heebie jeebies to chew on jelly-meat-fat. Ehugh…
K night all!