I tried to make as many veggies with my supper as possible last night. Last minute I decided to fry (? – it was in a pan with butter. I guess that's frying… is that a bad thing?) up some mushrooms with salt, pepper and a bit of margarine. They tasted SO good but I'm glad I only did six slices between us. Overload.
This is my creation from last night. The boyf doesn't like corn so I'm going to have to be eating a lot of corn this week. Corn in Ontario is so much better than the corn back home in Newfoundland. Sweeter, fresher, crunchier, butterier.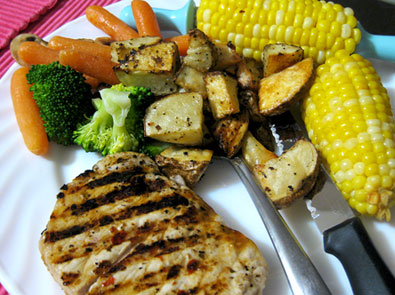 What'd you eat last night? Or what are you making for supper tonight? I have no idea what I'm going to make for a meat. But I'm thinking of corn (obviously), salad with fresh mushrooms and maybe I'll have to go out and buy some chicken. I wonder if pasta will work, thinking of vodka penne. I don't think corn would go with pasta, right?