So I dyed my hair last Friday. I wanted to mimick the hair style that I had back in 2005. I even printed off the photo, you'd think he'd get the point how bold and bright it'd be, right?
I ended up coming home with this:
Um, nice dye job there buddy. Where's the orange? He added me to his BBM (BlackBerry Messenger) right as soon as I was leaving the salon. I was very disappointed and ended up thankfully going out with some friends that evening who reassured me it looked good. I should have listened. Because last Saturday I BBM'ed my stylist saying I needed to come back. I wanted him to bleach out parts of my hair and put the orange in. You could barely notice the orange. It was even just a stupid aburn color, and not bold and BAM vibrant.
I went back on Friday, just two days ago and I walked out with this: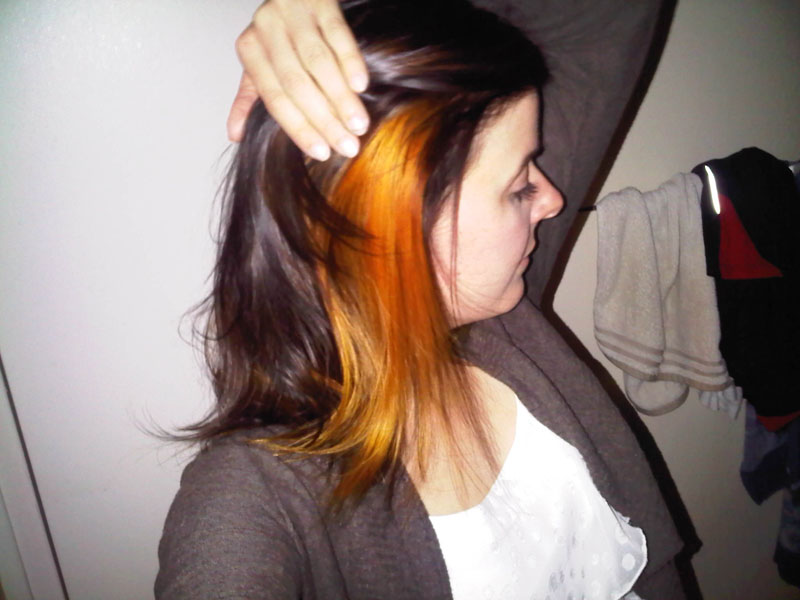 I suppose that is what I had originally wanted. Except, he did it symmetrically on both sides now, and it just doesn't look like someone "tried" very hard to make it look good, you know? I look like I have flippin wings growing on the sides of my brain.

He also didn't leave the orange dye on for very long so it's very bright up by my scalp, and towards the ends they look so faded. I think its' because he knew he was making this up for me, and wasn't charging me. I was the only person left in the salon at that point, the whole shop had closed. I think he was getting sick of me and trying to rush the whole thing. But perhaps I'm just over reacting.
Someone even asked if it was an April Fool's joke! LOL Ohhh sad face. To be truthful, I think I'm over this orange phase already and it's only been two days. I'm already regretting dying my hair at all.
I washed it this morning and all of the orange came out. I am NEVER going to that stylist again to dye my hair. I have to say, he does cut my hair nicely. So that part I haven't decided about.

What was wrong with this!?

Why didn't I consult anyone about this before I went and did something stupid. I am so angry with myself lol. Biggest mistake I've made in a long time.
I want to mention that this guy is fabulous at cutting my hair and my hair has never been so healthy. But would you go back in 9weeks and get a re-dye and dye it back to a medium brown? Or should I go back to another stylist for the dye job?
One person has entered my USA only giveaway. Won't someone else enter, please? It's $50!!!