I totally forgot that my giveaway ended yesterday, until a reader commented on the post (which I had to delete because the contest was over)!
I always post my winners on here—and I usually do it almost immedaitely after the contest is over.
Name drawn with Random.org is ….Drumroll pleeeeeeease: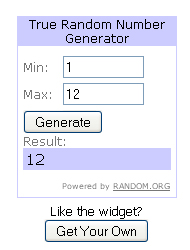 Which is..
Mindy from Finding Silver Linings! Congratulations girl, I have your e-mail address already so I'll contact you to get your mailing address and send it off to Yvonne Estelle's. :)
Enjoy! Thanks all for entering. Was fun!