I was never a lip-girl until I tried the YSL glossy stains, and that's not because they were sent to me for free to review. It's just that they're so low maintenance, such great pigmentation and it doesn't dry out my lips. Plus, I'm a lip-licker and lip rubber-together-er. This stuff just does not come off. For hours!
I was sent another Yves Saint Laurent glossy stain, this time in the color #12 Corail Fauve. I'm assume french, for something to do with coral. When I opened the box, I thought I would love the color right away. A perfect coral lip for summer, it'd look great with a tan — don't you think?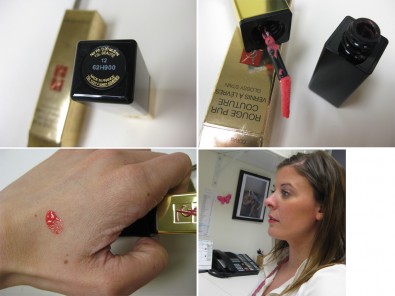 Unfortunately, this color didn't stand out as much to me as the first one did. When I applied it on my lips I just didn't like the starkness of the almost red lip. I just don't think I'm a reddish toned lip type of person. I think pink toned ones definitely look younger, and more lively on me.
That doesn't mean to say I wouldn't go out and spend the money on these Glossy Stains, because I certainly would. You have a wide variety with 20 colors to choose from — there are a ton of really great pink one's for me to scope out next. Besides my favorite #15, I think I'd love to try out the #19 which is a nice nude/pink shade. Unless of course it conceals out your lips altogether, but from the other swatches I googled online, it looks to be a pretty nice color. Actually scratch that, all of the colors from #16-#19 are all within the pink tones and I want them all.
As for how it feels on the lips, it's not sticky whatsoever, my hair doesn't get caught in it on a windy day. Whenever I do wear it I can't stop rubbing my lips together because they feel so buttery. Almost the same consistency as my Korres Lip Butters. Like a lip balm feel to it.
Have you tried out the Glossy Stains yet by YSL? I swear, you better be ready to have a life changing experience with makeup. Like I said, I've never been a lip girl til now. I feel awesome wearing it!