(Click to enlarge)
I heart my new hair dryer. There's a noticeable difference in my hair, don't you think?

I'm pretty sure my Mom has had the same dryer since I was a kid. I don't know the brand name of it and it's pretty ugly but never the less it works wonders. As the saying goes: If it's not broke, why fix it. Right?
I've been buying travel sized and $20 full sized hair dryers from Walmart and Shoppers Drug Mart since 2006 and can you believe that I've gone through at least 3 hair dryers since then? I wash my hair daily because my hair is so fine and when I sleep on it my hair gets flat and impossible to style.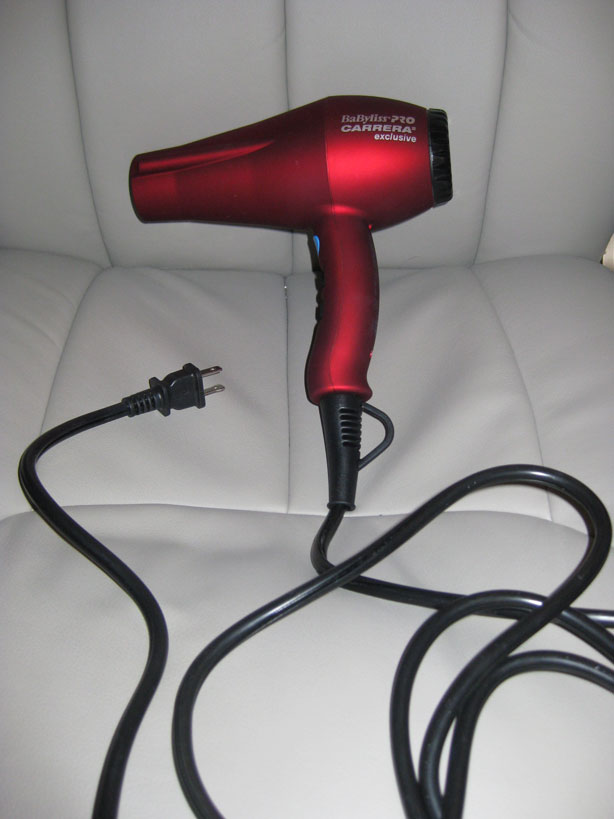 Flat iron experts sent me the Babyliss Pro Ionic Ceramic hair dryer to try out.  Mind you I've only been drying my hair with this for a few weeks. I received it in October and I can already tell a difference in my hair. Probably because "you get what you pay for" and this hair dryer is $109 online (it retails for $139 in stores though!), and quadruple the price of my shady one's that catch on fire. Danger bay.
It has a nice long cord to it, and since my outlet is in the hallway it's long enough for me to blow dry my hair in the bathroom in the mornings, where our only single mirror in the entire apartment is.

My hair stylist and I were chatting about getting myself a new hair dryer the last time I was in, in September. He mentioned that it should be ceramic. It's bonus if it has Negative Ionic Energy. Not sure what any of that means?

The ceramic technology part of it just means that your hair will be less frizzy and staticy. I'll have to see how it holds up with my hair in the winter as that's when I have the most static in my hair. Bounce dryer sheets rubbed over my head, no more!
The very first thing I noticed about the new hair dryer was that it didn't get too hot on my scalp. ALSO! Whenever I used to dry my hair and have a necklace on, it burned the be-heavens out of my neck and scalded me since the necklace was getting hot. I don't even need to dry my hair for a long period of time, but boy some hair dryers can be too hot. The Babyliss was much quieter than my $20 one. Add that to no-frizz so I felt that i didn't even need my hair straightener.
I really really like it. If you're in the market for a new hair dryer, try this one out. The sale ends today, but still I thought I'd share that there's a deal on flatironexperts.com website where if you spend over $100 you'll get three free gifts which consist of a mini flat iron, a case for it and a shine spray. Another bonus is that whenever you spend over $75 you get free shipping. Some pretty good deals if you ask me.