I was in the mood to cook a feast last night and I ended up making chicken pot pie (recipe grabbed from a Campbells cook book that I'll actually post up soon) and apple crisp for dessert.
I have no idea what I did wrong when I was following Kristin's recipe. Her's looks so … crispy.
Where as mine ended up being very wet. I'm not giving up just yet as it's one of the better apple crisps I have tasted in ages. I just wish it would've been crispier. I thought it was because we have an older style oven in the apartment, so I cooked it 10 minutes longer than the recipe called for. It still looked wet — I ended up cooking the darn thing twice as long (a whole hour). Which resulted in soggy apples. But whatever, it's good in my mouth.
Kristin's Crispy Apple Crisp: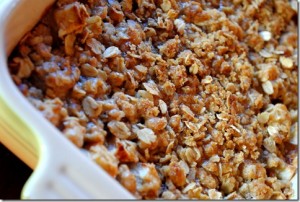 Nancy's Soggy Apple Soggster: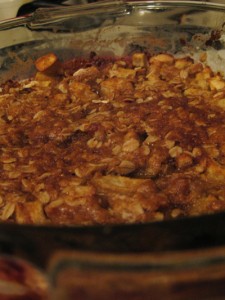 Notice the nice burn crusty marks and soggy oats.

Anyone know why it wasn't as crispy though? Help appreciated!