I have been reviewing companies websites and items for almost a year now. But before I get started on the next review I wanted to let everyone know that not every company that I come in contact with gets a review. There has been a handful of companies who just didn't end up providing me with great customer service, therefor I declined to have anything to do with reviewing their items on my website.
So! I only review the best out there! Personally speaking of course.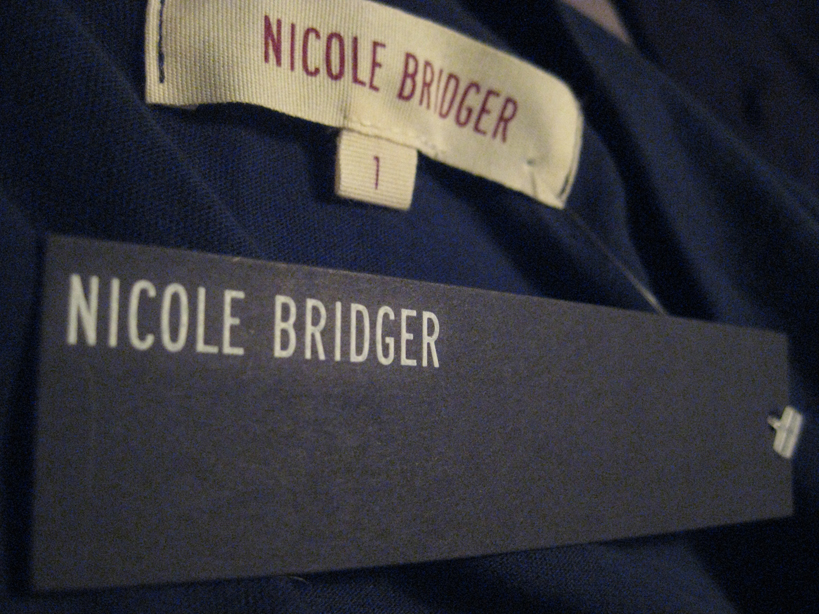 Nicole Bridger is a Canadian designer who did Fashion Design at Ryerson in Toronto, she now resides in British Columbia and has an amazing selection of luxury casual clothing line which has already been featured in magazines like Elle and Flare. Nicole Bridger has a selection out that has numerous styles of articles of clothing to suit your fall and winter wardrobes. The item that I got to review is from the Fall/Winter 2010 collection. It's called the Present Top F10 and it also comes in other colors than just the navy that I received.

A few weeks ago while I was at the West Edmonton Mall the sales guy in the store told me (when I was trying some ridiculous bedazzeled $200 jeans) said that the jeans didn't suit me, as I had a "simple, yet classic" style. Which I guess is mostly true. But I have to say that these garments available on Nicole Bridger's site would look great on just about anyone. You can easily dress up so many of the times with accessories, or wear them on their own like I did — with a white tee underneath. The shop is literally a modern twist on classic pieces.
I also wanted to talk about the sizing of the clothes. All I did was click on the size chart of any item I was looking at and decide from the list in front of me. The clothing happens to fit very true to size, as you can see for yourself in some of the photos that I have posted above.
Christmas isn't too far away and I'm already shopping and keeping an eye out for items for friends. If you're shopping with American dollars, or even with Euro's and you're not sure how to convert Canadian dollars into your own – there's a button on the top of the website that allows you to choose Euros, US, or CAD dollars which I find it a neat little added touch to the whole website.
I'd love to let everyone out there know about the Nicole Bridger store, and how each piece of clothing has a unique tag on it that says 'I am Love', so sweet and such a reminder to those who may need a little bit of boost in their day.

See? Up close, it's on the wrist of my sleeve. What a nice touch!

Here are some of my favorite pieces from Nicole Bridger's collection:
Clicking on each photo will bring you to the item on the website.

Thanks for the opportunity to blog about your terrific line! It was really great to work with Nicole Bridger, and I wish Nicole the very best of luck in her clothing company.