I had a bad day a few weeks ago, so my running buddy friend and I took off to the mall after work one day and dropped into Banana Republic (seen in Tuesday's OOTD). I picked up a cardigan and belt for 40% off, and noticed they had some super cute shiny rings as well. I didn't end up buying one but it was on my mind often.
Well the other day on my lunch break I went out to BR again and noticed they were having another sale for 30% off. I bought a non-wrinkle dress shirt in charcoal grey… it has a nice sheen to it and the Banana Republic shirts don't come in sizes like XS, S, Med etc anymore. They come in 0,2,4,6 etc. Thank the lord — because I can now fit into a size and have it look tailored on me rather than just a regular boring shirt.
While I was at the cash register, the rings were popping and sparkling in their little wooden display boxes. So, I picked up this cutie patootie. Simple, kind of wedding-ish, but definitely pretty.
I bought it.
It reminds me of a wedding band. Ahem. Speaking of wedding bands and… engagement rings on Blue Nile's website. I'd like to have one — size 5 please. Going through some styles online and I picked out a few fav's because I'm girly like that. Did you know you could build your own? Clearly, I did not. How exciting!!
I like the princess (square diamond) cut, but I don't like the diamonds sitting inside the white gold. It looks dirty or something.
I like them sitting ontop, but this isn't princess cut. It's circle. Circle rings are outdated to me, and I don't like them. But there are plenty of styles on Blue Nile like: Asscher (hexagon shaped), Radient (rectangle with rounded edges), Princess (square) and Cushion (looks like a cushion but still sort of square lol).
This one screams perfect. I think. Who really knows unless you try it on, right? I think I like a lot of diamonds. Sparkly!! Eye catching. Drool worthy. I love it. Those all above are from Blue Nile, the bottom one's are from Tiffany & Co. I'm not sure that I'm a fan of Tiffany & Co. because I was told before that the diamond isn't as good as they can be.. and marked up too much just because it's a Tiffany ring. Could very well be true/not true. But I don't know anything about rings. But I know what styles I like!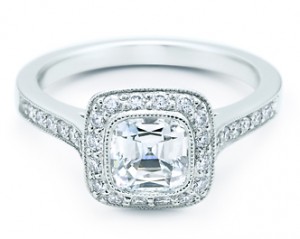 COVERED in diamonds. Swoon! But $14,000? See what I mean? Why is it the cost of a car? It's pretty, certainly gorgeous. But I bet you can get this for 14x less elsewhere, right? lol

What does your engagement ring look like, whether you have one or not — design it up and let me see!
Happy Friday the 13th!