I'd like to do another race in my lifetime. Honestly, as much as I'm not sure that I like running 100%, I do like it enough that I keep up with it, and I run on a regular basis at the gym. I want to do another few 5KM races.
I only did one road race up here in Ontario since I moved here in 2006. It was a race that was at the local university, and all I had to do was walk across the field from my apartment to the complex. That simple. The race was a loop that went through the park that I always walk Alfie, and the park that we see out on our balcony.The other race that I did was in 2006 and it was a crazy Adventure Race. I don't even know what it consisted of now. Something like a 4k trail run (where I totally died) then a 10k mountain bike (where my team mate took off on me, and people actually pushed me up some hills by my seat! ROFL) and then another something km run. It was sickening. Eventually we ended up (I have NO idea how) winning 2nd place out of three same sex teams and each won a camel back!! Nice!!

Here's a photo recap of my race that I did in… 2008. Wow. Ages ago huh??
My goal was to run the 5k in sub 30 minutes. I did it, via chip time — exactly. Gun time I was 5 seconds over. I even placed second in my age group! Successful first race, I may add.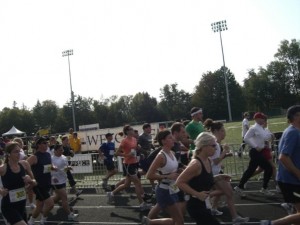 Me in my purple shorties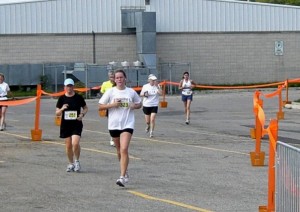 Coming in on my first loop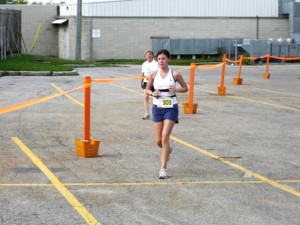 Joggin' along, pretending not to see Scott ;) haha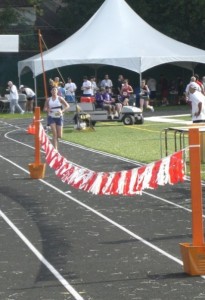 Seeing my time up on the screen and trying to beat 30:00. I was givn'er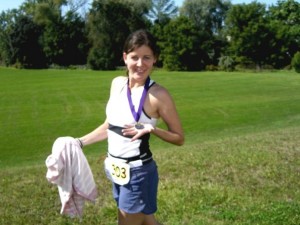 Struttin' my stuff. Showing off my silver medal.
I'm in the mood to race. Though, give me a Battery charger for my iPod because I can't run without music. I need to charge that darn thing…

P.S: You have a few more days to enter my contest to win a High Sierra backpack!