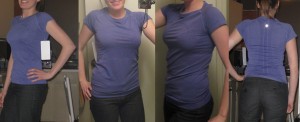 I loved it so much I bought it in three different colors! Call me crazy, but when I find something that works I buy multiples. No sense regretting not purchasing a fabulous item, right? Yes, it may not have been on sale and somewhat expensive but I take great care of my clothes — mainly the athletic stuff though as it gets washed on a delicate cycle in a laundry bag, and never put in the dryer. Plus, with all the paid blogging that I do I can afford to splurge on something nice for myself once in a while.
If I don't end up wearing them all (since they still have tags on them) I can sell them on ebay! Plus these swifty tech tee's don't have to be worn just for working out — I can wear them with regular shorts for the summer and they'd be perfect with wicking the sweat away from the summer's hot hot sun. Oh summer, I know you're just around the corner!

I'm usually a 4 in Lululemon gear, but I ended up purchasing these tops in a size 6. I don't know if Lululemon is true to size, really. In regular stores I'm a small. In Lululemon terms I'm an extra small. But since I bought the 6, am I now considered a small? Maybe it's supposed to fit tighter, but I don't think I'd like that. I have no idea what the sizes are all about. Let's just say I'm between both!? :) I guess that's how tuxedos fit too. Every store is different with their sizing. Inconsistent!

The top is amazingly soft to the touch but if you have dry skin you'll hate to touch this as it sticks to your fingers (doesn't that just sound nasty?). I swear, it's not. I bet this would snag very easily, so no hang-nails/broken nails when you're putting this shirt on! So be careful. When it's on your body it feels like second skin, it's so amazing. A review I read on the website  a woman didn't seem to like the top as much and mentioned that the shirt rides up when you're going for a run, or even exercising at the gym. For the most part, the reviews are 100% pure awesome on this top. I did not find that it rode up. Which is why I ended up purchasing more. I find that items that are a big hit, usually disappear off the website fairly quickly which is probably why I pounced on picking up two more colors after purchasing the "bold blue" (which is really purple) shade.

The quotes found on the inside bottom of the tee adds a nice touch, too.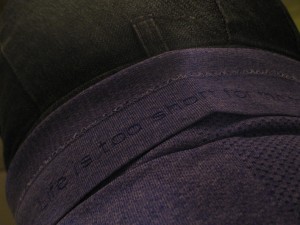 "Life is too short for the treadmill" — it has lots of inspirational quotes going all over the bottom inside band!

It was a good buy.