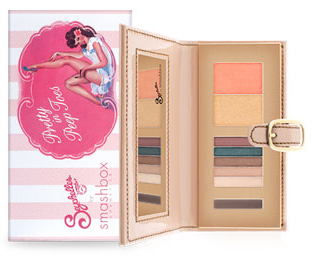 Gals (and perhaps some guys — not discriminating!) like to dress up and make themselves up for certain occasions. However, now that Valentines ♥ Day is over — what is the next holiday to look forward to where you'll go out to dinner with a significant other and look up to par? I guess you could count the Irish drinking day of St. Patricks Day coming up but I don't think I'd consider that really a special holiday. I want you ladies and gents to feel wonderful every single day! To help with that, I'm hosting another giveaway from Beauty Ticket of an amazing eyeshadow palette by Smashbox.
What's this? A full sized Seychelles Smashox 'Pretty in Peeptoes' palette, for me to give away to you? Okay! Wouldn't this be the best natural sleep aid if you won a great giveaway like this? ha! I keed I keed. But in all serious now…

A little background information on the palette. Seychelles (yes, the shoe company!) teamed up with Smashbox and came up with this brilliant neutral palette inspired by Seychelle's shoes. The palette is valued at $42 — which is pretty pricey, but good thing you won't have to pay for it with this giveaway! The palette is enclosed in a patent beige/baby pink mirrored wallet style, which can be re-used into a checkbook once you've used up all your product. This palette would be great to carry around with you if you're on the go and would like to touch up your eyeliner or blush, it's the size of a regular wallet so you can safely stow it away in your purse until you need it next. It's so versatile, as you can wear these colors as an everyday neutral, or go for a completely opposite funky teal color that just packs a punch. How gorg.
Here's some information about the palette:

Includes:
Cream Liner
5 Eye Shadows
Soft Lights
Blush
Description:
A fabulous patent mirrored checkbook wallet in a chic neutral shade with a magnetic clasp and brushed gold buckle inspired by Seychelles Spring Shoe line (because after all, what's better than makeup and shoes?). Includes a removable gold makeup palette packed with five shadows, a liner, a blush, and a soft lights illuminating powder. Also available at Nordstrom.
Ingredients:
Shadow: Talc, Mica, Magnesium Stearate, Dimethicone, Caprylic/Capric Trigylceride, Phenoxyethanol, Caprylyl Glycol. May Contain: Mica, Titanium Dioxide, Iron Oxides, Ferric Ferrocyandie, Manganese Violet, Carmine. Blush: Talc, Mica, Magnesium Stearate, Dimethicone, Caprylic/Capric Triglyceride, Phenoxyethanol, Caprylyl Glycol. May Contain: Titanium Dioxide, Iron Oxides, Ultramarines, Red 30. Liner: Caprylic/Capric Triglyceride, Talc, Isopropyl Palmitate, Dimethicone, Silica, Beeswax, Diisostearyl Malate, Copernicia Cerifera Wax, Kaolin, Nylon-12, Tocopheryl Acetate, Aloe Barbadensis Leaf Extract. May Contain: Titanium Dioxide, Iron Oxides, Manganese Violet
Since my previous contests were such a hit, I decided to do another! I was supplied just one of these Smashbox palettes from the company Beautyticket.com (an overstock / discount online beauty supply store), and decided to be nice and not keep it so I could hold another giveaway for my awesome readers.
This contest is so easy to enter. Just tell me why you would like to win!
You'll get an additional comment if you tweet it "@spiffykerms is giving away a smashbox palette! Visit http://tinyurl.com/spiffykerms-giveaway", and another comment if you blog about it! How great is that? So you basically have three chances to win. If you do all three, please leave three separate comments or they will not be counted!

Open to residents of Canada and the USA.
Contest will end on Friday, March 12, 2010 at 5PM EST.