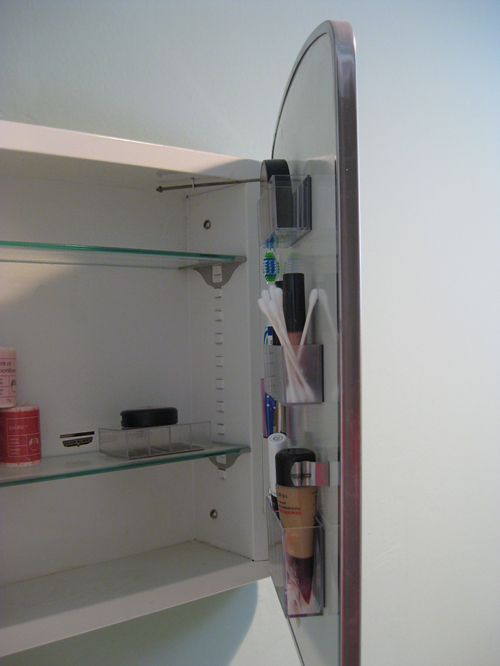 If you're anything like me and try to stay on top of organizing but fail as the week progresses, then stay with me here … and I'll explain why in a moment. I know it doesn't look like much at the moment, in that medicine cabinet. But that's because I'm all organized since I found a solution to all of our morning routine mess in the bathroom! YAY!

MAGNAPODS!
"A place for everything and everything in its place"
I had a chance to review these little magnetic organizational boxes that can store your tooth brush and all your morning essentials. I'm talking about organizing your makeup brushes, compacts, powders, mascaras and anything else that can fit into these tiny compartments. Though, you don't necessarily need these for just the bathroom cabinet, as I know a lot of people don't have those medicine cabinets installed in theirs. You can even use it by your computer desk for paper clips, post-it notes, and pens. Or even on the fridge for some organization there too.
Which brings me back to the beginning. The mess that is my bathroom on a Friday morning is unheard of. Visitors are not allowed in there until I organize my shelves, as OCD as that sounds — but I don't want people picking and prying through my belongings. So, I brought the magnapods home to Newfoundland to try out when I flew home for Christmas. There, you see a different bathroom with a medicine cabinet, which can store quite a bit of things. It doesn't fit all of the things I wish it would, but then again how much stuff does one use on a daily basis, right?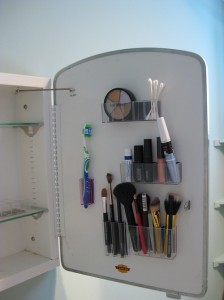 I wouldn't go too crazy trying to get them all in the cabinet at once, as they really don't fit (as you can clearly see in the photo above), and you kind of have to play a little tetris with the magnetic shelf height to get the door to close. Like I said, it's not just for bathrooms anymore. It'll stick to anything that is magnetized and put whatever you like inside.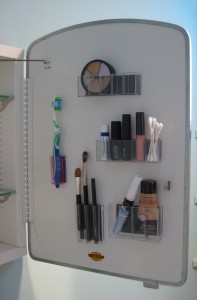 See? Looks much better now, once you've decided which items should go where. You don't need to put all of the magnapod storage units in that cabinet!

There are two types of shelves that Magnapod has designed. One specifically that I don't enjoy all that much is the fixed shelves, the other ones have removable plastic slots, in case you have two large items (such as 2 makeup compacts) where you can just take out the plastic insert and have a much bigger "rectangle" to work with.
So!
Want to try it out?
Good. Because I have a lot to give you. What you see in these pictures, you will have the chance to win.
Rules and Regulations:
Comment with "Enter Me".  Enter as many times as you want, my fellow Canadians!
Open to residents of Canada only. Even though this is an American product, I'll be mailing this one out on my own.
Contest open for one week and closes Friday February 5, 2010 at midnight EST.
That's all there is to it my friends. Go nuts, and Good Luck!