It's been months later, but I think I finally found an adorable shade of white/pink nail polish. I know I posted my previous perfect pink shade back in February, but that required a butt load of coats and the quality seemed poor. Of course knowing me, I'll never be pleased and will always be on the lookout for a better shade. But as of right now I feel content with this polish.
I haven't bought Essie polish before, but while I was coming home from work on Tuesday I decided I wanted an emery board to file my nails that keep cracking off (!!!! Obviously really annoying). While I was wandering around the store, I noticed the Essie polishes were on sale for four bucks off.
I'm a tester before I'm a buyer. So, of course before purchasing this at the drug store I need to open all the polishes and apply one swatch on my nail to see if I'm going to fork my money over for it. I know that places that sell OPI will not allow you and if they catch you they'll ask you not to. Which I didn't know, at first. OOPS.
Let's get on with it shall we? Enough of this jibber jabber.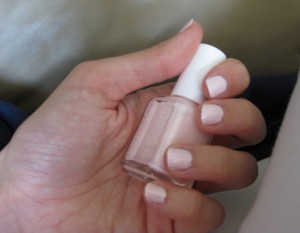 Above, is a shot without the flash and I think it looks so perfect. It looks great in the photo doesn't it? I wish it looked that almost cream white pink on my nails but I think that I'm being over analytical and it's more pink on my nails, unfortch.
And this … I had a snack before supper last night. Ontario corn on the cob is great on it's own, I mean I didn't need to put salt/pepper/butter or a stitch of seasoning on these corn! They're just as sweet on their own, straight out of the boiling water. The pink polish looks like this on my hands. The purpose of the corn shot was to show my nails with the flash of the camera, but anytime I took a photo of my nails straight on, the flash blinded my hand and made me look ghostly.
So yea. I'm still on the hunt for my favorite shade. I'll never be satisfied! But I think this will do, for now.
It's Friday? I can't relax yet, tomorrow morning we're moving everything from my apartment to my boyfriends, 300 meters away: my computer desk, my double sized bed, my ikea coffee table that I LOVE but scratches easily, a cheap particle board book case that I can't dear to part with and lastly my favorite night stand (also from Ikea) that looks so miniature, but it's super adorbs. (Ugh, can't find a photo online!) Even though I said I already moved last weekend. The big stuff isn't gone yet.
REST TIME needs to come sooner :P