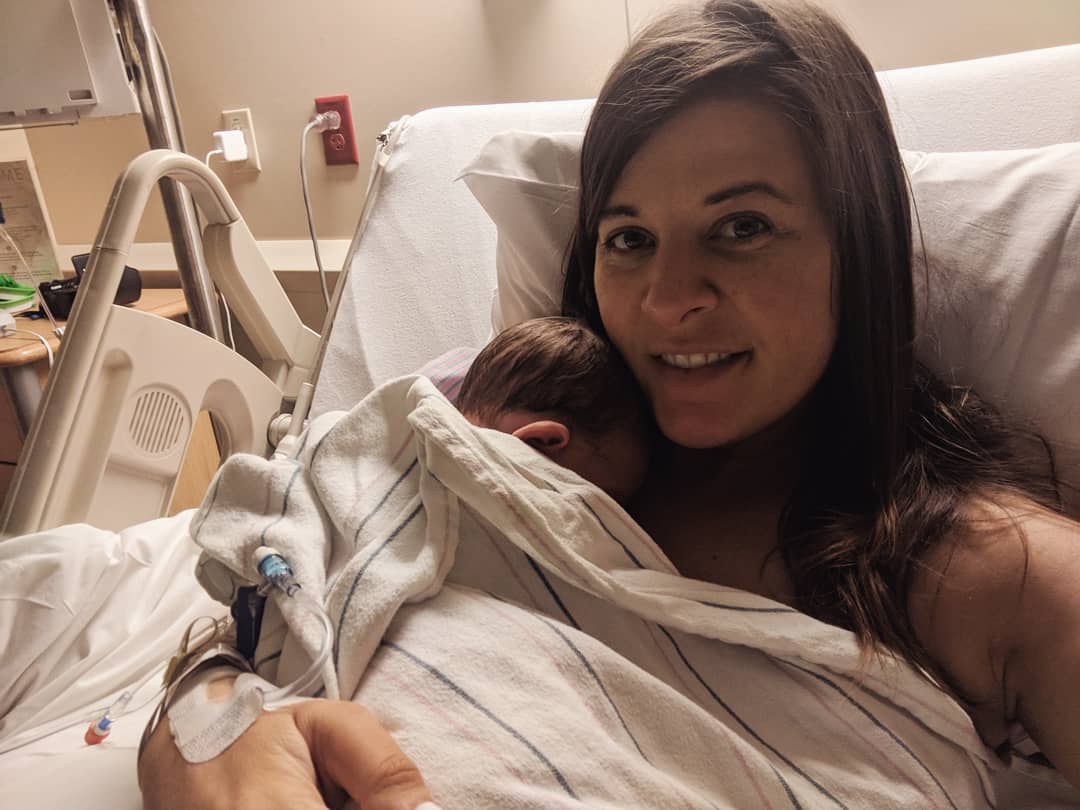 Our baby has arrived! I've been taking a bit of social media break since he's been here, to take in all those newborn feels to cuddle this sweet little one. He arrived on Monday February 5, a big boy weighing in over 10lbs, 22″ long!
Taking a mindful approach to what I'm doing these days. I'm somewhat on an internet/social media break, but definitely post a few times a day to my IG stories on snippits of our days lately. This newborn stage, the whole being a new mom/parent thing is unreal and I want to soak up every last ounce all without distractions from what *doesn't* matter. If that makes any sense. Many have reached out with congratulations and many more asked about how Alfie is dealing with being a big brother. It only took a few short days for him to become fully used to the fact that baby isn't going anywhere and now he's more interested in him, than us! Any time Alfie barked at baby he was removed from the room. So he caught on quick.
As for how I'm feeling, I'm (knock on wood) surprisingly great! Doc said I was "all-belly" (ahem…regardless of the rude comments I've received) and I asked for a belly band at the hospital which I've been wearing a few times a day, it helps make you feel secure when walking around, and it also I suppose you could say…suck everything back in. It's interesting watching it all go sorta back into place. Haha. Every 3 days or so I take a photo of my belly to track the progress. I'm not obsessed over it, but it's super interesting to see how quickly things have been squishing itself back into place. It's wild to me. As of day 10 I was in my pre-pregnancy jeans (and they were too big!), and day 14 I was at my pre-pregnancy weight. I know this isn't the case with everyone's post-partum, so I'm happily surprised how well things are going on my end.
I don't know if this sounds smug, or not — but I'm being honest with you. I thought for sure I'd hate my body after baby, that I'd require so much help around the house and be almost immobile, as everyone was telling me it would be so difficult. But it's all been fantastic!
I've been a little lack-luster with my maternity wardrobe in the third/final trimester. I haven't done many bump photos or even wrote about the pregnancy stages that I did in my first, and second trimesters. Living in the same clothing and rotating different colours of the same long-sleeved tee's I've been feeling the most comfortable in. So it definitely felt good to shop my wardrobe again, and also receive some new goodies from prAna's spring line (#mindfulprAna). So I thought I'd show you a little peek at how things are looking right now and over the past two weeks:

Day 6, 9, 12 and 15 (today is day 15!). Lol day 9 the belly was weirdly 'pointy' haha.
(And if you're interested in shopping on prAna's site, I have a 15% coupon code for you: MPSKS18 Note that it won't work on sales/markdowns)
I know a lot of people enjoy documenting their birth stories on their blogs, but I'm not interested in sharing that with the world. I've mentioned this before, but we're pretty private people despite me having a public blog and Instagram. Just as much as I'm not sure that I'll be posting many photos of the baby's face. I mean, I'm being mindful of it all – he's gonna be his own person, and who knows if he even wants his pictures plastered all over the internet as an infant. That's not to say I won't post any, ever. But at this point in time I'm just leaning towards the "no" option lol.
Thanks for reading! Have a great rest of your week :)