Back in July you might have noticed I was on a few weekend getaways. One was the trip to Oregon, another was exploring Japantown San Francisco, and thirdly my husbands 7th Ironman triathlon race (spot the brown delsey in the trunk!) . I have to admit! I'm kinda glad things are settling down a bit more. Whoowee.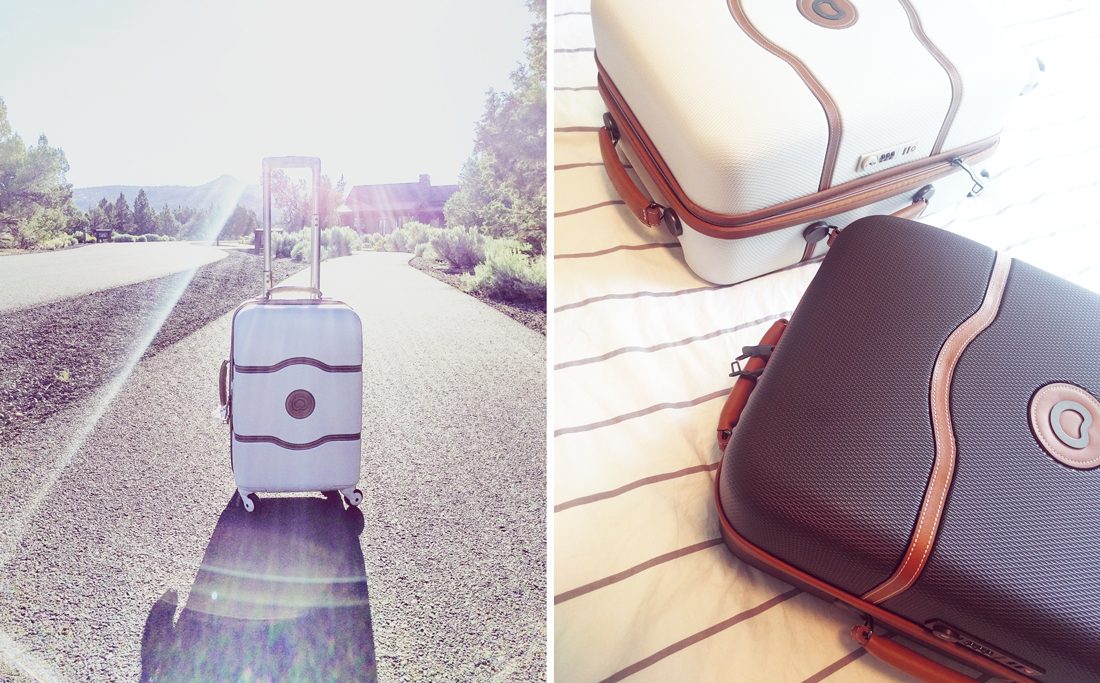 The most questions I received about any of my trips, was, where are your suitcases from? Whether it was from friends on social media, or stewardesses on airplanes. They all loved and raved about our Delsey suitcases!
I had always intended on bringing one carry-on luggage and now I'm going to show you how to pack lightly for a three-day trip. Tips, tricks on how-to lighten your load, and packing your items practically.
I prefer to keep like-items in packing cubes so you'll see a reoccurring trend here.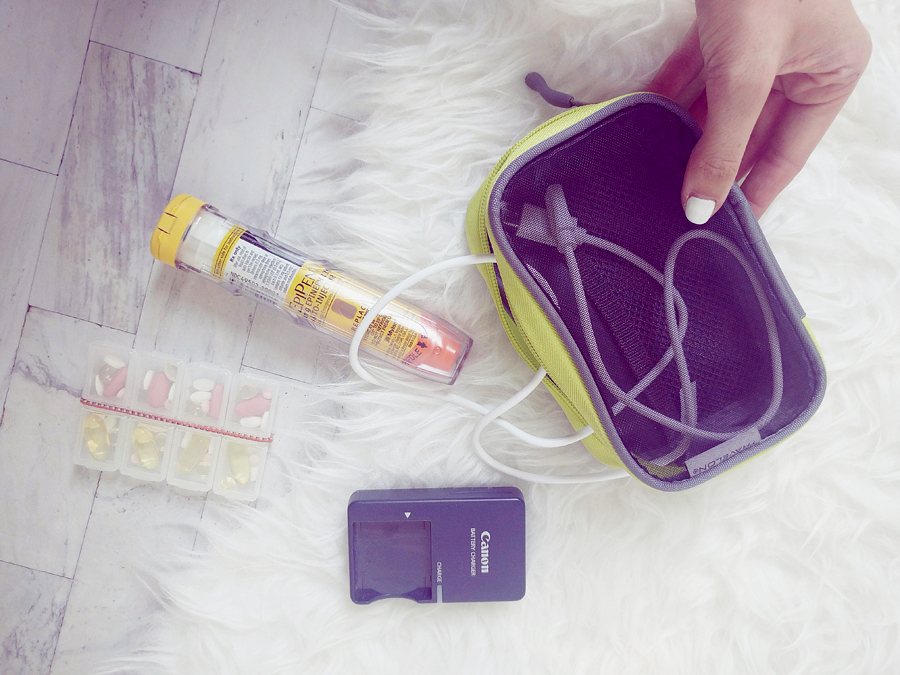 Tech gear + Allergy Pills
Items such as my vitamins/allergy medication, epi-pen, my phone and camera chargers, and extra SD cards will be transported in one packing cube.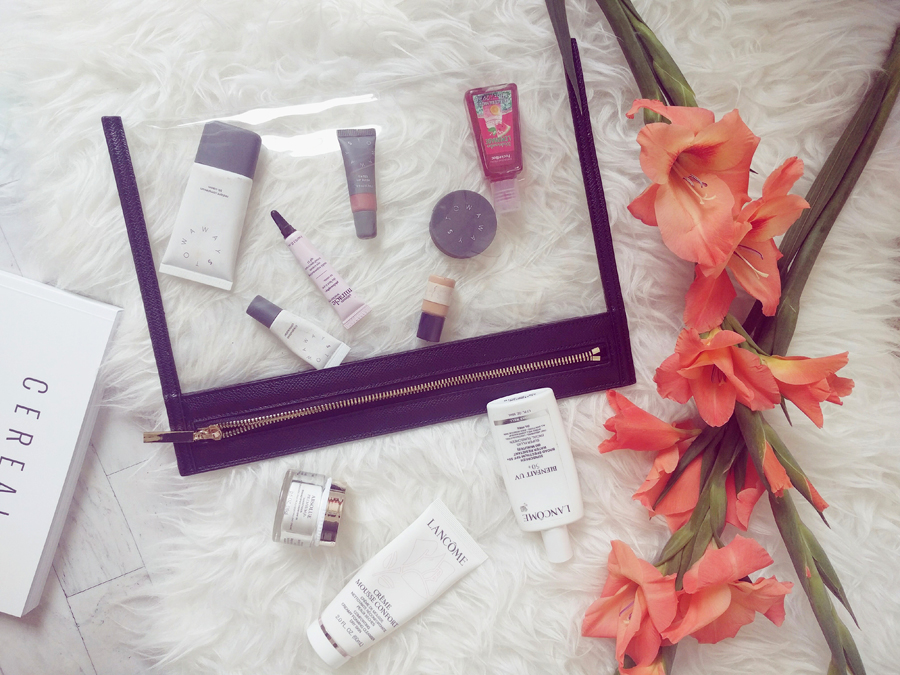 Liquids
I have been doing this ever since my Mom started packing my bags for me when I went away to camp, and I'm surprised how often it's not shown on blogs. Either people don't know about it, or they forget to show it. But it's a must-do when I travel. Saran wrap the caps of everything. Nothing ever leaks out of my containers when I seal the travel-sized jars with saran wrap prior to packing. I also like to pack my liquids in my carry-on last, because you're going to need to take it out anyway at the airport.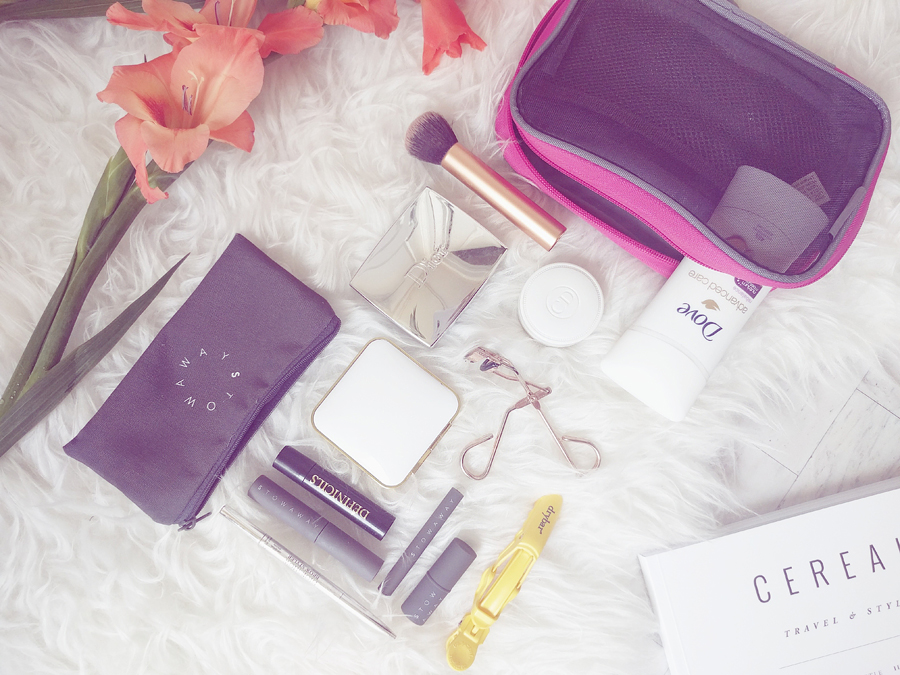 Hair + Makeup 
My hair and makeup products aren't sorted into a packing cube, but they are still contained into the one area via a makeup bag. I try to bring as little as possible with regards to hair/makeup. Travel-sized items are the way to go, and that way you can almost guarantee you'll use up most of the products during your travels, thus lightening your load on the way back home. My stowaway cosmetics, drybar goodies and mini lancôme products came in handy.
Pre-boarding/In-Flight Essentials
I like to carry my valuables with me at all times. I used my Fossil Emi Saddle Bag to carry my passport, IDs/cash, and my phone. That's all I need, give or take a magazine or two which I bought at the airport. I have a mini muji notebook, with 2 hair elastics and my bobbi pins stuck to it. You don't need to bring a whole slew of 'em!
Clothing
I brought 2 pairs of pants, 3 tops, and 2 dressy blazers for the dinners. Everything I brought complimented each other so I could wear any article of clothing together, and they'd match. Last tip is to roll-roll-roll! I find that this saves the most space and allows for extra items for you to bring. I didn't need that much, but rolling my clothing into my suitcase is second nature, so I keep doing it.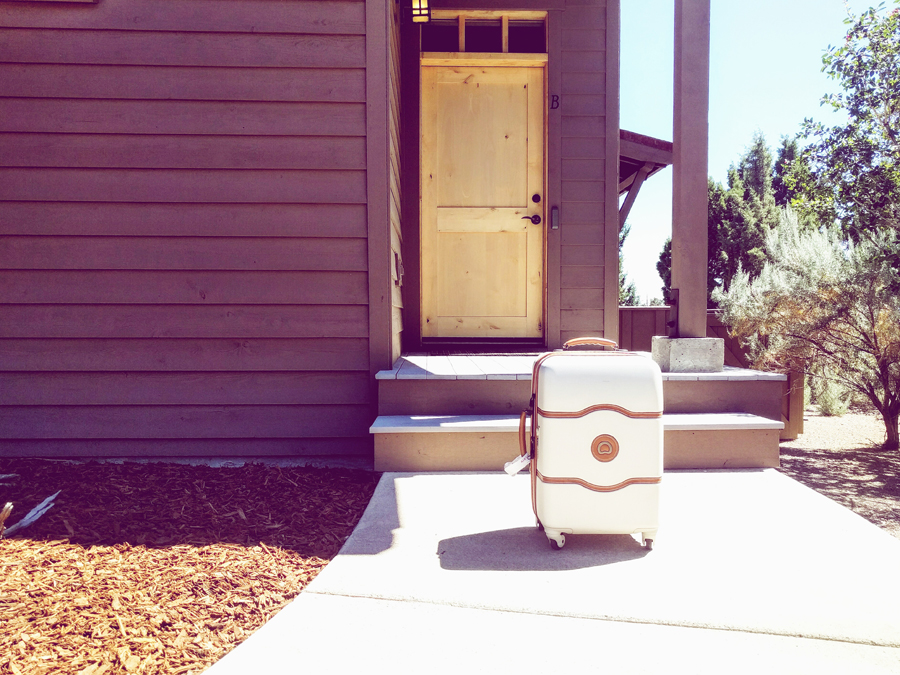 You might remember this Delsey suitcase in a gorgeous champagne colour from December when I went on a trip to Palm Springs. I also have it in a nice light chocolate brown shade too. Mr. Spiffykerms was actually the first one to take our nice white carry-on on an airplane, and now that I've reserved (the same style: Delsey 19″ Chatelet) his brown suitcase for him, it was my turn to use this one first. Heh! DIBS!
I don't often do quick trips, since the only places we really travel via airplane is right across the North American continent, back home to Newfoundland. I'm not the lightest packer by any means but I have learned a lot from reading packing light blog posts from other friends.
Disclaimer: My Fossil purse, and the Delsey luggage were both sent for review.