For months I feel like I haven't been myself and I've been hiding something from you. Which I have! The baby! So forgive me for my absence in blogging and social media. I hated pretending as though nothing was going on, when in reality I've been secretly growing this little one. Just imagine: two heartbeats in my body right now. Nuts. Still pretty mind blowing. It took us a while to announce to friends and family, because we wanted to make sure everything was moving along smoothly with no bumps in the road. SO MANY ultrasounds. Which is great because we got to see the baby a lot more than usual. Thankfully this baby is healthy and growing well!
It's still pretty hard to believe it's true. Even I can't believe it some days. Look at the genuine reaction of me reacting to Lauren saying I totally have a belly. I had to look for myself! LOL.
Holding-the-belly situation isn't something that comes natural to me. I felt foolish holding it, hence my laughter. None the less, cute maternity clothes I'm wearin' right? This Pink Colorblock Striped Pocket Front Maternity Top is the first maternity piece I got! I normally don't go for this sort of colour-way, especially with a hot pink, but I obviously picked it out to review — and I'm really liking it. It's kind of a tom-boy style rugby shirt with a feminine edge. 
I meant to post this on Wednesday, and because of Wednesday I was hoping you'd all got it the pun — but ya know sort of a play on Wednesday being hump day, now I've labeled it as Bump Day. I'm not sure I'll be doing weekly bump shots because I don't head out with friends primarily for shooting photos. But we'll see! Perhaps I can keep them up with some sort of self-timer magic here at home. These pictures are about a week old when I was 17 weeks 4 days pregnant.
Sidenote. Like Nadine mentioned:  Someone told me that I'm "starting to look pregnant in the face". DO NOT SAY THIS TO A PREGNANT WOMAN EVER. She will not take it well. 
Me again. It's already happened over here lol. It's not a nice feeling! Perhaps they are? Perhaps I am? Maybe we ALREADY KNOW.
Or! When people say "Oh I thought you looked a bit bigger in the belly lately in your Instagram pictures", when in reality all my photos before my announcement were from before I was pregnant as I thought people might find out and see the lil' bump. So, am I just a chunker in the belly area? Why do people come right out and say these things? Anywayyyy….
Generally I feel more confident at this time in my life wearing more flowy tops than skin-tight. I guess because I'm still at the point where strangers might think I'm either fat or pregnant and perhaps not ask me about the latter. Ya know? 
I'm pretty stoked to be reviewing some baby items and products in the next few weeks. I've reached out to a few places and exciting to introduce you to some independent instagram shops and the like.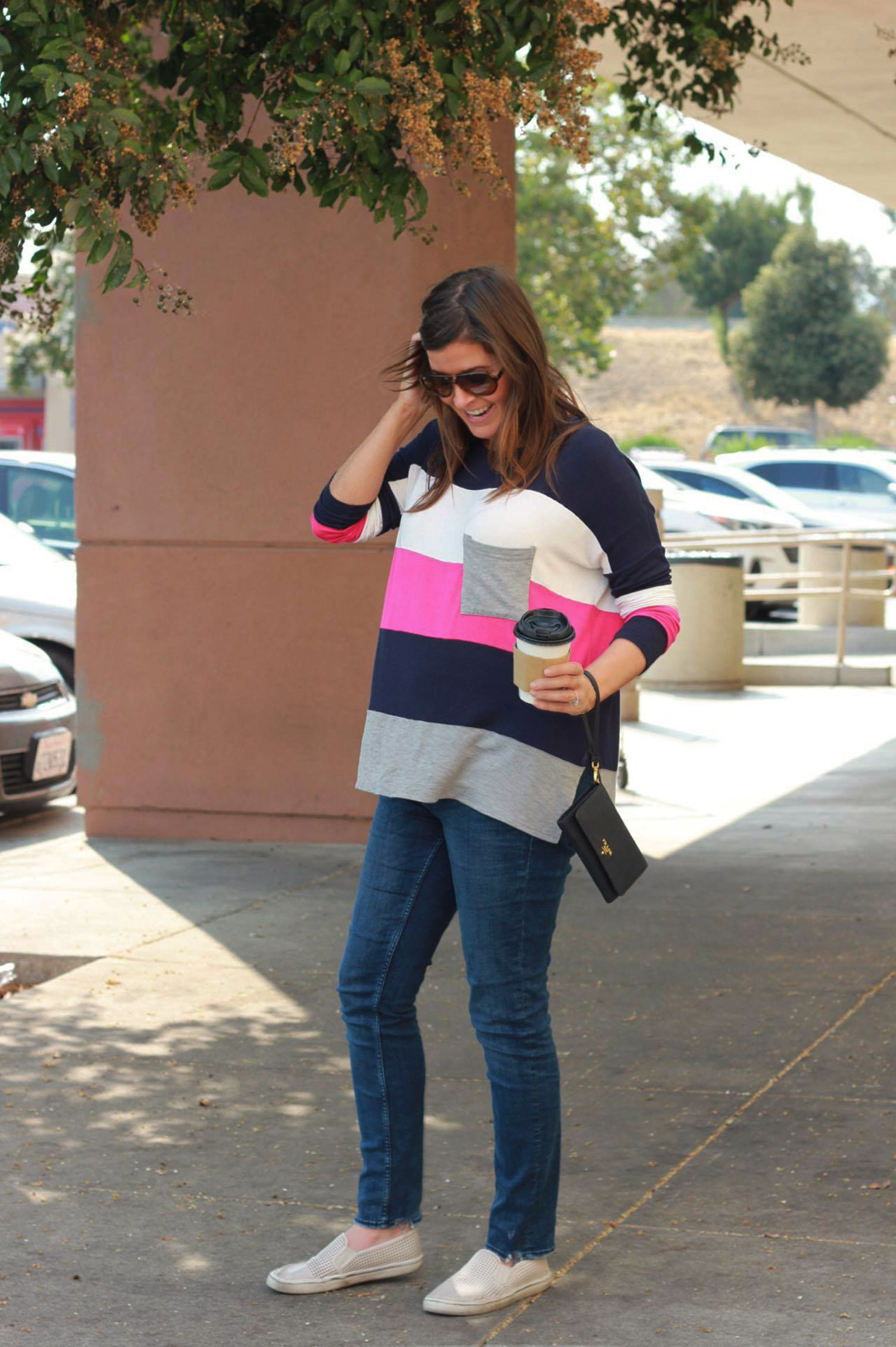 Hope you don't mind, but I have some pre-written pregnancy posts that I haven't pushed live (yet) because I wanted to do my announcement first. Those posts will be coming up very soon!
Wearing:
Pink Colorblock Striped Pocket Front Maternity Top  //
Zara Body Curve Jeggings  //
Target slip-ons (similar) //
Prada clutch (yay outlet find!) //
RayBan sunnies //
Decaf latte //
Disclaimer: Huge thanks to my pal Megan for hooking me up with PinkBlush to be an ambassador with them too! As a PinkBlush Ambassador I get 2 points for 2 pieces of clothing to review. Each time I post = 1 point. I did not receive monetary compensation for posting about the brand.