The reviewer has been compensated in the form of a Best Buy Gift Card and/or received the product/service at a reduced price or for free.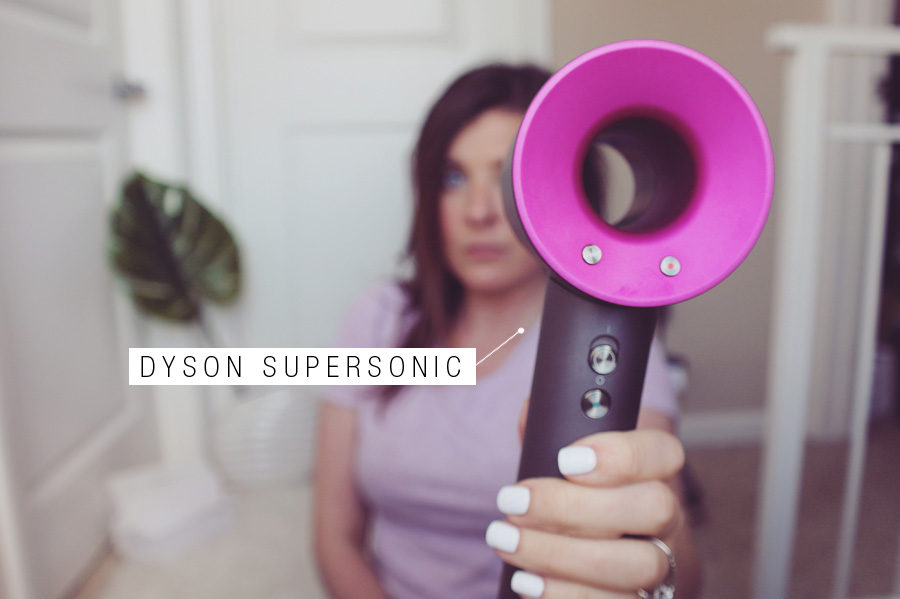 And there it is, the perfectly sophisticated hair dryer, from Dyson. The Dyson Supersonic™ (said in a hockey-announcer-voice). Your domestic routine now has elevated with style…I mean, at least on the days you wash and dry your hair.
It's definitely a unique take on the classic ol' blow dryer. The Supersonic holds sturdy yet lightweight in the hand with a rubbery-silicone-like feel.
You have to give it to them for innovative design, both visually and mechanically. The motor is unconventional, which is built into the handle, not the bulky head making it feel balanced in your hand. How decidedly Dyson of them. The filter is located at the base near the cord, and with the twist of the plastic covering it slides off making it easy to clean. I wouldn't go as far as say it's extremely quiet, but it's definitely a different sound for a blow dryer with its high pressure and high velocity of air to help hair dry fast. In fact, mine makes a squeak when it turns off. Huh.
I had my eye on the Dyson hair dryer ever since it launched last year. Examining it, I thought it was pretty fascinating, never owning anything from Dyson before. It's pretty different than a typical hair dryer.
While I don't necessarily need to have my hair dry as quickly as possible with the fanciest of technology, since I have quick-drying thin hair, and need to wrap my hair elastic around my ponytail 4x to feel snug and secure. An on-off button, a cold shot of air button on the handle. On the pink tubular part of the barrel you have two buttons, one gives you control of how quickly the air comes out. The other allows 3 different heat settings which are all comfortable to change with the flick of your thumb.
If both are on full blast my hair will be dry in about 3.2 seconds flat, it's pretty hilarious! In all honesty there's a decrease of time that it takes to dry my hair. If I were to describe how strong the force is with the air, I'm not kidding when I say it's like sticking your face in front of an airplane jet. It's like blowin' a gale out there! My Newfoundlander's will understand that term describing wind…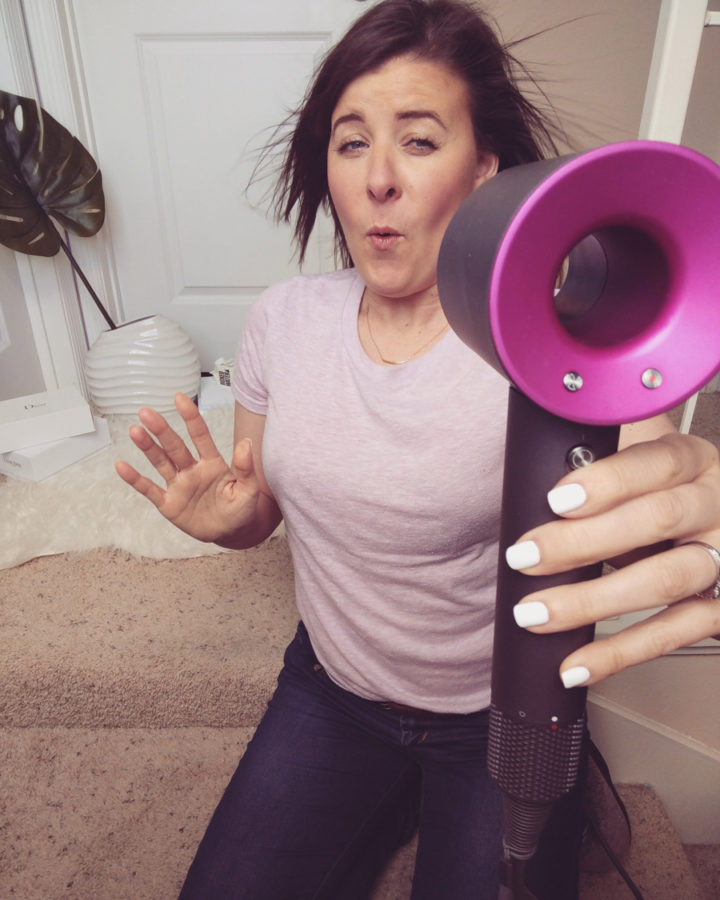 From tame, to whoa nelly with the flick of the button. I didn't have any fun at all shooting these pictures, did I? Haha!
Although pricey as some vacuum cleaners, Dyson Supersonic is definitely a luxury item and not necessary to acquire. Let's not forget the fact it's absolutely out of my price range if I were to purchase at $399. If you're like me and get your husband to cut your hair to save costs on getting it done at the stylist, then by all means — save up for it and make that purchase. But man it's awesome. I'm definitely sucked into this awesome Supersonic dryer. My hair is more voluminous, and I don't feel the need to straighten my hair after a blow-dry-sesh since it somehow tamed the flyaway's, plus it looks snazzy. I'd be interesting to see how it works on thick or curly hair.
With the purchase of the Dyson Supersonic, you know it's going to be impressive unboxing it. The box comes fully equipped with three magnetic styling attachments which is absolutely great since I hate changing out the nozzles on others — two nozzles, one for smoothing, one for styling, it also has a diffuser. There's a conveniently not-too-large non-slip mat to lay down on your counter, and also a storage hanger if you want to hang it up alongside your bathroom counter's door.
Go'won, have some fun with it and review the stats on purchasing the Dyson Supersonic Hair Dryer here. Oh, it comes in two colours: white/silver or Fuchsia/Iron.
Thanks Dyson!