Usually when I have a vehicle for review, I often take it to different places I've never been before, and simply go out and explore.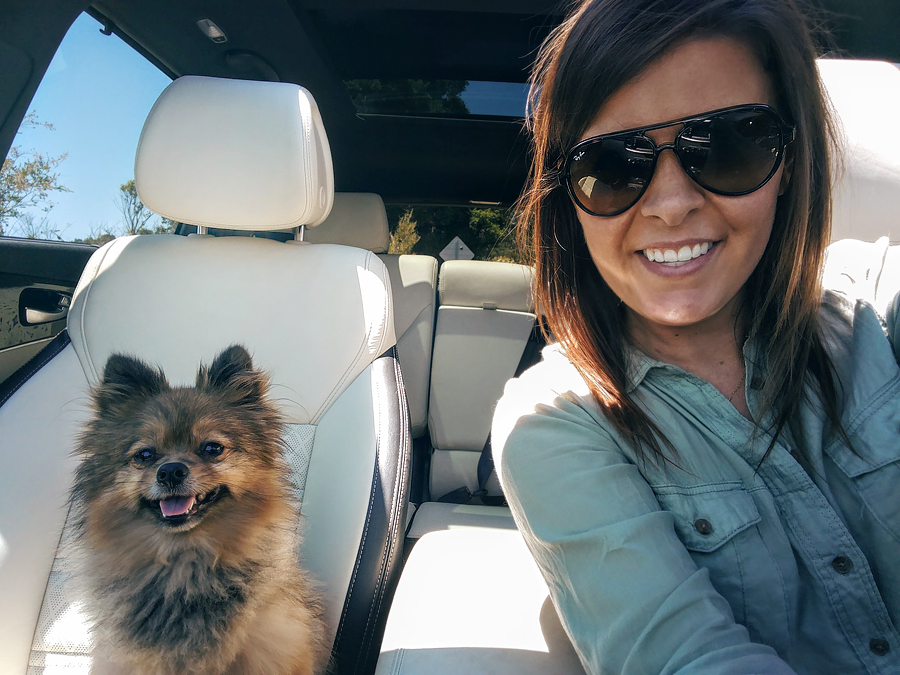 I'm ready. Alfie's ready. We're off to explore!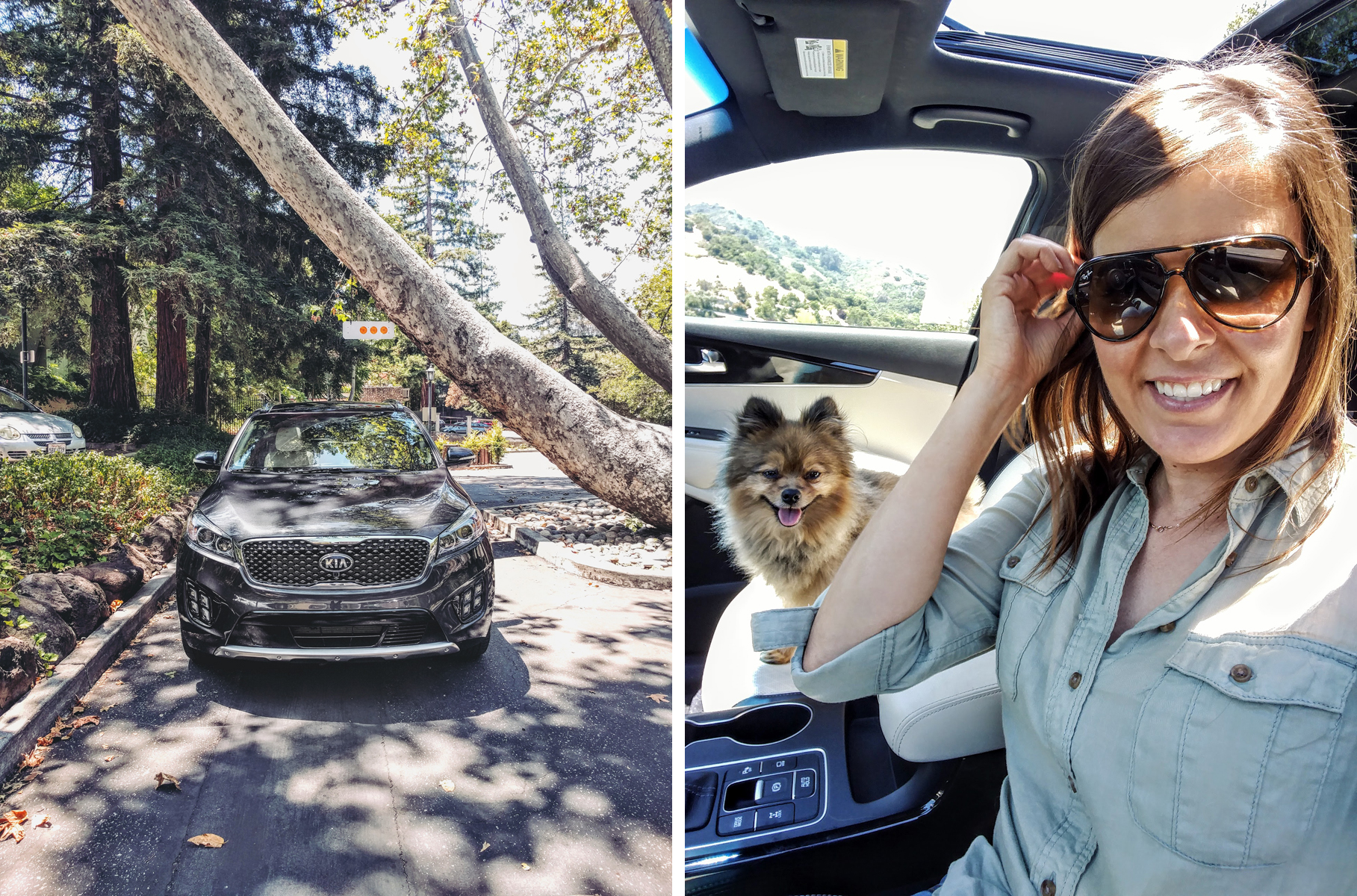 Like always, the first day that I had it, I went exploring the rich homes in the hills of Saratoga with Alfie (see my video) to take some photos of it while it was still sparkly and shiny. A few days after that I packed up my specialized bike in the Sorento and drove to Santa Cruz to bike around for the day, solo. It was grand!
My little Mazda (I'm so proud of it. It's my first car and I paid it off in no time because of my hatred for being in debt), but for the past year or so it's been giving us troubles. Not enough to sell it or to let it go, but enough to where my husband doesn't want me driving it such long distances, in case anything happens. Like, the suspension busting off on a highway or something. Joking!!!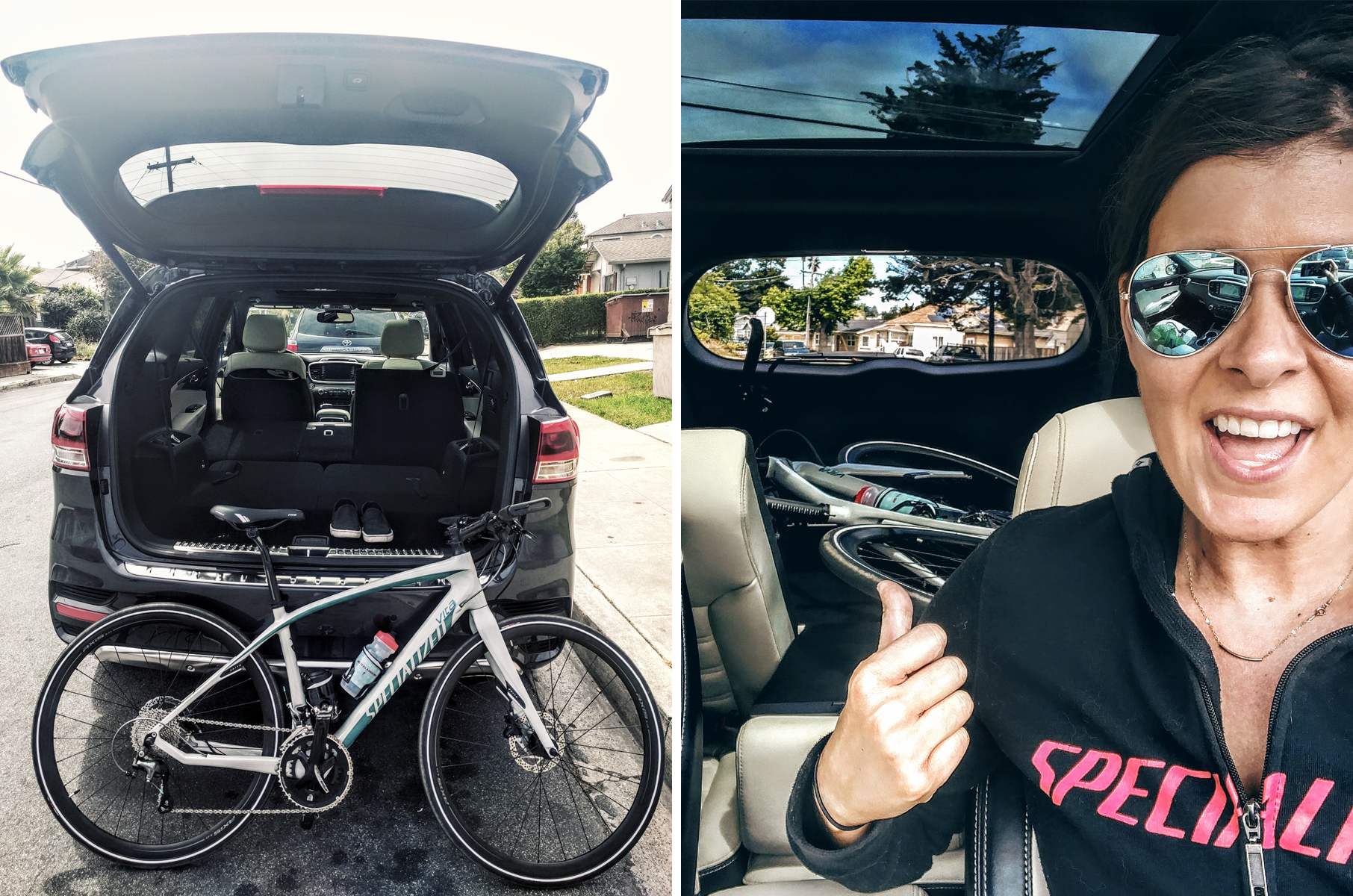 It's been a while since I trekked down to Santa Cruz. Not a far drive, but a curvy one down Highway 9, so I like to go super early to beat any traffic. I went solo this time because I wanted to park the crossover, and go cycling a bit down there.
You know, have a bit of "me time" even though I'm constantly exploring independently on my own, it's still fun to dedicate a morning or a day to it, ya hear me?
So, I didn't bring Alfie. He missed out on this adventure, but I'm sure soon enough he'll be in the passenger seat going down the road with me, with his smiling face like this one.
When I think of Kia vehicles, I honestly don't think anything but an affordable, and not-super luxurious. But ba-bam, it may look boring from the outside but it's all bells and whistles on the inside. The last time I was in a Kia was probably the late 90's! This Sorento was fully-loaded and I have to tell you, it's really impressive and I"m surprised to say that myself. This Sorento with all the bells and whistles MRSPs at $46,495.00.
The things that impressed me regarding the 2016 Kia Sorento SXL V6 AWD:
a SEVEN seater
huge ol' moonroof on 'er
the trunk opens up on its own when you stand next to it!! (ie: with a cart full of groceries)
that front view mirror when you're in drive going < 5mph
heated steering wheel, cooling seats, heated seats
dual temp control
Like, seriously if you're not into brand names of cars, you'll definitely get a lot for your money with this one. I can tell you one thing, that I cannot believe I'm saying this, but it's honestly one of the fanciest cars I've ever driven. The interior could've easily fooled me for a Lexus. It's super nice and fancy inside. And while I've said in the past, I'm not a car reviewer by any means (I know little about vehicles if we're being honest). It's a bit difficult to drive given the fact it feels like a monster truck from the inside (and from the outside it simply looks like a 5 seater regular sized crossover/suv/truck. It definitely helps that the Kia Sorento has an overhead view when you're in drive to see where you're going if you want to fit into a parking space, or making a tight turn. The moonroof is just gorgeous and I had it open every single time I went for a drive.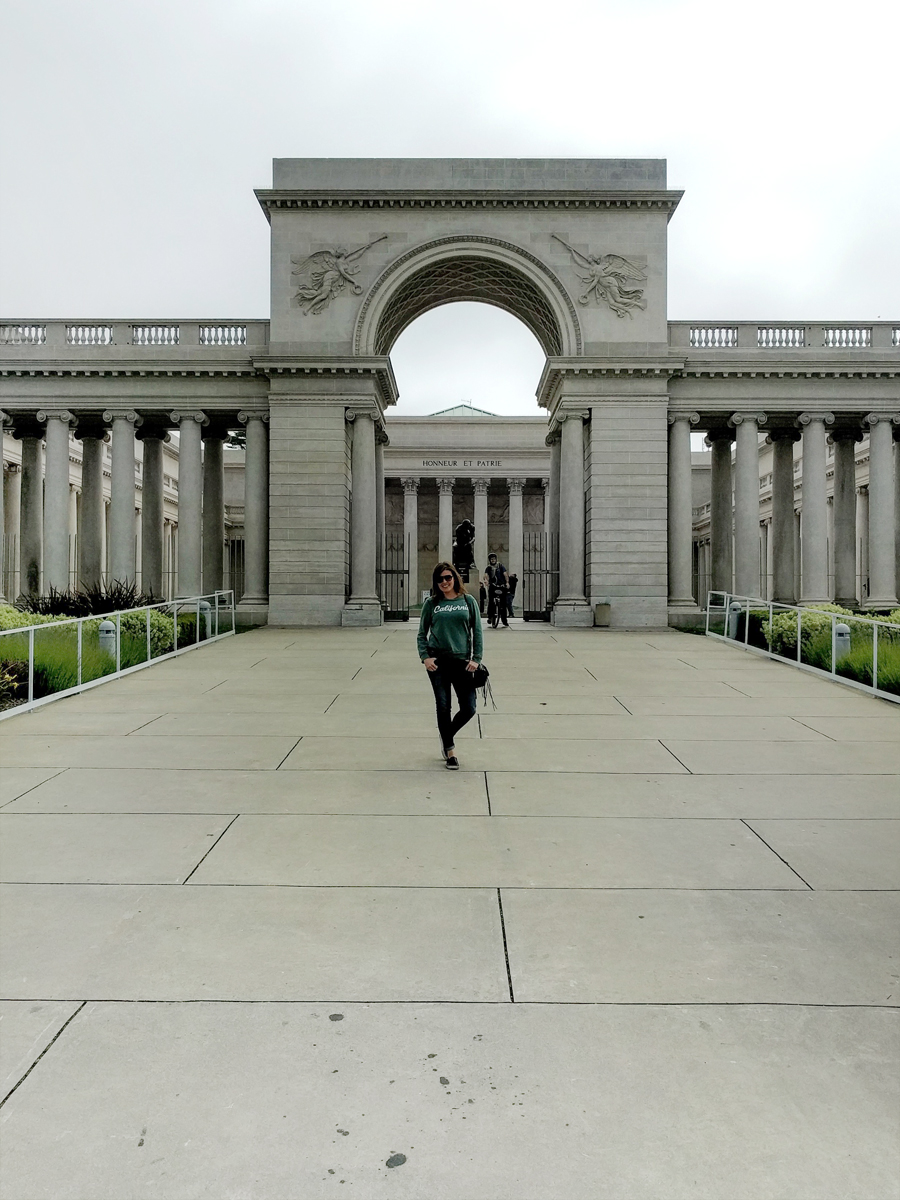 So enough about the car! Let's talk about more fun adventures Mr. Spiffykerms and I did this weekend.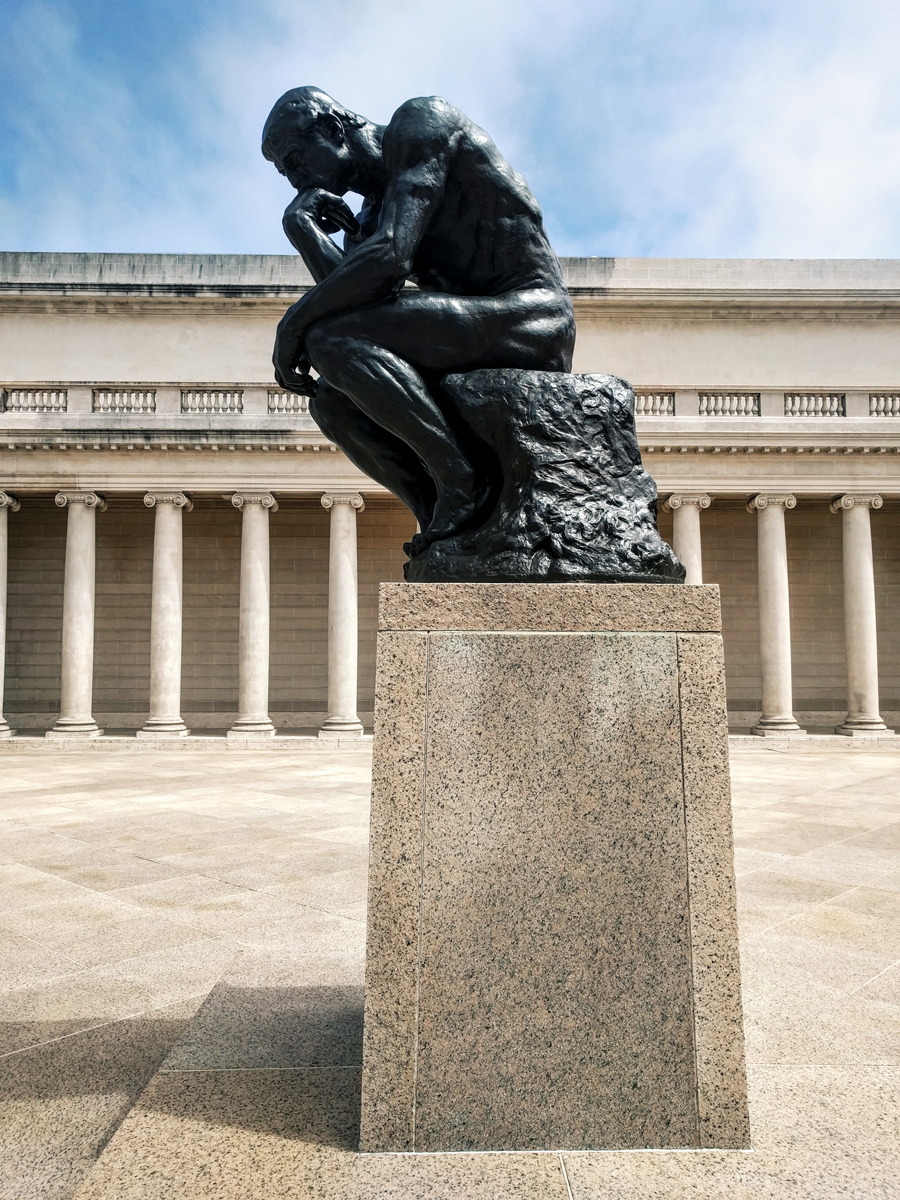 We checked out the Legion of Honor museum for the first time, and saw a ton of Rodin bronze sculptures (the Thinker!!), some van Gogh, and even Monet was on display there.
Selfie time with Thinker! Lol. Do you like my lightweight sweatshirt? I love it, it's from Chaser!
The building itself is absolutely stunning.
I could have easily stayed here most of the day and just sit outside to people watch in this gigantic entryway. Have you been there? I can't believe how gorgeous it is.
I'm not sure my husband had ever been to Dolores Park in San Francisco before, so after the Legion of Honor museum, I drove us over there but first with a quick stop to one of my acai bowl places for a snack. It's packed on the weekends in the park! Guess that's city life for you.
Well that's it folks, a lot of fun touring around last week. And I'll leave you with one last photo to show you that Alfie doesn't always cooperate with me taking photos. He's clearly ignoring me here, ha!
Thanks to Kia for letting me 2016 Kia Sorento SXL V6 AWDÂ for a week which led me to all these adventures!