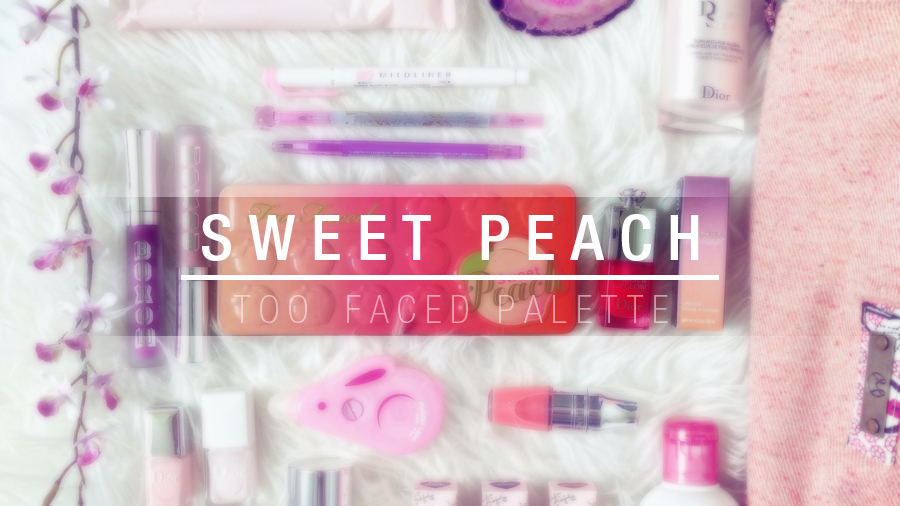 Summer is creepin' up on us and I can only imagine being bronzed to the bone, with the help of the new Too Faced Sweet Peach palette. It will help create a stunning warm yet natural bronzed look to your skin. I'm so excited to use this!
It's no surprise that the new Too Faced Sweet Peach palette sold out immediately. Beauty blogger friends in both the USA and Canada have and are having a tough time getting it in their hands.
Now this palette has my attention with the orangey warm shades, since it will bring out the bright blue eyes (ahem, basically made for me!). I think it'd look extra lovely on brown eyes as well. Too Faced are always so innovative with their cutesy packaging and scented products. It's like scratch and sniff stickers, but in eyeshadow palettes for makeup lovers. Realistically, it's such a novelty product, because what on earth is the point of having a scented eyeshadow? There's no point, but it's all in good fun, really. And I think it's something completely different that the brand is doing — it's making them stand out. Not only because of the scent, but because of the beautiful tones in all the palettes they create, along with the soft and cream texture. Not to mention the insane pigmentation of it!
Too Faced had come out with chocolate scented bronzers and eyeshadow palettes in the past, and their second newest edition being the peanut butter and jelly. But if you know anything about me at all, those two scents just don't jive with  me. Finally, something fresh is out for the fruit and citrus loves.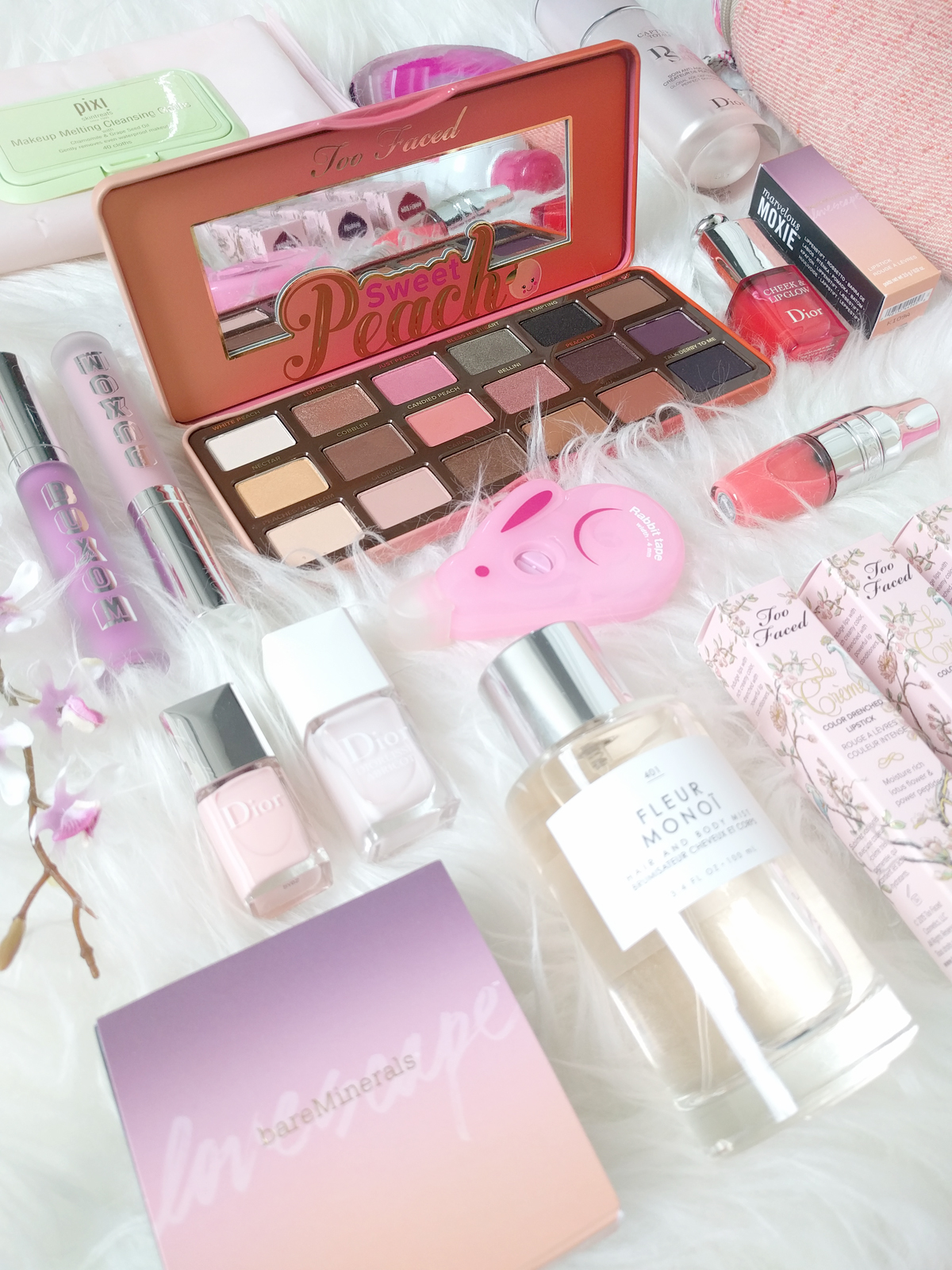 Hey, what's up hello beautiful beautiful peachy palette.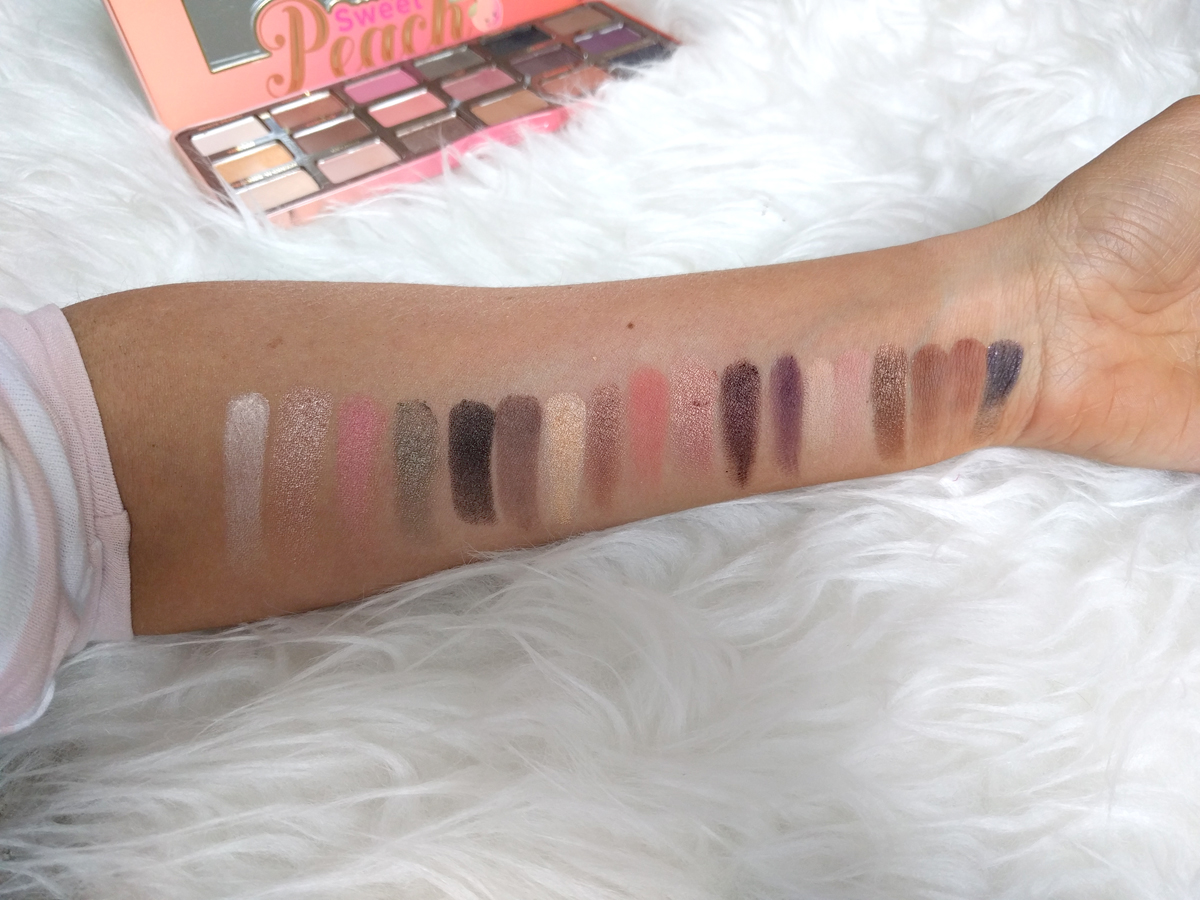 Oh hello gorgeous warm shades.
Getting into the finer details, the tin is in a playful pink/orange ombre tin packaging with 18 colours to create the look you want.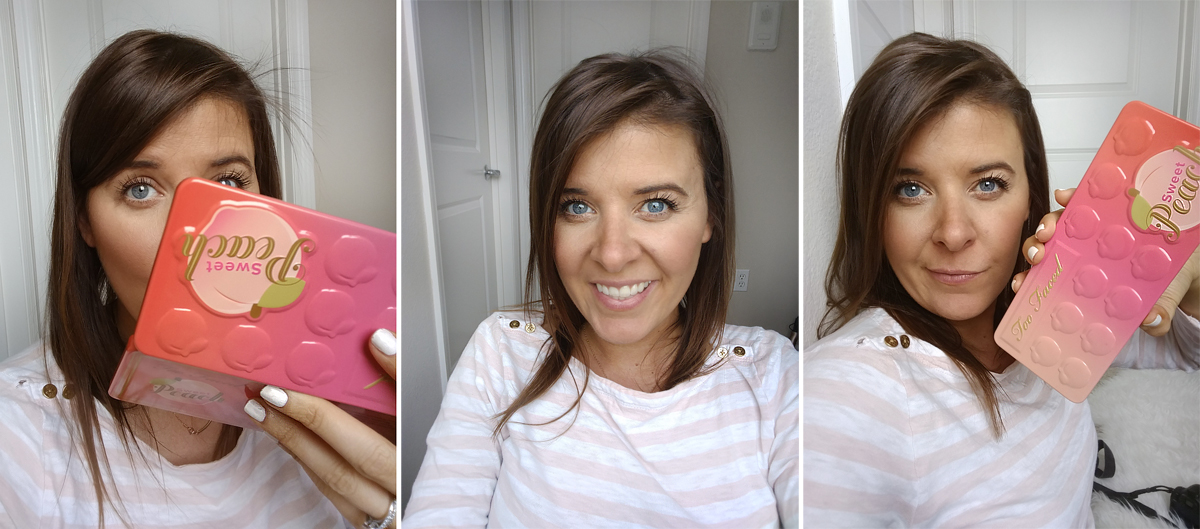 The palette has a mix of peaches, warm pinks, corals, champagne, and bronzed tones with a few other colours,  (Bless Her Heart is a gorgeous olive green) along with some purples and deeper colours to create a more dramatic eye look. All of these colours from this palette are versatile and easy to wear, and there isn't a ton of overly shimmer in the shadows. For someone that doesn't have a huge collection of eyeshadows, this one is fantastic as it has easy to wear neutral shades that have a bit of warmth to it. I wouldn't be surprised if I didn't ever reach for the deeper shades (both purples and the dark brown), since I'm not into wearing anything too dark on my lids.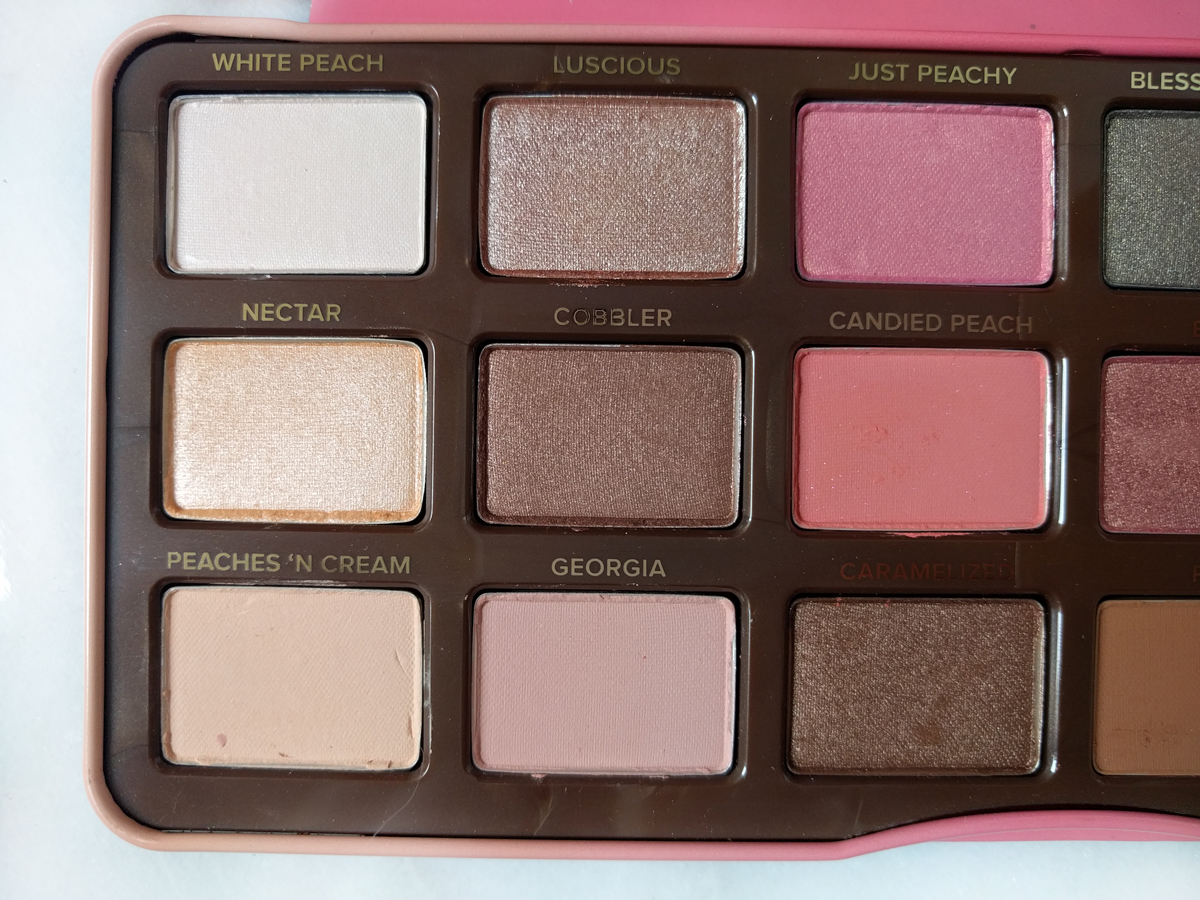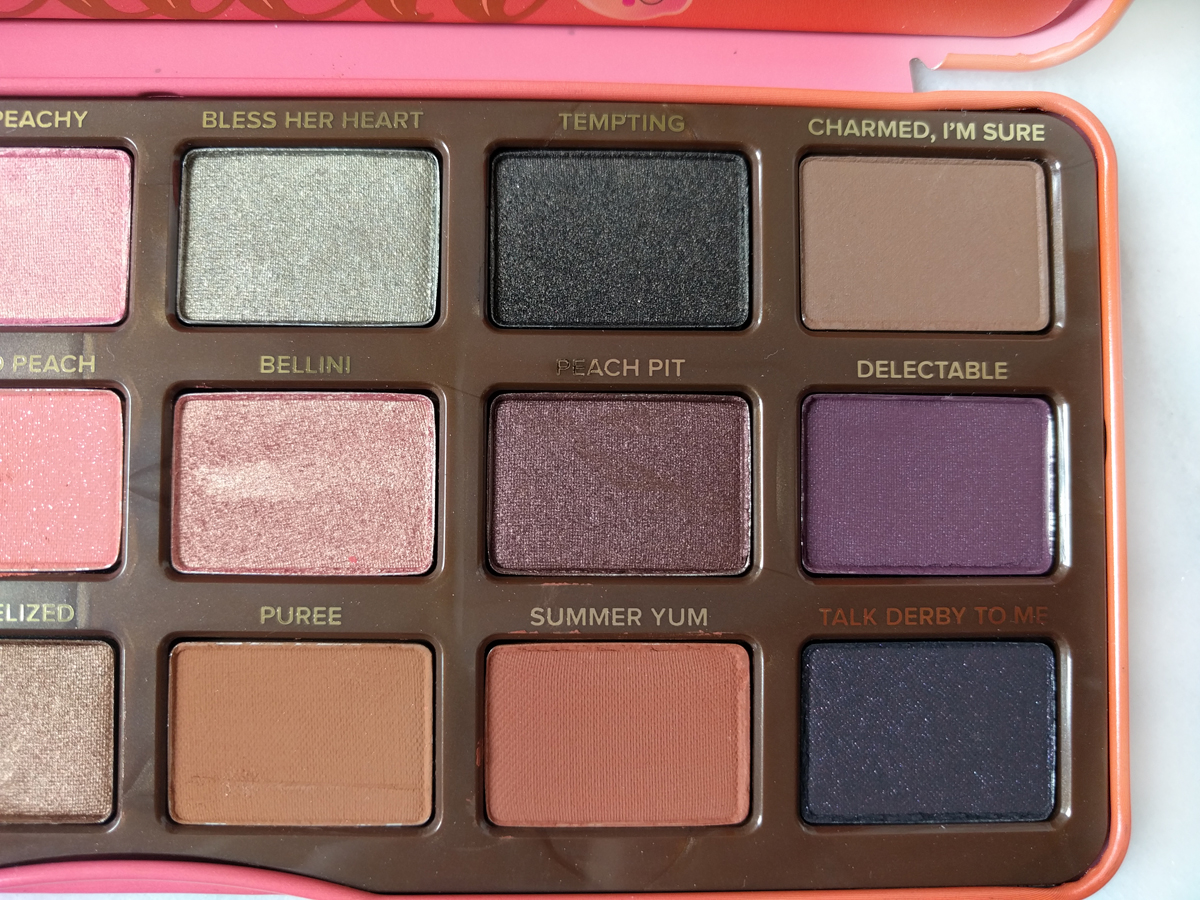 Upclose swatches:
Top Row:
White Peach, Luscious, Just Peachy, Bless Her Heart, Tempting, Charmed I'm Sure

Middle Row:
Nectar, Cobbler, Candied Peach, Bellini, Peach Pit, Delectable

Bottom Row:
Peaches 'N Cream, Georgia, Caramelized, Puree, Summer Yum, Talk Derby To Me
Here's a little look-of-the-day I did over the weekend with colours from the palette!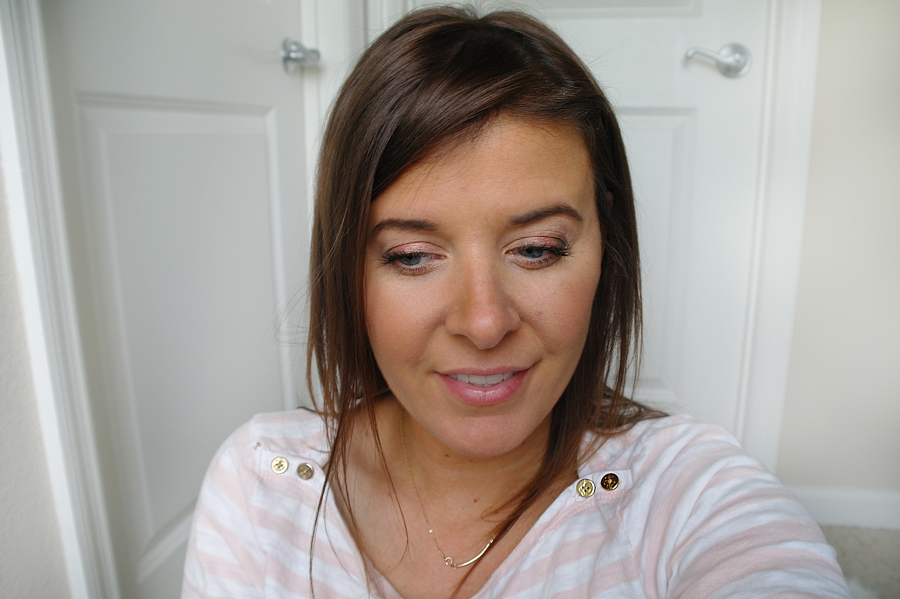 What're your thoughts on the palette? Is it something you'd purchase?
Too Faced Sweet Peach Palette $59 CDN | $49 USD
Too Faced Sweet Peach Eyeshadow Palette was sent for review.