It was perfect timing, when I attended the Brit + Co summit a while back (and instagrammed a few paintings I did while there). Just weeks prior I had told my husband that before the internet existed (please don't question my age, haha!) I was so creative, I had crafty hobbies, and did a lot of DIY's. From making intricate bracelets that were super thick, to painting Picasso replica's (seriously — I love the paintings I did, and they are still hung at my parents house in Newfoundland), to just painting for the fun of it.
A few weeks had past, and I heard back from Brit + Co, asking me if I wanted to take the challenge on committing to a full week of creativity. It was to spend 1 hour/day doing something creative. Know those adult colouring books that people seem to be enjoying now? Although it is fun, it's not just for fun, you know? The adult colouring book helps de-stress, and self-express your creativity. Colouring has been said to be able to be therapeutic and help eliminate anxiety, relax the body and mind. In that regard, it can be helpful for your mental and physical health.
Put down the cell phones (or my tip: put it on airplane mode so you don't get any notifications). Stop scrolling through facebook and instagram and unwind during your evenings electronic-free. Doing something creative often relaxes the body.
One of the ladies from Brit + Co asked me if I wanted to try out one of their kits. Clearly by the title and photos from the post, I wanted to try making their marbled jewelry trays kit.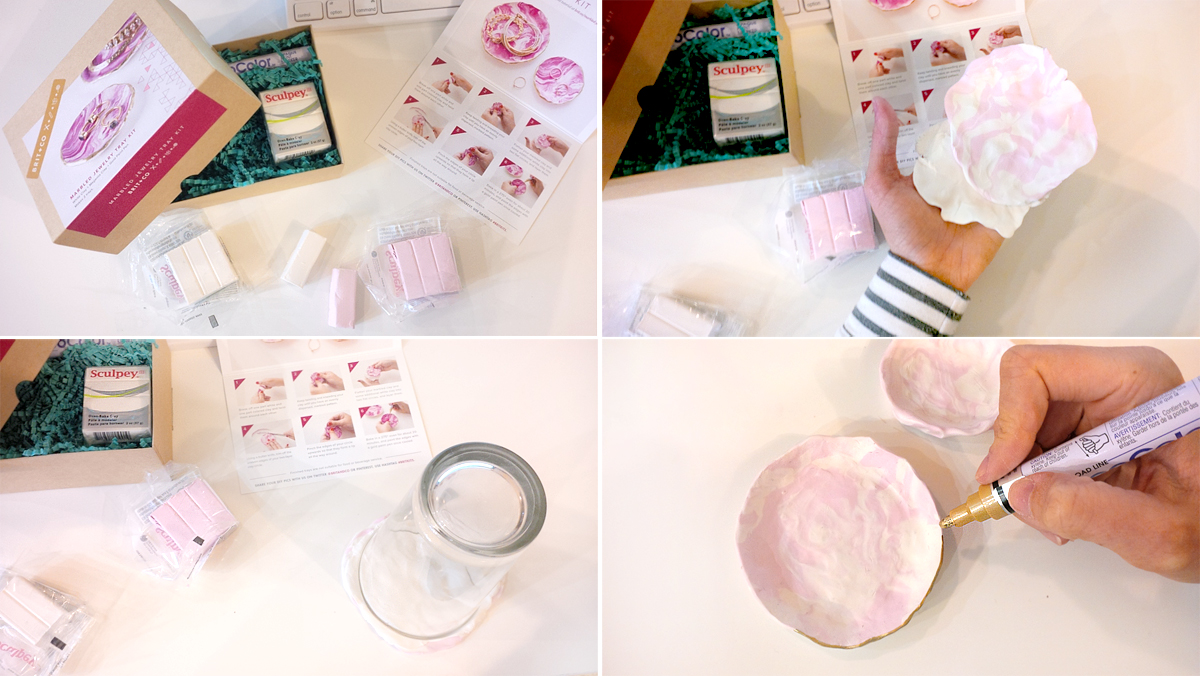 This weekend since my husband wasn't in the country, I had tons of free time, and decided that I wanted to reserve my Saturday afternoon to crafting and some me time. I turned up the mellow tunes on Songza, turned the lights a bit dim and relaxed as I made some gorgeous little marbled jewelry trays.
I love how they turned out. What do you guys think? Totally gifting one of these trays to my sister-in-law for Christmas along with this Ireland necklace from Etsy (don't worry, she doesn't read my blog). I also made a few more because the kit provides you with a lot of clay.
Making the marble trays one day, then resulted in the days following after itching to do more. I went to Barnes and Noble, and I picked out one of those adult colouring books, and a set of fancy new lead pencils, and got to it. I'm definitely going to keep this up :) Thanks to Brit + Co and their #IamCreative campaign for reminding to take a little me time, and get my butt off the darn tootin' internet for a bit and just do something that brings me back to my past. (Does that sound cheesy? Sarry).